Find the answers you need
Support Database
How do I add a custom temporary URL?
You may want to replace 20i's white-label temporary URL (stackstaging.com) with your own custom temporary URL. To add a custom staging URL you'll need to have a registered domain name within your 20i account. You can either register a new one or transfer-in an existing domain.
Note:
The domain name cannot be associated with an existing hosting package, so you may want to
register a new domain
solely for the purpose of customising the temporary URL.
To add your custom temporary URL:
Login to your My20i account.
Select the Hosting Package Types icon under Reseller Preferences.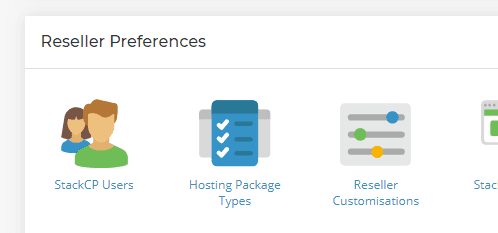 Locate the hosting package type you want to add a custom temporary URL for and select Edit.

Scroll to the bottom the page and you will see the Temporary URL Domain section. Select a domain from the dropdown menu. This will become the temporary URL you and your customers will see for all packages on the hosting package type selected.

Being able to add a unique custom temporary URL to each hosting package type allows you differentiate between a WordPress temporary URL and a Linux temporary URL.
For example, you could have the temporary URLs: MyBusinessWordPressStaging.com and MyBusinessLinuxStaging.com
However, you may want to keep things simple and use one custom temporary URL for all hosting packages - that's up to you!
Frequently Asked Questions
Do I need to have a domain registered within 20i to have a custom temporary URL?
Yes, you need to have the domain name you want to use registered within 20i in order to have a custom temporary URL. You can either register a new one, use an existing one or transfer one in from another host.
How long does it take for a custom temporary URL to set up?
Using a domain for temporary URL requires DNS updates so may take a few hours to become fully stable.