In this first impressions review I'm going to have a look at forum/community software Flarum. How easy is it to get set-up, how good are the features and should you use it for your next project?
TL;DR
Pros
✔ Very quick learning curve
✔ Easy to create an attractive-looking forum
✔ Simple and clean admin UI
Cons
❌ Adding new extensions is a dev job
❌ Next to no SEO-related tools built in
❌ All Flarum forums tend to look the same
Rating
9/10 – Highly recommended
What is Flarum?
Flarum is free and open source PHP based community software, describing itself as a "… delightfully simple discussion platform for your website."
Flarum is available as a one-click app on our hosting. Find out more about our Flarum Hosting.
Their stated goals are to create a platform that is fast and simple, beautiful and responsive, powerful and extensible, and free and open.
Have they achieved all these goals? Let's find out…
Who uses Flarum?
Here are some examples of sites using Flarum to power their communities:
How easy is it to install Flarum?
Thankfully Flarum is available as a one-click app on our web hosting, so installing Flarum was as easy as it gets.
If you use a host that doesn't include Flarum in their one-click apps, their official set up guide can be found here https://docs.flarum.org/install/.
Manual installation is not as easy as the likes of WordPress and does require a certain degree of dev skills.
Once installed, the inital set-up screen asks for some basic information such as your forum title and your admin email/password.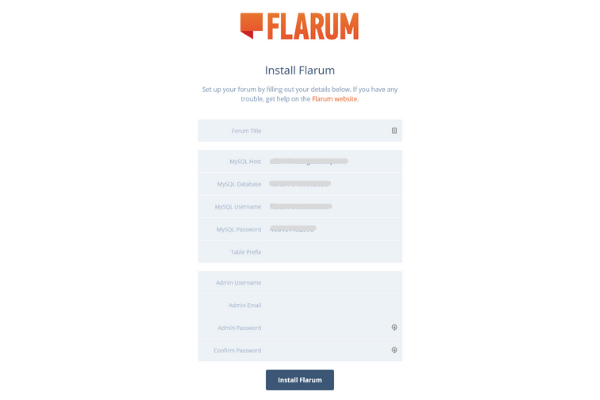 And that's it. I now have a forum!
Unfortunately, I'm then shown an empty forum home page with no cues what to do next.
That being said, once I worked out how to get to the admin UI it isn't terribly difficult, and it is all self-explanatory from that point onwards.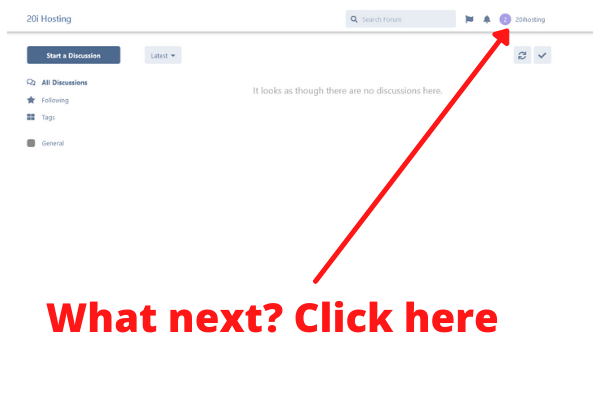 Admin and getting started
The admin interface is visually clean and well spaced out. It is very obvious where I need to go to perform an action and I've got an on-brand forum ready literally within a few minutes.
Customizing the forum appearance is very easy, and I was able to customize the color scheme, logo and favicon quickly.
If you want to go deeper, other areas of customization include adding custom header and footer code as well as your own custom CSS.
One minor irritation I had was with choosing my color schemes. I would have loved for there to be a color picker built in, rather than me having to go off-site to a 3rd party color picker site to find my HEX.
Managing users and groups
Adding/removing user permissions was very straight-forward with a few pre-built groups already created for me. Setting up new groups is simple with the icons powered by Font Awesome.
The features that come bundled with Flarum include:
Approvals
Emoji usage
Likes
Post locking
Markdown
Mentions
Nicknames
Sticky posts
Subscriptions
Tags
Suspend users
For the large majority of these features you can choose which groups have permission to use/manage them.
I would have liked a marketplace or extensions library built in to my admin UI (with user reviews) rather than having to find them on 3rd party sites via Google.
The forum user management options are relatively limited but the simplicity of it might be attractive to site owners who want a more hands-off approach to running their forum.
From a user's perspective, managing your profile is really simple and done directly through your own profile page.
From there a user can choose when and how to receive notifications, online visibility, their profile picture and password management.
The front end
The Flarum home page and posts are really well designed, with plenty of white space and a very modern look and feel.
The post timeline is a nice touch and especially useful for long discussions over a long time period.
The UX has been very well thought out and it's very clear how to use features like follow, reply and managing your profile.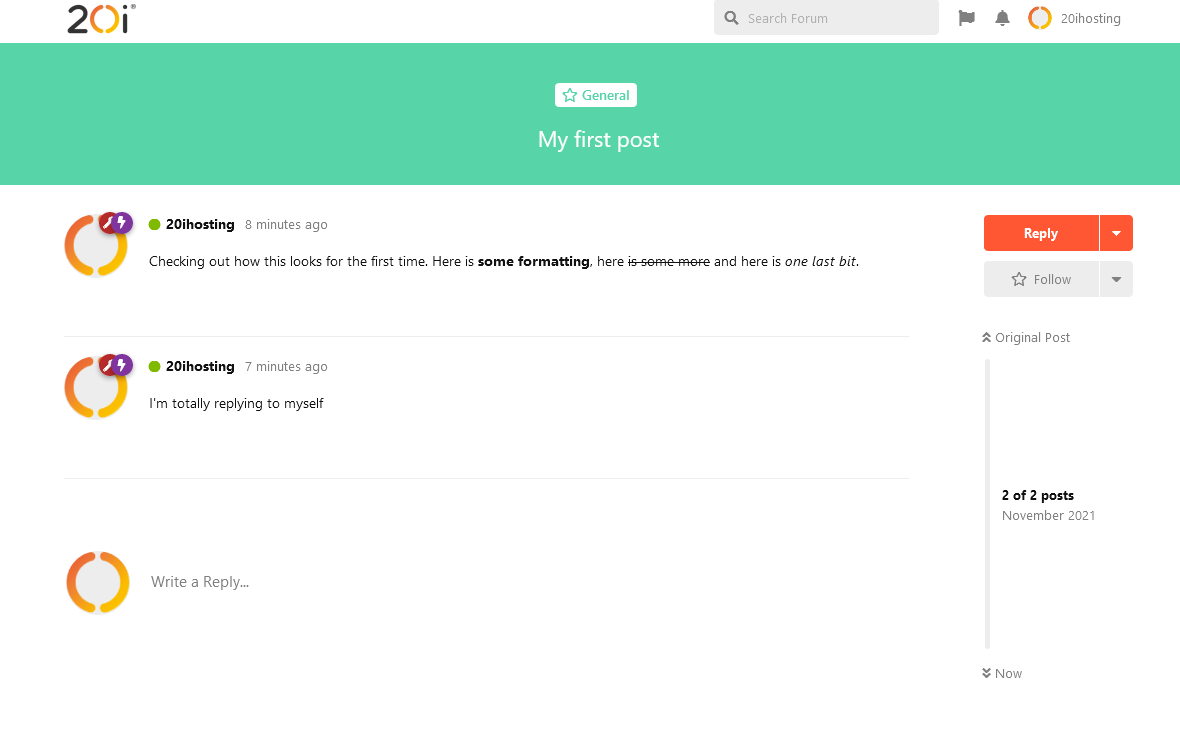 Overall I liked how comfortable I became with the front end UI with very little fuss.
Flarum community
The official Flarum community board is here https://discuss.flarum.org/ which is powered by (as you'd expect) Flarum. It is fairly active with news posts and replies every day.
If you're looking for new ways to expand your forum's features, the official discussion group is here https://discuss.flarum.org/t/extensions.
https://friendsofflarum.org/ and https://freeflarum.com/extensions build and share free extensions to add new functionality to Flarum. There's a really useful directory of extensions here: https://extiverse.com/
A note of warning: adding these extensions is not as easy as the likes of WordPress and will require some dev skills to get them installed. This is a real shame because it really limits the audience.
Final thoughts
My inital impressions of Flarum are that it's fantastic, lightweight forum software with a very quick learning curve supported by some powerful features out of the box. If you're looking to create an attractive and simple forum, Flarum is a great choice.
However, the limitations can soon feel a bit restrictive, especially if you're used to the huge ecosystem of WordPress and bbPress/BuddyPress.
I think Flarum could take a leaf out of WordPress' book when it comes to adding new extensions and make it much easier for non-dev users to take advantage of the 3rd party extensions available.
However, that one gripe wouldn't stop me from using Flarum and overall I would highly recommend this software.
Do you agree? If you have used Flarum and would like to share your experiences, leave a comment below.
Self hosted app reviews
Are there any self hosted apps you'd recommend we review in a future post? Let us know in the comments below.