Help! A gaggle of ghastly ghosts have invaded 20i's website this Hallowe'en. We've done our best to find them but some of them are just too well-hidden.
If you're the kind of person who doesn't scare easily, could you help us track them down?
The ten sneaky specters have hidden themselves amongst the main pages on 20i.com. If you can find them and email their locations to us, we'll be grateful.
One lucky person out of those who find all ten will be given a year's worth of 20i Reseller Hosting – worth up to £419.88.
Everyone else who enters will be in with a chance of receiving 20i merchandise, even if you find just one rascally revenant. The merch will be selected at random through a complex process involving apples and buckets of water, and may include:
20i Web Designers' Sketch Pads:
20i Mouse Mats: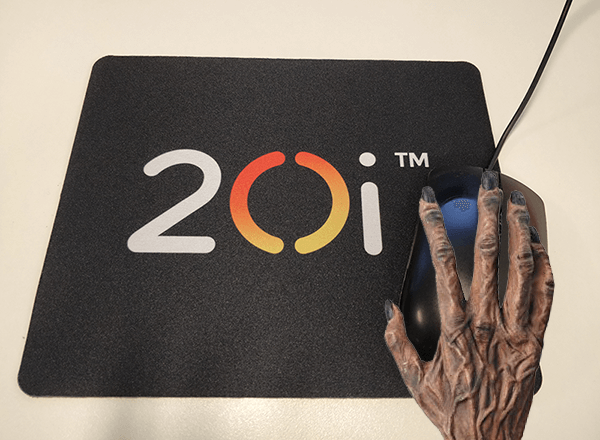 Plus things like stickers, badges, pens and notepads.
The giveaway is open to 20i customers only. Entries will only be accepted by email sent to ghostshop@20i.com (use the email address that you have registered with us).
You only need to email the URLs.
Don't try to handle the pesky poltergeists yourself: once we know where they are, we have a team of specialists on call to take it from there.
Out of those who have found all ten secret spooks, one will be selected at random to be given one year's free unlimited 20i Reseller Hosting.
Out of the remaining entrants who have given us the location of at least one frisky phantom, 50 will be chosen to receive 20i 'baddie bags' of merchandise.
And don't worry: all the ghosts are on the main pages of www.20i.com – you don't have to go trawling through our 100s of pages of support articles! The ghost in the logo (as below) doesn't count as one of them.
The deadline for submissions is at one minute to midnight, Monday 4th November 2019.