Welcome to 20
i

Support
Web Hosting Knowledge Base
What is the Website Acceleration Suite?

Overview
20i's CDN powers-up your websites further by feeding them through our Website Acceleration Suite. It's included for no extra charge with our Web Hosting, WordPress Hosting, Reseller Hosting and Managed Hosting packages.
The module improves website load times by automatically implementing web performance best practices to a website. This includes optimizing images, JavaScript minification and combining CSS – all to improve website load times and the Google PageSpeed Score. This in turn positively impacts SEO and helps you develop high-performing websites at scale.
To access Web Optimization, head to Manage Hosting -> Manage -> Web Optimization

For a full list of the optimizations head to the Web Optimization section within the package to be optimized. You'll be able to select the One Click Optimization option to add the recommended settings.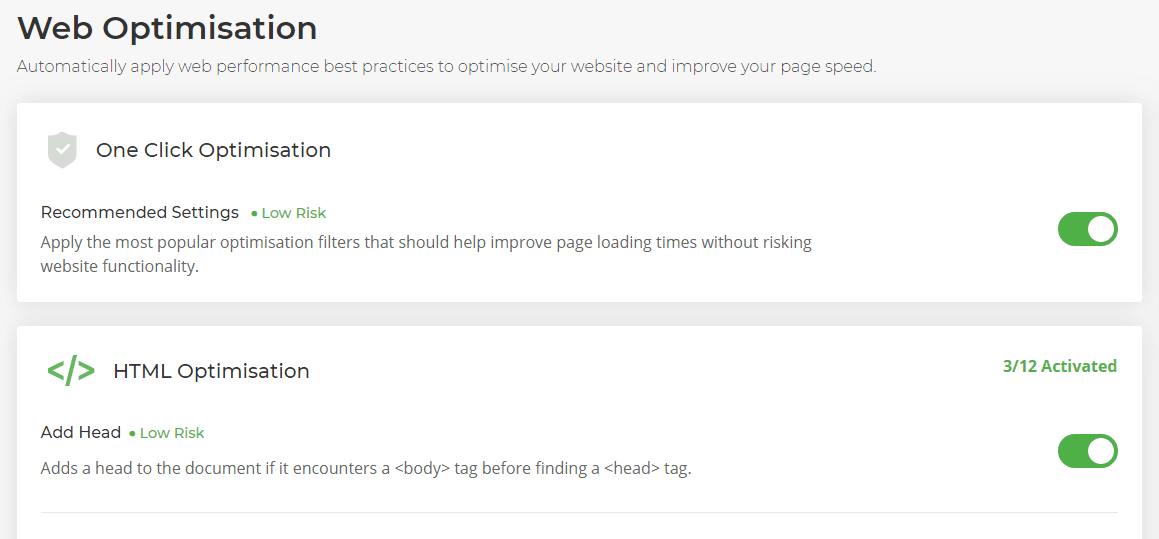 If you have created a set of unique optimizations, you can save that as a template to apply to other sites. Please see: How do I create a Web Acceleration Suite template?
Understanding the Website Acceleration Suite
Each optimization is referred to as a filter as is designed to directly complement the recommends/audits Google PageSpeed Insights performs on your websites. It's avoids the need to manually carry out the recommended optimizations, helping your websites get the highest PageSpeed score possible.
Optimizations are done at the server level, this means you don't need multiple plugins to optimize your sites. Reducing the number of plugins itself will improve the performance of PHP and result in faster load times!