In our biggest announcement for some time, we're thrilled to reveal that we've opened our first data centre in the USA!

Previously, anyone visiting websites hosted by 20i in the US would make use of our free global content delivery network. The origin server would be in the UK, but website content would be delivered from one of seven US CDN nodes.

Now, with our US data centre – or 'data center'(!) – you can choose to have your origin server in the USA. It's centrally-located in Dallas, Texas. So, if most of your customers are in the USA, we'd recommend choosing it.

The US data centre will boost page performance and help with SEO in the region. Working alongside our CDN, it will deliver the fastest-possible page loads across the US.
Choose your data centre: US or UK
All new hosting packages will have the option choose whether their server is the US data centre or one of our UK data centres.
That covers our great value Linux Web Hosting, our hyper-optimised WordPress Hosting, and our powerful Virtual Private Servers.
The Dallas data centre is Payment Card Industry Compliant and subject to the same strict ISO 27001 security measures as our UK ones. All your website files and email will be hosted at the US site.
We chose Dallas because of its amazing connectivity. It's one of the USA's key internet hubs. Our data centre is housed in the most interconnected building in Texas: it's got great latency to both the East and West Coasts, as well as South America.

What does 20i offer to US-based customers?
At 20i we pride ourselves on being a different type of hosting company.
We develop our services in-house
By developing and managing our hosting platform ourselves, instead of relying on off-the-shelf solutions like cPanel, we can give better performance. cPanel hosts are limited to hosting your site on a single server so can never truly be cloud hosting – we don't have that problem.
We give you the best-possible performance at the lowest price
In independent tests, we consistently out-perform our rivals. Plus we include more features for free than any other host. For example, nowhere in the US do you get WordPress Staging, a free CDN, Website Optimisation and an edge caching plugin included with WordPress Hosting at such a low price (that's why we are rated a 'Top Tier' WordPress host by Review Signal).
Top-rated customer service team
Our award-winning team are web hosting enthusiasts. They're based in-house at our HQ with full access to our developers, so they can always answer your question without relying on 'boilerplate' replies.
That's how we've achieved our five-out-of-five Trustpilot score – we genuinely enjoy fixing your issues. Wherever you are in the world, we're available 24x7x365.
Resellers: host unlimited sites in the UK and US
20i is best known for our Reseller Hosting: where web hosts, designers or agencies get an unlimited hosting package to sell on to their customers.
If you're based in the USA, upgrade from cPanel reseller hosting and try us out for $1 (first month) to see the difference.
Sell genuine autoscaling cloud hosting
Host unlimited sites – no 'per site' fees
Sell unlimited webspace, bandwidth, databases and 10GB email accounts.
Linux, WordPress and Windows platforms all included
100% your brand and white label
Exclusive discounts on domains, VPS, SSL and more
Free, unlimited and automatic customer migrations
StackCP for your customers – like cPanel, but better
HostShop – the free WHMCS alternative
If you're based in the UK, for only £19.99 per month you can add the option to host unlimited websites in both the USA and the UK.
So from a single control panel, you can manage web hosting in the UK and the US – no multiple logins! The same goes for your customers: they can manage their sites in both countries through just one UI.
I'm based in Europe, so why add US hosting?
Our Resellers – most currently based in Europe – will be able to expand their offerings in to one of the largest hosting markets in the world.
The US has the most registered domains: over 131 million. It's responsible for over 51% of web hosting market share globally, and has the highest proportion of internet users, at 93.9%. So it's an ideal market to offer hosting and other services.
The 20i hosting offering is unique: no US company can offer the same level of features for the same price. And you know performance can't be beaten – so feel free to advertise 'the fastest and best hosting in the USA'!
If you're a web designer, marketer or digital agency, you can also start to look further afield. With modern communications, you don't need to limit yourself to clients in your home country.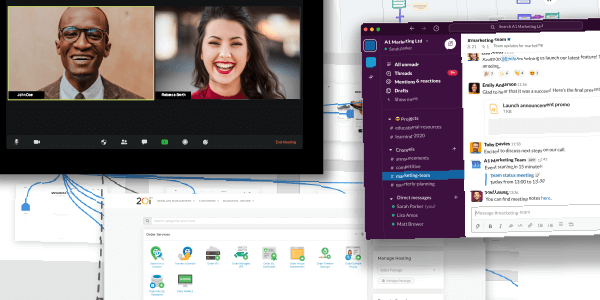 I'm a Reseller with customers on another US web host
Great! Now you can manage all your customers from one easy-to-use control panel.
If you already have US customers hosted with a US host, you can transfer them to 20i hosting automatically – and for free – using our Migration Centre.
How Resellers can host both in the US and UK
Head to this page in My20i to add server space at the US data centre: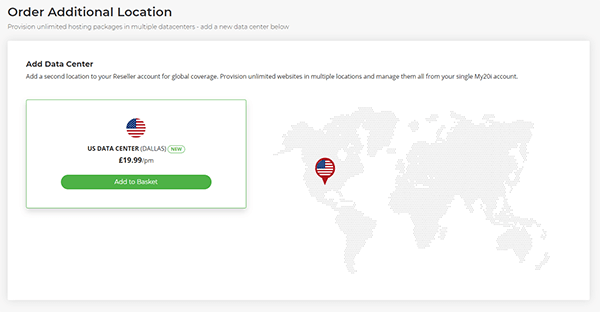 Then, when you go to set up a new hosting package, you'll be given the option of whether that package will be based in the UK or US – very simple!

If you're a new US customer, your Reseller account will be based in the US by default. You'll get the same option to have UK data centres, should you wish.
We're 'stoked' – are you?
As ever, our Support Team are on hand to help with any technical questions you may have – raise a support ticket or chat live.
Or let us know your thoughts below.