VPS
High Performance
SSD VPS Hosting
Lightning-fast with 100% SSD storage
Deploy standard distro, 1-click app or custom image
Spin up your VPS in 50s
100% green hosting powered by renewable energy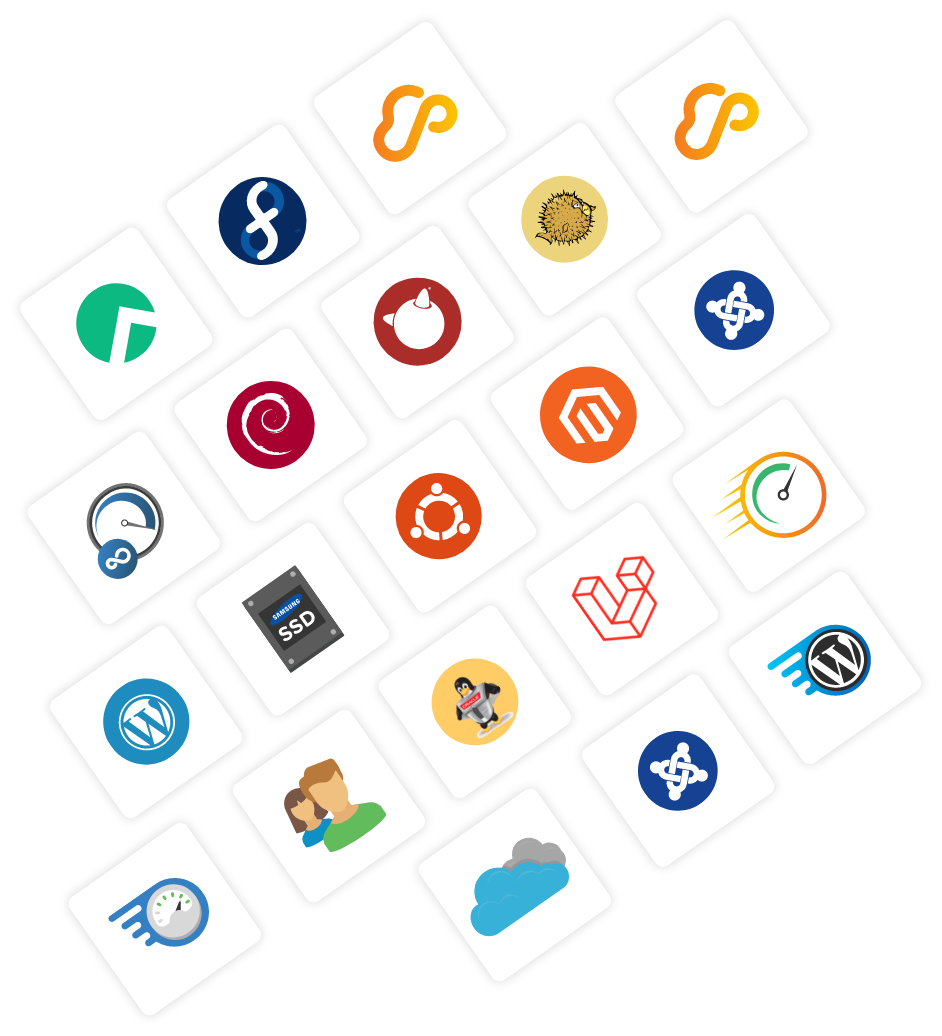 Great value virtual server hosting, no compromises
From personal projects to complex apps, scale with confidence and predictable SSD VPS pricing. All our VPS are powered using 100% renewable energy - which means your sites and apps are too.
Industry-leading features from UK's #1 VPS host
Instant provisioning
Deploy your Linux VPS online in less than a minute and a Windows VPS in under 5 minutes.
Unlimited bandwidth
Genuine unlimited bandwidth – no throttling, ever. Each hypervisor is connected at 20 Gbps and each switch has redundant 100 Gbps uplinks.
Service level guarantee
All VPS servers are backed by uninterruptible power supplies and a network SLA of 99.99%.
Full Root Access
With our unmanaged virtual private servers you get full root access to your VPS server.
No Contracts
Once you've tried our VPS hosting you won't go elsewhere! So we don't lock you in and you can cancel at any time.
Scale with Ease
Scale your VPS as you grow, from a single virtual server all the way up to a load-balanced cluster.
Hardware RAID
All of our UK VPS use redundant hardware RAID 10 arrays with a battery-backed cache.
Out-of-band Console
With our out-of-band VNC access you can access your VPS just like plugging a monitor into a physical server.
1 Tbps+ Anti-DDoS
Advanced anti-DDoS protection for all Virtual Server Hosting. Your servers are protected in real time without any increase in latency.
Windows & Linux Support
Deploy Windows and a range of Linux/Unix-like operating system distros – all in one click. You can install any other OS and software, too.
UK or US Data Centre
Whichever you choose, the data on your server will stay in that country, hosted at one of our ISO 27001, PCI-compliant, green data centres.
A VPS for every occasion
Big or small, site or app - our VPS hosting is the perfect choice
Web Hosting
Give your website all the dedicated resources it needs. You're free to use any kind of web hosting software to design and run your sites.
Development Server Hosting
For developers, an Unmanaged VPS offer an isolated digital environment to test code. Experiment and learn in a VPS sandbox.
Mobile App Backend Hosting
Save on expensive hosting fees by self-hosting your mobile app on a cheap VPS. Don't pay for more resources than you need.
SaaS Hosting
You can run any kind of software-as-a-service for your business. That might include ecommerce, reporting, CRM, project management, analytics… the choice is yours.
Install a VPN
A virtual private network (VPN) can protect your privacy when using public Wi-Fi. If you don't want to use a commercial product, install a VPN on a VPS.
Private Sync
Back up your local files in the cloud, safe in the knowledge that they're stored privately.
Gaming VPS
Whether it's Minecraft, CS:GO, WoW or any other online game, we offer cheap VPS hosting for game servers.
VOIP VPS
Get fast, clear and reliable voice communication by using a hosted app like TeamSpeak 3. Start a hosted VOIP business.
IOT Hub
If you don't want your smart home gadgets to send your data to the web giants like Google and Amazon, you can go down the DIY route.
Easy server management
Manage your servers through one single, intuitive control panel.
The My20i control panel makes provisioning, managing and customising your infrastructure seamlessly, with advanced options such as network management and out-of-band VNC options.
Server monitoring shows you exactly what resources your virtual machine is using, including its CPU usage, Bandwidth and Disk I/O. Plus get full root-access to manage every aspect of your server.
Deploy your VPS with any of these distributions and apps
You are free to install any software you'd like, but these can be installed in a click.
Buy and Deploy VPS
Add-ons to enhance your VPS on demand
Backups
Back up your entire server automatically, at an interval that suits you. System-level backups keep your whole server image safe. Easily restore at any time.
Private Networks
Segregate your 20i server network into clusters with some servers hidden from general internet access. These can connect to other servers in your network using a local IP over a dedicated, unmetered port.
Load Balancers
Distribute traffic across multiple servers to create better-performing, more robust infrastructure for any HTTP or TCP application. Our VPS Load Balancing uses the same technologies proven on our shared hosting platform. With built-in health monitoring, our load balancers can be configured to monitor how well your VPS are handling traffic and only route requests to healthy servers.
Block Storage
Mount additional, high performance SSD storage directly to your VPS. With this flexibility you'll be able to accommodate higher usage workloads easily, without needing to upgrade your entire instance.
A virtual private server you can rely on to deliver, every single day
Green web hosting powered by 100% renewable energy
We're committed to making sure our hosting is as green as can be
Green Energy
All our hosting is powered by 100% renewable energy, which means all your sites and apps are too. That's great news for you and the environment.
Green Data Centre
Our data centre has an extremely low PUE (Power Usage Effectiveness) of 1.12. Plus, our Autoscaling Cloud Hosting only uses the resources it needs, so no energy is wasted.
Low Carbon Footprint
Our office also runs on renewable energy with its own solar farm. We also have a paperless office, cycle to work scheme, and recycle all our waste.
VPS Server FAQs
Find answers to some frequently asked questions about our UK VPS:
How many IP addresses do I get?
All our VPS hosting comes with one dedicated IP address – you can order up to three additional IP addresses for [[currencySymbol]]50 per year.
What level of support will I receive?
We manage the hardware and network that your virtual private server will use, and our VPS support team are online 24/7 should any issue arise.
We don't manage the security, software or updates on the VPS itself – that will be your responsibility. We'd recommend an Unmanaged VPS if you're confident with server management. If you require technical support and advice, then we'd recommend our Managed Hosting on a VPS.
Is bandwidth really unlimited?
Yes, when we offer unlimited bandwidth VPS, we mean it. So you won't hit any traffic limits, regardless of the number of requests being made to your VPS.
Are private networks really private?
Yes, when you create your own private network, you are creating a dedicated Virtual LAN (VLAN) in our datacentre. You can assign this VLAN to as many servers as you like within the same datacentre. You're responsible for all IP numbering on your VLAN.
Is IPv6 supported?
Yes can we provide a /64 IPv6 subnet per VPS. Once provisioned you can allocate your range through My20i.
Where are your servers located?
You can deploy UK VPS Hosting in London or a US based VPS from our Dallas DC.
What are your environmental credentials?
Your VPS will be hosted on power-efficient servers that run on 100% renewable energy. You can read more about how our hosting platform and our business is committed to reducing greenhouse gas emissions at Green Hosting.
Can I become a VPS host?
Yes, you can become a VPS host through our Reseller Hosting.
As well as the #1 Reseller hosting platform around, you'll get an exclusive 25% off our normal prices.
Do you sell Cheap UK VPS?
How you think of cheap VPS is relative. Don't forget 'you get what you pay for'!
We don't have the cheapest VPS, but we have the best value.
Are your VPS Servers 100% SSD?
Yes our VPS Servers are 100% SSD. You won't find any other UK VPS hosting provider with this level of performance for a comparable price.