A web hosting platform like no other
Built by hosting experts for optimal website performance
Unique cloud technology unavailable anywhere else
Never standing still; always innovating
100% green hosting powered by renewable energy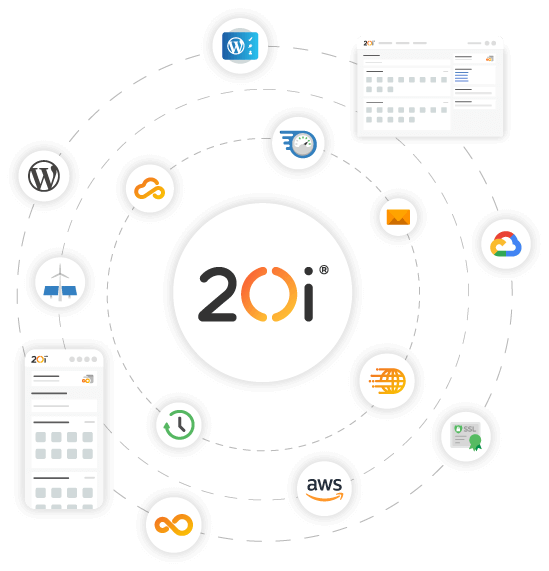 What makes our platform so unique?
More power than cPanel
By not being restricted by cPanel, we can offer more features and better performance.
Number of accounts

Unlimited

Restricted by the server's hardware

Native support for AWS and Google Cloud
Disk space

Unlimited

Restricted by the server's hardware

Bandwidth

Unlimited

Restricted by the server's hardware

Autoscaling cloud platform
Redundant web servers
Built-in replication & failover
Global CDN
Website Acceleration Suite
Anti-DDoS protection
Built-in Web Application Firewall
Isolated web, MySQL, FTP, control panel and storage
E-mail kept securely away from website storage
WordPress optimised
WordPress staging
Google DNS
Integrated HostShop

Reseller

WHMCS modules

Reseller

Single login to manage hosting in the UK and USA
Pre-populated white label support database
Number of Accounts

Unlimited

Resticted by server's hardware

Native support for AWS and Google Cloud
Disk Space

Unlimited

Resticted by server's hardware

Bandwidth

Unlimited

Resticted by server's hardware

Autoscaling Cloud Platform
Redundant Web Servers
Built-in Replication & Failover
Global CDN
Single login to manage hosting in the UK and USA
Website Acceleration Suite
Anti-DDOS Protection
Built-in Web Application Firewall
Isolated Web, MySQL, FTP, Control Panel and Storage
E-mail kept securely away from website storage
WordPress Optimised
WordPress Staging
Google DNS

Integrated HostShop

Reseller

WHMCS modules

Reseller

Single login to manage hosting in the UK and USA
Pre-populated white label support database
What makes our platform so outstanding?
We developed a multi-server platform that no other web host can compete with.
Internet
Redundant Internet Connections
CDN PoPs on 6 continents
Global CDN Network
Anti-DDoS Protection
Edge Cache SSD
Worldwide Resilient Network
Redundant SSD Website Storage
Redundant SSD Email Storage
Web Hosting

Email Hosting
Internet
Redundant Internet Connections
CDN PoPs on 6 continents
Global CDN Network
Anti-DDoS Protection
Edge Cache SSD
Worldwide Resilient Network
Redundant SSD Website Storage
Internet
Redundant Internet Connections
CDN PoPs on 6 continents
Global CDN Network
Anti-DDoS Protection
Edge Cache SSD
Worldwide Resilient Network
Redundant SSD Website Storage
What they say about our platform
By offering free SSL, free CDN, 10Gb Mail Boxes, SSL protection for Mail Boxes, free, automated Malware scanning of all files and specially configured WordPress servers, our clients are also enjoying the cost saving we have passed on to them, making changing to 20i a bit of a no-brainer, really.
Home A.
I am a new reseller on 20i. I am very impressed with the migration tools that help migrating everything from almost any provider to 20i. Migration tools include, domain migration, hosting and even mailboxes. The process is easy, almost automatic and saves hours of manual work.
Alex K.
The stability of the servers, the ease of the ui (no, it's not CPanel… its better), the continuous upgrades, additions and bolt-ons, they've thought of everything.
They're really really….really good.
Paul
The 20i facilities are so good. The SSD based structure means much more speed. I haven't seen any down time at all. (I'm not seeing constant down time while 'systems are being maintained' as I used to suffer previously).
And they keep adding to and improving the service with new features and functions. It is a delight to work with.
Chris H.
I have used a few hosting companies going back over 20 years now, I'm absolutely delighted with 20i, Their level and speed of support is exceptional, the control panel easy to use and intuitive.
And more important than anything else, their platform is rock solid ensuring my sites are up all the time. 100% recommendation from me.
Sean K.
My first impressions are this company wants to help. For 7 long and frustrating years I have been trying to get a site that is fast to work on and fast for my customer to have a pleasant experience when on my site and 20i have done it!
Thank you 20i and the team for making the migration seamless.
Lee B.
Server speed is great too and they genuinely seem interested in keeping their servers faster than their competition.
Will T.
Previous
Next
Read more reviews from happy customers
Reviews
Autoscaling: access to as many servers as your site needs
All our web hosting services use 20i's proprietary autoscaling technology. No other company has access to this.
Autoscaling literally means that our resources scale automatically. Bandwidth, memory and processing power is scaled up or down instantly – depending on demand. This is what makes them true 'elastic cloud'. If there's a surge in traffic, your website will continue to offer the same fast experience for every user.
This is because a site isn't hosted on one or two servers. Instead, it can access the whole platform's resources: multiple servers. It's what makes the 20i platform special.
If there's a spike in demand and your shared hosting 'neighbours' become busy, it doesn't affect your site speed. Busy sites are isolated from others.
This doesn't happen at other hosting providers, as websites controlled by cPanel are restricted to single servers. With other hosts, if you share a server with a busy site, it will affect your site too.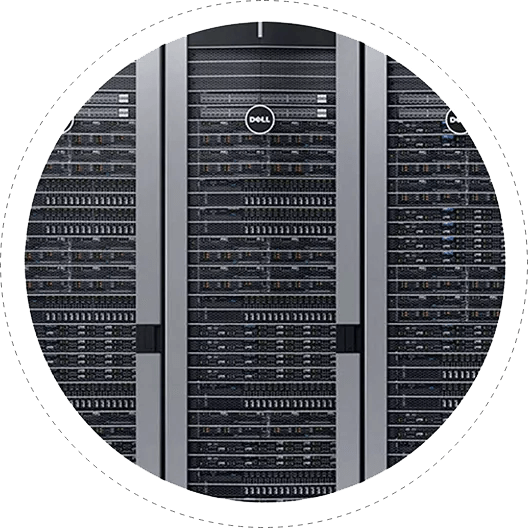 In this example the site traffic increased 20% so the platform automatically scaled up to reallocate more servers.
We optimise PHP in a unique way
To remain the provider of the fastest shared hosting, it's important that we use the latest technologies. So we investigate all the speed-boosting technologies available to other web hosting companies.
The problem with these 'off the shelf' products is that they don't scale very well. They're designed for small companies that use older, single-server technologies. To work with our autoscaling, we found that the better option was to write our own web hosting code.
Our developers have customised PHP-FPM and OPcache to ensure that your website gets the resources it needs, even if it's really busy. Our code boosts performance for every website running PHP 5.6 or above. For more recent versions of PHP, the speed improvements are even more pronounced. As we're not constrained by CloudLinux, we don't have to impose limits on cores, memory, bandwidth and processes.
Your site stays fast, however busy it gets.
Load balancing that does more
Load balancing is about sharing traffic across servers. Other web hosts use load balancing – but not the kind we've developed. Their load balancing mitigates failover: if a server goes down, your site will be moved to another, so it stays online.
It's a kind of disaster recovery. That's expected: we offer that kind of server redundancy as well, even though we use some of the best hardware in the industry – thanks to our long-term partners at Dell – and a robust 10 Gb network.
But 20i load balancing is of a different calibre.
Our global load balancing makes use of monitors that will respond to traffic load and balance it across multiple servers when needed. Many other providers don't offer this. The consequence for you is this: with 20i, your site stays online, and remains fast, whatever load the servers are under.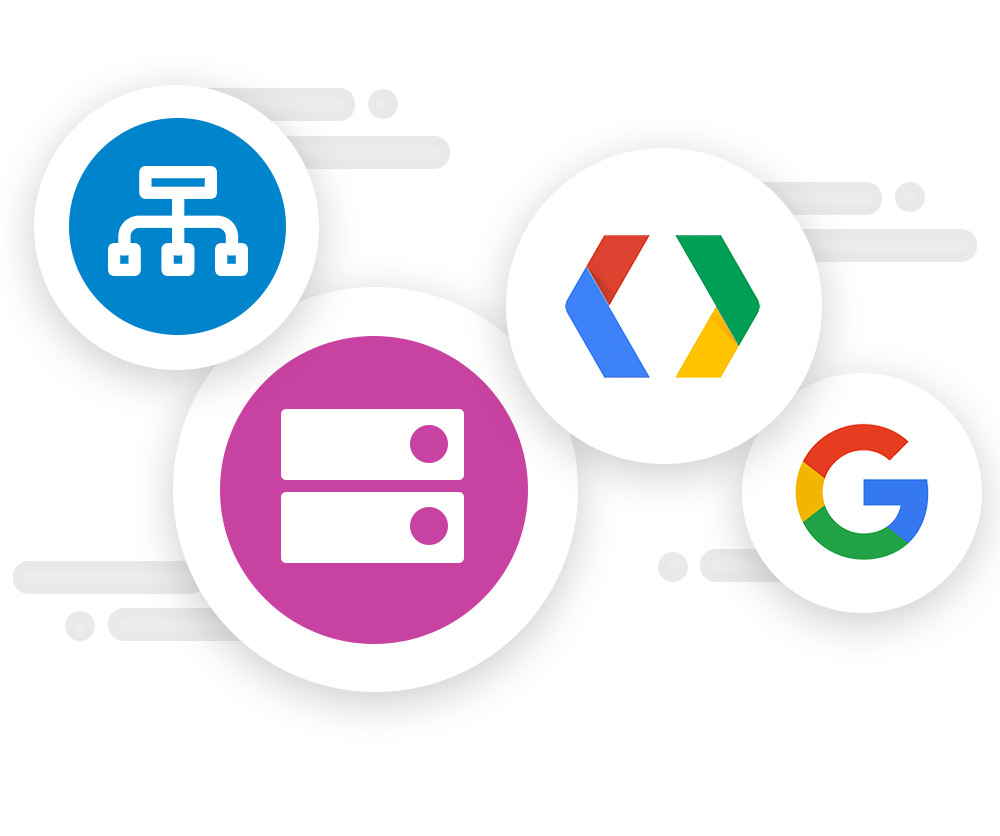 Google-based DNS
The Domain Name System (DNS) translates domain names – and email addresses – into IP addresses. So when you visit a URL, your browser knows the address of the server to download the page from. It's an essential part of the internet – so it needs to be fast.
Google knows all about fast internet response times – as you'd expect! Their global fibre network leads the industry. It provides a quick and stable response regardless of traffic. So we built our DNS platform on the same infrastructure as Google.
All domains hosted with us benefit from Google DNS. 20i Resellers can take advantage of our white-label Virtual Name Servers and offer this rock solid, cutting edge DNS solution under their own brand.
Not only powerful, but versatile too
You're given the choice of what operating system or content management system you want to use: versatile Linux or super-popular WordPress.
Linux Platform
Our Linux platform is great for most types of websites. It's the most versatile choice. Built for speed and security by our in-house experts, we've fine-tuned Apache for even better performance. It also offers over 80 one-click installs of popular open source apps, including Drupal, Joomla! & Magento.
Linux web hosting
WordPress Platform
Managed WordPress hosting, performance-tuned to make sites load up to 48 times faster. Features include: WordPress staging, automatic updates, plugin/theme monitoring, brute force login protection, timeline backups, code optimisation and our own exclusive StackCache speed plugin.
WordPress hosting
The host with the most
As we develop our own hosting products, we can give you better value. All web hosting includes:
100% SSD storage
Many hosting companies don't invest in SSD storage, or if they do, they use the cheapest available hardware. It's so they can keep 'sticker-prices' as low as possible. That's not the case with us: we use Samsung Enterprise SSDs in our storage arrays.
Dual 12-core processors
Each Dell web server has two Intel Xeon Scalable 12-core processors with hyper-threading. This gives 48 logical cores per machine. These have access to plenty of fast memory: 64 GB 3200 MHz DDR4 RAM. Any of our web servers can serve any website we host at any time.
Data security and offsite backups
We bake-in security to every layer of our web hosting. Our storage is resilient to the level that – in a worst-case scenario – whole storage servers and disks can fail with no downtime. We take daily backups off-site for extra protection. But that's not all – read more about our secure hosting.
Physical security
All websites and VPS are hosted in secure, state-of-the-art data centres based in the UK or USA. They're manned 24/7 and include high-level physical security measures. These cover everything from backup power generators to advanced fire protection.
IPv6 and HTTP/2
Our hosting platform is built for the future. We support IPv6, which is the new standard for IP addresses. Our servers use HTTP/2 – a major revision of the HTTP network protocol – as standard. HTTP/2 means that browsers can request and receive more data than before. It results in faster loading websites and happier users.
Knowledgeable UK support
All our technical support staff are based at our Nottinghamshire, UK HQ. They have ample industry experience, having worked with our directors for many years. If you have a really thorny issue, they have direct access to our developers in the same building. They're available 24/7 through instant live chat and our email ticketing system.
Forever evolving
It's our responsibility to keep you on the most technically-advanced web hosting platform. We're committed to improving our services and adding new features. It's something we work on every day.
18th May
Laravel Live
We're proud sponsors of this year's Laravel Live, being held 22nd-23rd June in London. Get your tickets here.
16th May
Free Web Hosting Icons
We've just released two fantastic Web Hosting themed icon sets for your next project. 100% free, no attribution required. Find out more & download here.
15th May
Joomla! Optimised Cloud Hosting
Joomla! optimised managed cloud servers are now available, with features like Redis Cache to help you build faster websites. Easily launch & manage all your Joomla! sites across 20iCloud, AWS & GCP.
Previous
Next
Frequently asked questions about our platform
What's the difference between autoscaling and load balancing?
They both have the same effect: your website loads faster. However, they work in different ways. Autoscaling ensures that when your website gets busy, it has access to as much resource as it needs, so it doesn't slow down. A single site can take advantage of a whole server or many servers.
Load balancing stops other busy websites on our shared platform having an effect on yours. It balances the traffic load between multiple servers. It also works as a safety measure: if in the unlikely event of a server failure, it can ensure that your site stays online.
Where is my website hosted?
Your website will be hosted in one of our origin data centres in Reading, UK or Dallas, USA.
Your email is hosted on separate servers to the website, so that any problems or unexpected load from email doesn't affect the performance of your site.
Do you include DDoS protection?
Yes, we include 1 Tbps+ anti-DDoS measures to protect your website from attacks. This is free of charge with all hosting. For more security features, see our Secure Hosting page.
Do you support 2FA?
Yes, all accounts are covered by two-factor authentication (2FA). If you're a 20i Reseller, your customers will be covered by 2FA too.
Do you have any speed tests?
We have independent evidence from Loadimpact.com that our WordPress platform is up to 48 times faster than other UK web hosts. For our other sub-platforms, we'd encourage you to sign up and give us a test - we'll give you your money back if you're not satisfied.
Any platform questions?
Chat to a friendly web hosting expert.
Green web hosting powered by 100% renewable energy
We're committed to making sure our hosting is as green as can be
Green Energy
All our hosting is powered by 100% renewable energy, which means all your sites and apps are too. That's great news for you and the environment.
Green Data Centre
Our data centre has an extremely low PUE (Power Usage Effectiveness) of 1.12. Plus, our Autoscaling Cloud Hosting only uses the resources it needs, so no energy is wasted.
Low Carbon Footprint
Our office also runs on renewable energy with its own solar farm. We also have a paperless office, cycle to work scheme, and recycle all our waste.