Eurovoix is a Eurovision Song Contest news site. It was founded by Anthony Granger as a site for the latest scoops on the competition. The site's ethos is that it's 'made for Eurovision fans, by Eurovision fans' and it's been successful for over 10 years.
While the website is popular all year-round, it's also very susceptible to 'spikes' in traffic, most notably, around the time of the final.
We spoke to Head of News Content, Anthony, and Technical Systems Administrator, Darren Frazer, about the site, Eurovision and why they choose 20i.
The voice
Bonjour Anthony. What made you set up Eurovoix?
Anthony: I started Eurovoix after a few years of having watched the Eurovision Song Contest as a kid and just wanting to know more. I discovered a world of national selections across Europe that selected the entries for the contest and from there, my interest just continued to grow until today.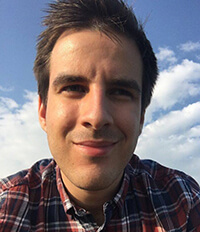 Your site is great. Is it purely a passion project or do you run it like a business?
Anthony: It is 100% a passion project. In 2011 when I started it up as a little project, I ran it by myself. But from 2014 onwards we've had a team of volunteers from across the Globe who come together to cover the contest, whether that's writing articles, producing interviews for YouTube, managing the technical side of the site. For all of us, we do it out of a common interest in the contest.
Darren: The team behind the site are all fans of the Eurovision Song Contest and it's about sharing the real news with other fans. I think that's why we are trusted by many as we love the contest just as much as our readers.
How do you pronounce your name? 'Au revoir', or 'Yu-ro-voiks'? ?
Anthony: Eurovoix is actually based on the name of Sweden's Eurovision 2009 entry "La Voix" (The Voice). The name has caused some fun situations over the years with various weird and wonderful pronunciations, sometimes I do wish I had picked a simpler name.
Do you run any other websites?
Anthony: Alongside Eurovoix I have a secondary site called Eurovoix World. Eurovoix covers the Eurovision family of events; Eurovision Song Contest, Junior Eurovision, Eurovision Choir etc. While Eurovoix World covers a number of international song contests and festivals, including very niche contests like Turkvision which is between Turkic ethnic groups or the ABU Song Festivals which are organised in the Asia-Pacific region.
Obviously, your site is written in English, but where does your audience come from? Is it mainly the UK, or is it more European, or global?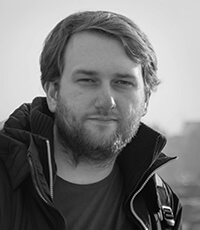 Anthony: One thing that never fails to surprise me is the audience that Eurovision and our website attract. The United Kingdom makes up around 25% of our readership but in the month of the contest we had readers in 197 territories and countries, from Malta to Chad, people are interested in Eurovision.
Darren: It's amazing to see our audience not just in the United Kingdom, or in Europe but a worldwide audience. It just shows that the Eurovision Song Contest isn't just a European contest anymore as there are so many fans across the world.
Eurovoix: My number one
What do you think of this year's winner?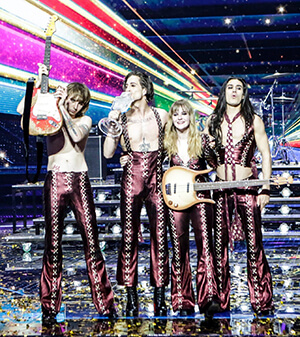 Anthony: "Zitti E Buoni" is a really interesting winner because it shows how there is no such thing as a 'Eurovision song'. A rock song in Italian won this year, in 2019 it was an English language ballad. The Italian representatives have shown that being authentic and going to the contest to show who you are and what your sound is, is better than just sending "a song for Eurovision". I'm really interested to see how it influences the songs next year.
Darren: Like Anthony said above, it just shows there isn't a 'Eurovision song', and any song can win the contest. You look back over the 65 years of the contest and you can see the many different types of music.
Do you have a favourite winner? Or favourite song/songs, even if they didn't win?
Anthony: A favourite winner is always hard to pick. I think purely because I remember staying up late for the first time and seeing it win, it would have to be "Fairytale" by Alexander Rybak which won for Norway in 2009.
It was an absolute runaway success and an instant earworm. However, the song that I always go back to and which really sparked my interest in the contest was "La Voix" by Malena Ernman. It's a fantastic pop-opera song performed in English and French. Everything about it drew me in as a young teenager and really sparked the whole website off.
Darren: There are so many amazing songs in the Eurovision Song Contest, it really is hard to pick one. But for me personally, my favourite song is "Arcade" by the winner of the 2019 Eurovision Song Contest, Duncan Laurence.

Eurovoix: making your mind up
What made you choose 20i for your hosting?
Anthony: Following years of incremental growth we really grew massively in 2018 and 2019, which put a lot of strain on the server we had previously been using. We needed a service that could deal with the fact our traffic really peaks in a short period of time.
Darren: If our hosting couldn't handle the traffic going to the site we would be losing readers and potential new audience at the time when people are most interested.
Running scared
Were there issues with the previous web host?
Darren: Our previous web host was not reliable when it came to peak traffic. We would deal with a number of outages on the site each year and you never felt sure that come the night of the final that we would still be online at the end of the show.
Yes, that's one of the reasons why I wanted to talk to you: Eurovoix is a great example of a website that will get large fluctuations in traffic.
Here's some info pulled from our CDN: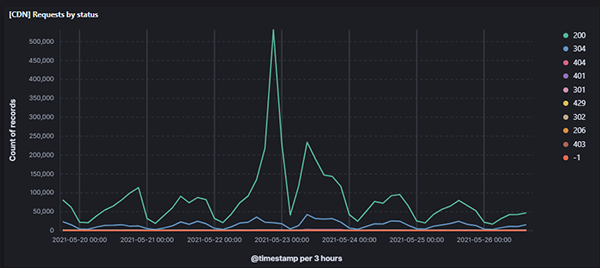 While the 'spike' in traffic for Eurovoix around the time of the Eurovision final is a predictable one, it's the kind of influx of new users that traditional shared web hosting struggles to deal with.
As websites will be confined to a single server, it would take 'manual' actions from their web team, or Eurovoix (and other sites on that server) would become slow or inaccessible.
They'd reach their 'Waterloo', in other words…(sorry not sorry).
With 20i's autoscaling platform you get access to the resources of a whole multi-server hosting platform. So that means that a site like Eurovoix doesn't experience the effects of traffic spikes.
It also means that it all happens automatically: our Sysadmins hadn't heard of Eurovoix when I mentioned you to them – which is a good thing (when it comes to web hosting!).
Eurovoix Heroes
Have you had any problems since moving to 20i?
Darren: We have been with 20i since June 2019 and we have not had a single problem. I've been with other web hosts over the years for different projects, and I can honestly tell you that 20i is the best I've ever used. The Migration tool that 20i offers is amazing and so easy to use, just had to input a few details and our website was transferred from our old host to 20i.
Would you recommend 20i hosting to other news sites?
Anthony / Darren: We would highly recommend 20i, all the interactions we've had when having technical queries or around what plan we should be on have been really straightforward and informed. We've not once had an outage since being with 20i and that says a lot when during that time our traffic has grown a further 20 to 30%.
Boom bang-a-bang guys – bonne chance with the site, and thanks for your time! ?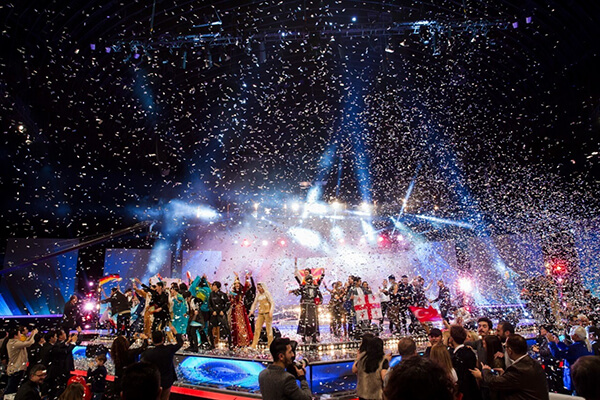 Are you 20i customer with a story to tell? Get in touch to be featured!
You can find all our Featured Customer interviews on one page on 20i.com.