Whether you're a content creator sharing your latest digital assets, a musician dropping your newest track, or a business distributing marketing materials, a good WordPress download manager will streamline the process of sharing files, controlling access, measuring success and ensures a smooth user experience
But with a plethora of options available, how do you choose the best WordPress download manager for your needs?
In this guide, we'll dive deep into the top WordPress download managers looking at pros and cons for each.
What is a WordPress download manager?
A WordPress download manager is a type of plugin that allows you to control, track and manage file downloads from your WordPress site.
These plugins are versatile and usually allow you to configure them to achieve different things.
Most download manager plugins will provide useful statistical data, such as how many times a file has been downloaded among other useful data.
Why use a WP download manager?
A WordPress download manager plugin is used to manage, control and track downloads directly from inside the WordPress site.
A download manager plugin can also make monitoring and restricting downloads possible, which can be implemented in different ways.
Some download manager plugins vary with what service they offer but most plugins will include support for:
Organising files: Most WordPress download manager plugins will have an easy user interface that gives the option to create and organise files as well as categorise them with the use of tags.
Download lock: These can prevent unauthorised downloads of files if they require to be purchased or for the user to have a certain account level among many other things. Blocks could also be implemented for certain geographical locations or via IP address.
Download monitoring: See download stats such as how many times a file has been downloaded, a breakdown of the top download locations and
Which WordPress Download Manager should you use?
The famous phrase 'You get what you pay for' applies to almost anything and WordPress file manager plugins are no exception.
While there are good free options on the market, they often lack some of the functionality, features or support of the freemium or premium plugins, however, which to use is completely up to you.
We have compiled a short list of plugins that we believe are some of the best in the market, which should help you identify which plugin is the right choice for your website.
➡️ Free WordPress download managers
Simple Download Monitor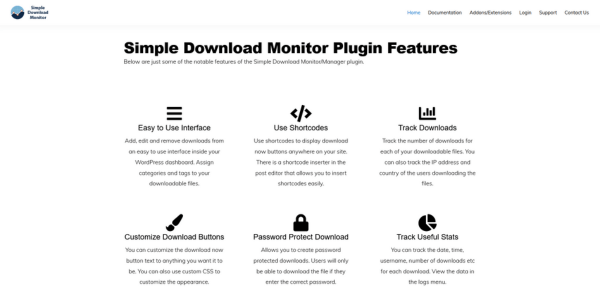 URL: https://simple-download-monitor.com
Pros:
A lot of features for a free plugin
Supports all common file types with no size restrictions
Good statistical reporting
Good support
Cons:
Not as simple to use as other plugins
Easy Media Download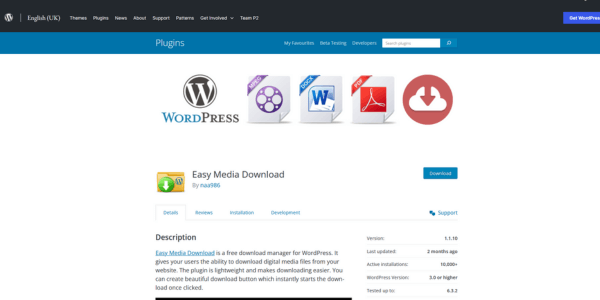 URL: https://en-gb.wordpress.org/plugins/easy-media-download/
Pros:
Very small, lightweight plugin
No file size limitations
Free
Cons:
Fewer features than other free alternatives
Woo
URL: https://woo.com/
Pros:
Can be used to sell digital and physical products
Good categorisation and organisation
Well-supported with a lot of documentation online
Free with a lot of variety with extensions available
Cons:
Large and resource-hungry due to other included features that may not be required
Not as easy to use as other plugins
➡️ Freemium WordPress download managers
Easy Digital Downloads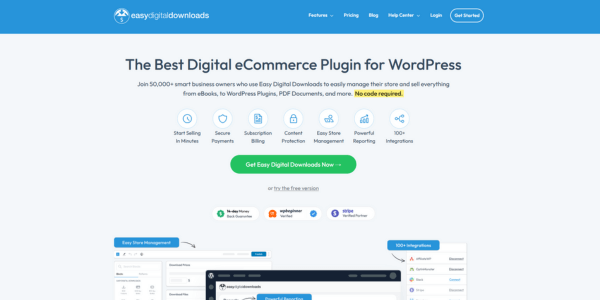 URL: https://easydigitaldownloads.com/
Pros:
Statistical reporting
Includes support for Stripe and PayPal
Easy to use
Cons:
Additional payment gateways require a premium extension
Some eCommerce features require extensions or premium membership
Download Monitor
URL: https://www.download-monitor.com/
Pros:
Uses the same WordPress interface for seamless integration
Comprehensive tracking and monitoring of downloads
Integrates with Amazon S3 and Google Drive
Cons:
It is a bit more complicated to set up in comparison to alternative plugins
Premium packages range from $39 – $159 per year
Shared Files
URL: https://www.sharedfilespro.com/
Pros:
Embedding files made easy
Good categorisation and filtering
Debug logs built-in
Cons:
Slightly more expensive than some comparative competitors (depending on the level of subscription)
➡️ Premium WordPress download managers
WP File Download
URL: https://www.joomunited.com/wordpress-products/wp-file-download
Pros:
Cheaper than some competitors, starting at $49 per year
Wide language support
Integration with Elementor Page Builder
Cons:
Some features, such as cloud support require a higher membership level of $69 per year
File Manager Pro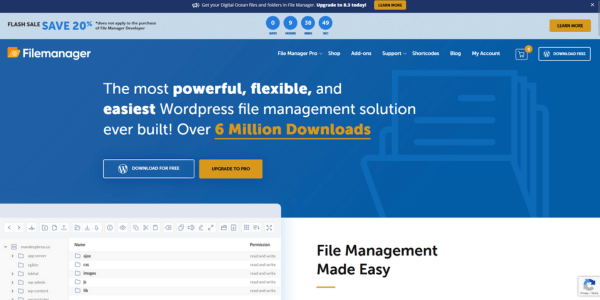 URL: https://filemanagerpro.io/
Pros:
Database manager add-on included
Includes lifetime updates with all subscription levels
Easy-to-use shortcodes
Cons:
Includes a lot of features which might incur a steep learning curve
Use Your Drive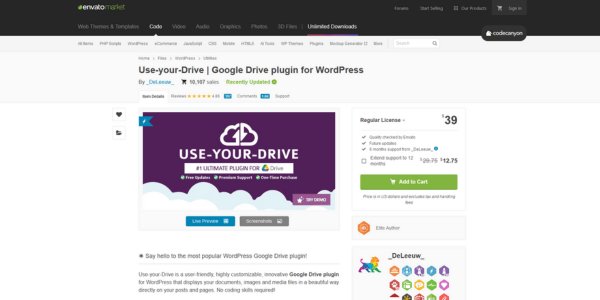 URL: https://codecanyon.net/item/useyourdrive-google-drive-plugin-for-wordpress/6219776
Pros:
Easy-to-use interface
Easy file embedding
Includes a built-in media player for videos and audio files
Cheaper than most competitors at around $39 per annual subscription
Cons:
Requires a Google Drive account
Learning curve due to an abundance of features
Final thoughts
Choosing the right WordPress file manager plugin for your site will depend on the needs of the site, your budget and your technical experience.
Factors to consider:
Check the reviews and ratings of the plugin on the WordPress plugin repository
How easy the plugin is to use based upon your experience level
If the cost of the plugin justifies what you will use the plugin for
Check that the plugin developers provide support and that the plugin is regularly updated.
Always take a backup of your website prior to implementing a file manager plugin to prevent data loss due to incompatibility or site malfunctions.