In this first impressions review, I'm going to have a look at invoice, expenses and task tracker software Invoice Ninja.
How easy is it to get set-up, how good are the features and should you use it for your business?
TL;DR
Pros
✅ Quick learning curve
✅ A lot of features
✅ Clean UX & easy to navigate
Cons
❌ Onboarding could be better
❌ Poor warning labels/error feedback
❌ $30 a year to remove the Invoice Ninja logo
Rating
9/10 – Highly recommended
What is Invoice Ninja?
Invoice Ninja is free, open source invoice and expense tracking software, built with Laravel and tailwind. It describes itself as "Easy invoicing, multiple payment options, expense & vendor management, and much more!"
Invoice Ninja is available as a one-click app on our Managed Hosting and through our Reseller Hosting.
How easy is it to install Invoice Ninja?
Thankfully, Invoice Ninja comes as a one-click app on our hosting, so installing Invoice Ninja was as easy as it gets.
If you use a hosting solution that doesn't provide Invoice Ninja as a one-click app, their official set up guides are linked to from their home page.
Invoice Ninja offers comprehensive support documentation, including getting started guides, as well as a support forum and YouTube channel.
Getting started with Invoice Ninja
Upon installation, it's time set everything up. Here"s my first screen…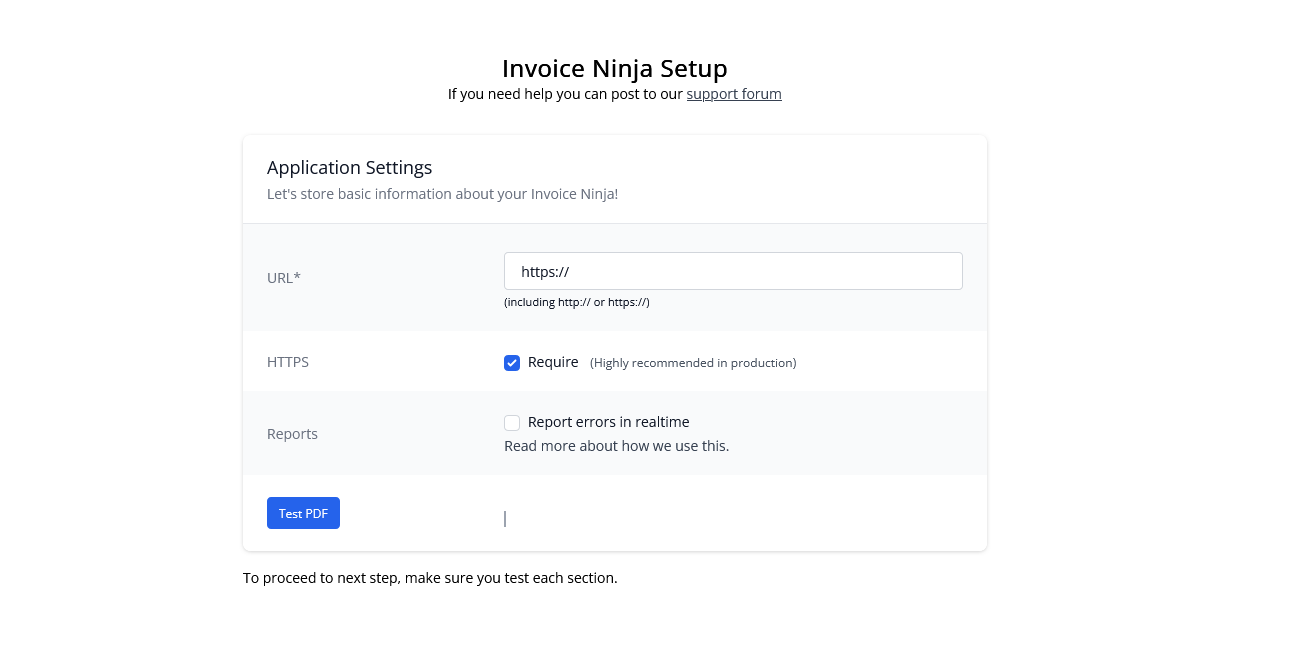 I type in my domain name and click the oddly names 'Test PDF' button – that CTA is confusing, but there's nothing else I can see to click on.
It then reveals my database connection information. This information has been prefilled for me by the 20i one-click app installation, so I know it's all correct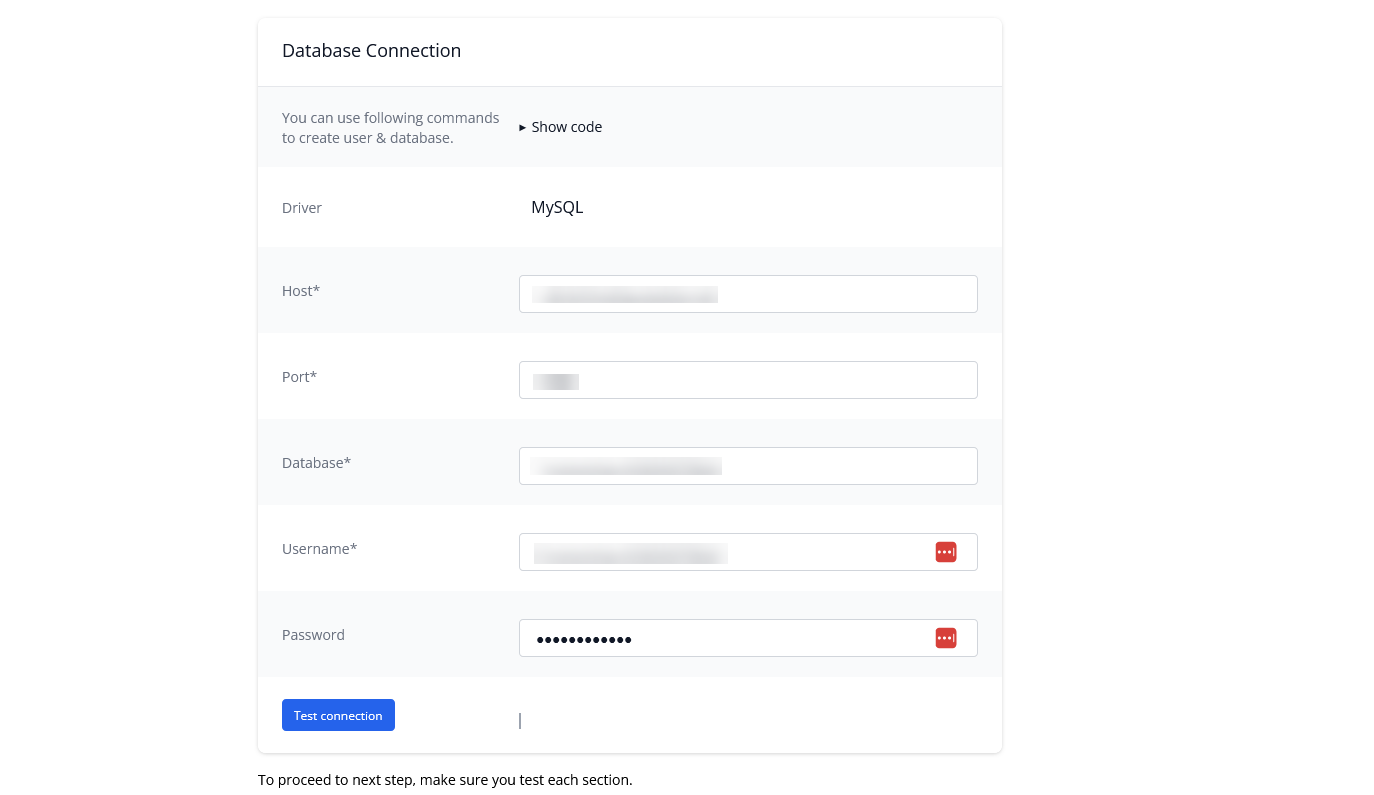 It now wants me to send a test email. Just clicking on the button seems to be enough, and I'm not sure if (or how) any email has been sent 🤷
And finally, I'm now ready to create my account.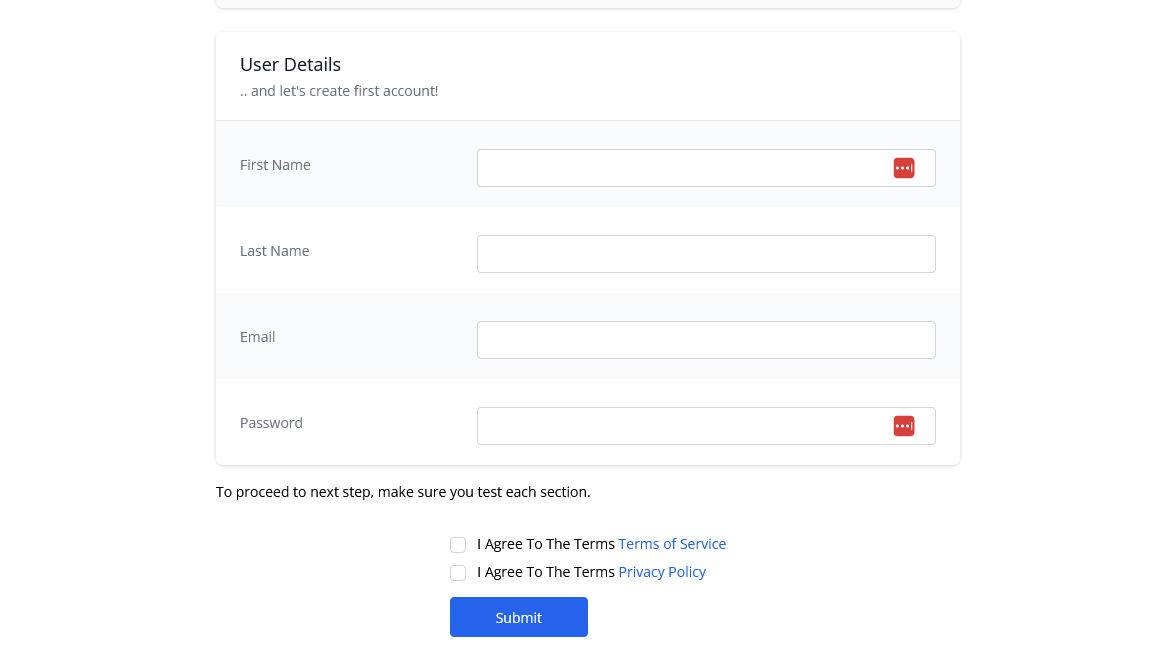 After adding my information, I'm taken to the log in screen.
Some of the buttons have odd names that don't describe the action (as far as I can see), but from installing the software to logging in has only taken a couple of minutes.
Setting up Invoice Ninja
As soon as I log in, a pop-up asks if I want to upload my logo. This seems like the start of an easy to follow onboarding process…
…but no, it literally wants me to just do that and then leaves me there.
The logo I try to upload doesn't work, but there's no feedback why – is the image too big? Are the dimensions wrong?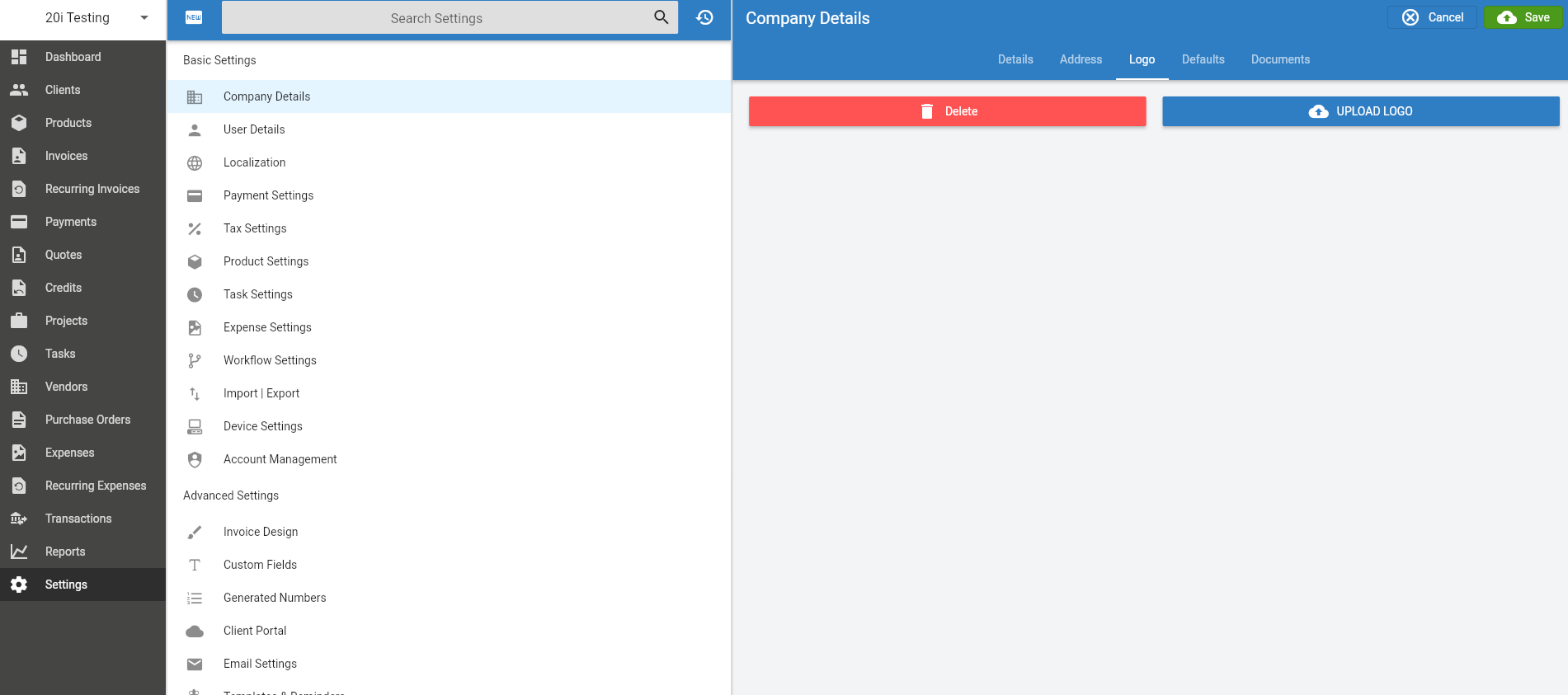 After a couple of attempts, I decide to leave it and move on. I click back to the dashboard home page in order to get my bearings and have a look around.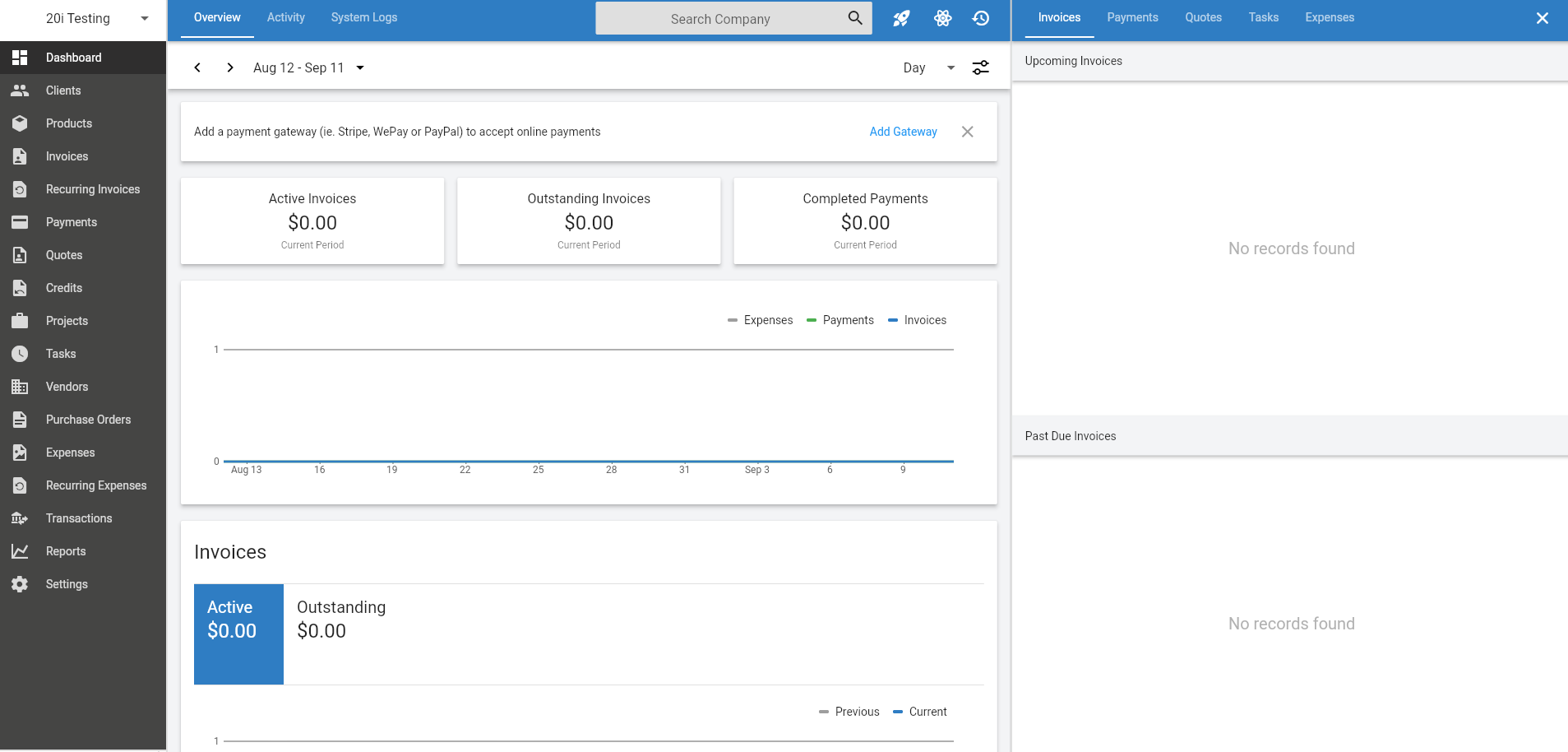 Thankfully, the menu on the left is clearly labelled, so I start working my way down that list.
Things start to get better, and after a clunky first impression, I now begin to see the powerful and useful set of features Invoice Ninja has.
I won't go through every feature line by line here. There are a huge number of items that need adding or editing, but that's the same with most software solutions that you want to apply your brand to.
The pre-existing fields are well thought out and will cover the vast majority of use cases. I can also add my own custom fields to each section as well.
A great example of how easy it is to navigate; Once I've added a product to my account, I can quickly and easily create an invoice or purchase order from that product…
… or add a product to an invoice if I choose to do it that way around.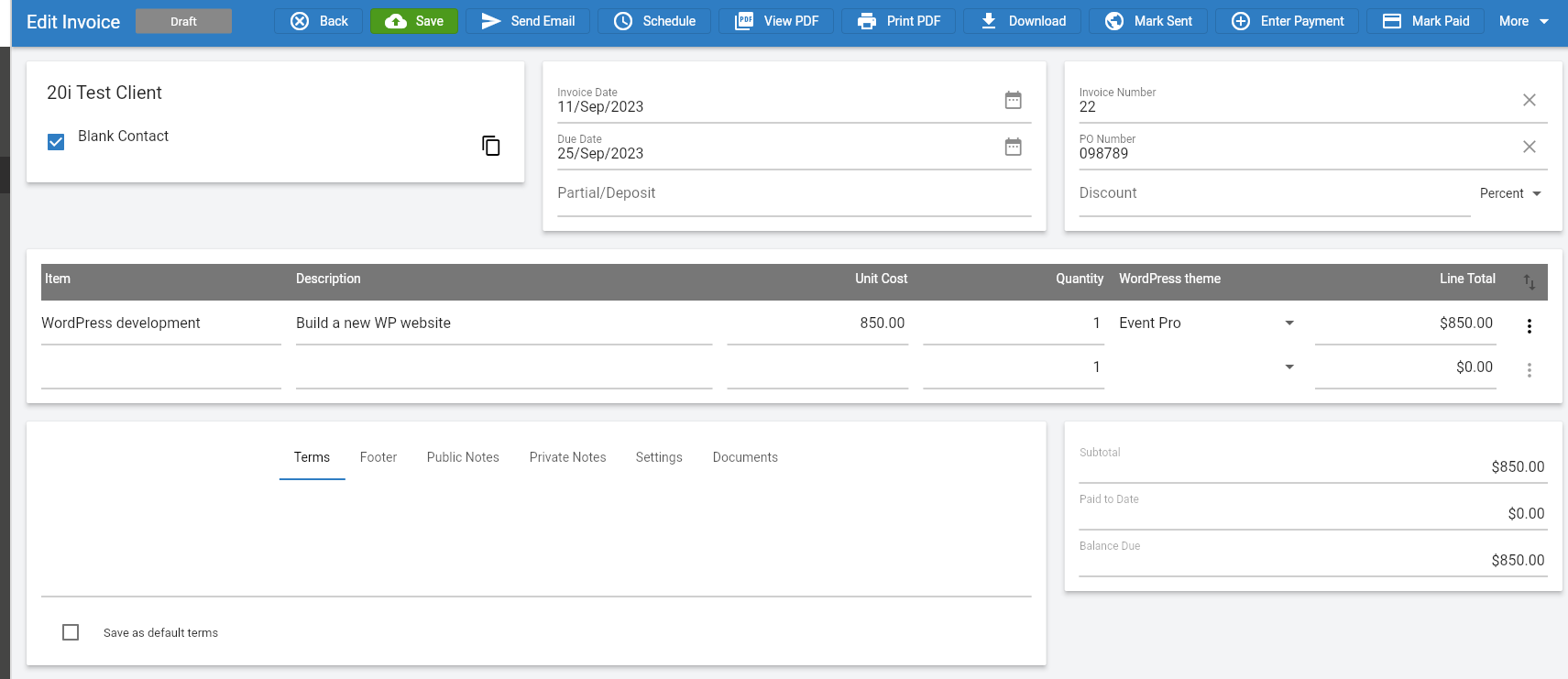 I can also choose to email the invoice now or schedule it for a later date.
Other features that come bundled with Invoice Ninja include:
Recurring invoices
Quotes
Credits
Projects/tasks with billable rate
Purchase orders
Expense tracking
Connect bank accounts to import & sync transactions
Applying your brand
Invoice Ninja has a strong set of features and tools to brand your customer facing assets.
You can choose to use their point and click builder or manually customise the code.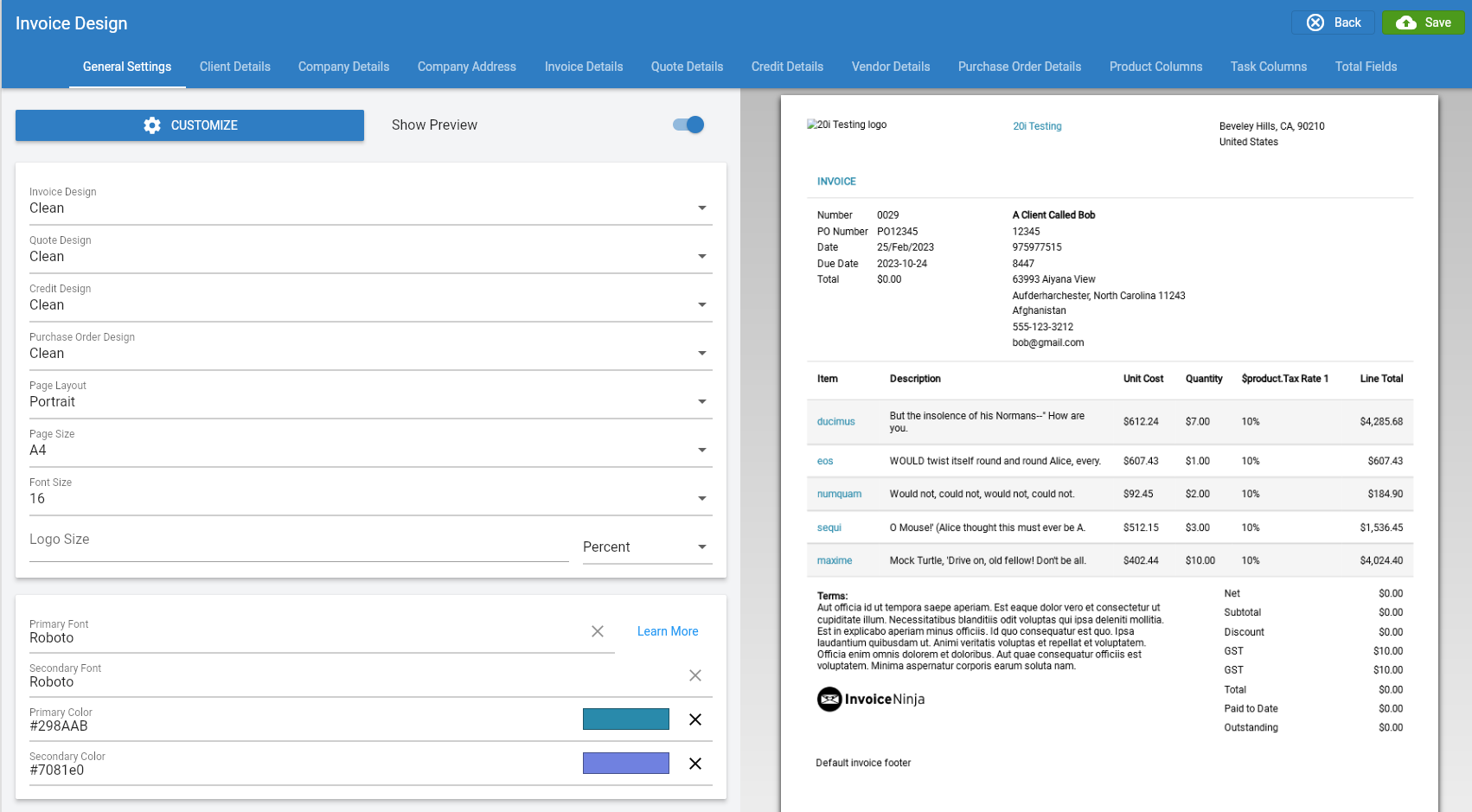 That being said, you'll notice I've still not cracked what size logo I should install 👆
Who is Invoice Ninja for?
Invoice Ninja be on any list for consideration if you're a contractor, freelancer, consultant or small business. The $30 a year fee to remove their branding is a small investment compared to other paid solutions.
Final thoughts
After a slightly shaky start with the strange button copy during set up and super-limited onboarding, I quickly came around to Invoice Ninja and appreciated what is on offer here. The depth of features and general UX is very good, and I never got lost or unsure what to do next.
I'm also impressed with the level of customisation I can apply to Invoice Ninja, including both customer facing assets and my dashboard.
For a small business, and especially if you're a small web design/dev agency or freelancer, this is a great bit of kit, and definitely worth installing to have a play with.
Do you agree? If you have used Invoice Ninja and would like to share your experiences, leave a comment below.
Self hosted app reviews
Are there any self hosted apps you'd recommend we review in a future post? Let us know in the comments below.