Could you introduce yourself? What does A9K do?
I'm Will, sole director and employee of A9K Systems. A9K Systems could be described in traditional industry terminology as a web design studio but really I just solve the client's web problems.
People come to me because they either don't have the time or the technical knowhow to get things done. And under the A9K umbrella, I provide not only the pure "web end" but also content creation. I'm happy to work alone on smaller jobs but can pull from a large pool of other freelancers to create custom group skillsets for larger projects.
Where did you get the name?
A9K is short for akira9000.
This is the internet username I started using way back in the 1990s to register on any forums or message boards. It's a mashup of Akira from the Katsuhiro Otomo manga/anime of the same name and 9000 from HAL 9000, the AI in 2001: A Space Odyssey. Maybe I'm a repressed film school student at heart.
I tagged the 9000 on because just plain "akira" was always registered by somebody else by the time I got there. When it came time to register the business name with HMRC it sounded just technical and mysterious enough for the client, was nice and short and still uniquely attached to my personal history with the internet.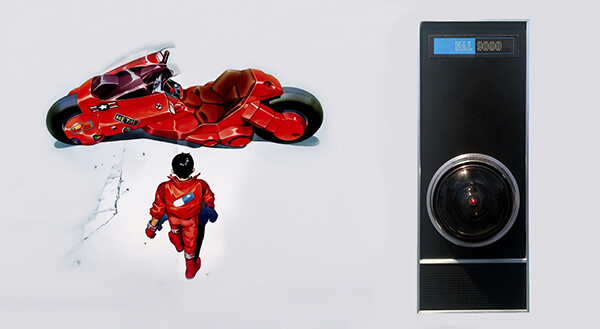 Plus, I'd always had the idea of eventually tagging different areas of the business on the end, hence – A9K Systems, A9K Photo & A9K Media. It was a nice fit.
How's business?
Business, honestly, has never been better.
I've had 3 consecutive years of growing the client base as well as profit increases. I started the company back in 2008 so I've seen some tremendous economic ups and downs in that time.
I think the industry as a whole got a boost from the pandemic in the way business suddenly pushed to remote working wherever possible. As a rule, web people really did OK over the last couple of years where other industries weren't quite so lucky.
Apart from web design, do you offer any other services?
As I mentioned briefly in the intro. I wouldn't really consider myself just a web designer or developer anymore. I fix problems for businesses that essentially boil down to costs savings.
For the past 5 years I've offered top to bottom content production services leading to a photography offshoot called A9K Photo and in January of next year, I will go live in partnership with a long term work colleague, with a new company called A9K Media, providing dedicated video production.
These 3 areas are so intertwined these days it's hard to imagine a time when the client only wanted a "website" but that was very much the case when I started. The content creator era was just getting going back in 2008 but look where we are now.
Today, the client needs headshots, product videos or full on face to camera sessions with scripting and teleprompting. By offering all 3 in a one stop shop I just solve 3 problems in one go. If I can upsell hosting and domains, all the better.
More often than not I feel a huge sense of relief from the client that they don't then have to dive back into Google to find a photographer and a video team to create the content for their shiny new site. We can fix it all, an agency mentality rather than a bedroom coder mentality.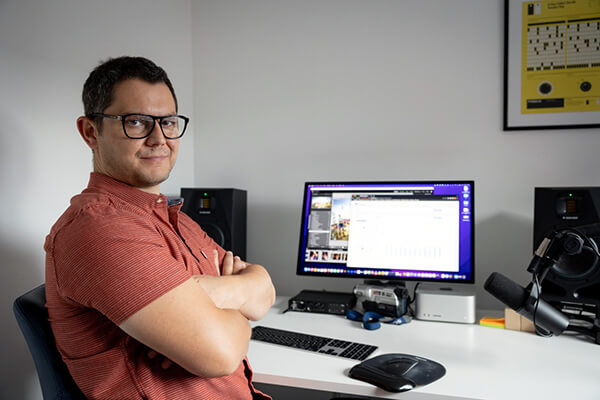 Do you have a typical client? If so, what type of business do they run?
There are always random exceptions that seem to spring out of nowhere but I do actually have a typical client for most of the jobs that come in.
It took me a couple of years to respond to the "race to the bottom" mentality in terms of web design pricing. A lot of competition seems to have only one single selling point – go cheap.
For a small web design company this can create a huge problem in margins and is a nightmare in sales terms. If you sell only cheap websites, you need to sell A LOT of websites and can end up chasing your tail with regards to effort and ROI.
Finding new clients is a constant drain on resources. When everyone around was offering websites for £250, I decided to uplift and upsell to companies that needed not only a website and hosting but business action photos, headshots and potentially YouTube content too.
I prefer to have fewer clients but spend some time really getting to know them, and what they need, to help them sell more product. It's easy to forget that's our job as web people – help other people sell more stuff. That relationship usually means repeat billings as all those elements get naturally refreshed over time.
I've been looking at the A9K website, and from the News section, it appears that it hasn't been updated for two years – like it's been abandoned. Why is that?
I'm smiling typing this answer 🙂
The A9K Systems news section on the website hasn't been touched for about 2 years. This is exactly what you tell your customers NOT to do! Keep your news regular and unique right? SEO works on consistent and quality output, right!?
Well….I hammered the news section for a couple of months back when that version of my Systems site went live. It got me to exactly where I needed to be in rank for my search queries and honestly, been so busy since, it's just been shelved.
I will return to it – but as usual, waiting for that magic week where the phone might not ring for a couple of days.
Does that cause you any problems?
It never causes any problems with customers as I don't think that many people look at your news. I bet most of the teams reading this know deep down, you're probably only doing "news" to keep Google happy.
Another thing I notice about your website is that lack of images. Was that choice related to performance, or deliberate minimalism?
When the site was rebuilt I was conscious of just how similar most web design companies' sites have become and at that time, I thought to myself – how do I stand out?
The long term plan was to kill all the images and build in some slick computer related animations instead. A kind of deliberate minimalism that never quite got to the next level. Or rather, the site went live and I've been booked up since. A nice problem to have.
Indeed! How long have you been offering hosting as part of your services?
Hosting has been a fantastically reliable revenue stream for me since day one, so approximately 14 years of providing hosting and domains.
In the early days coughing up for reseller hosting is quite a heavy lift given the cost in comparison to a basics hosting package at say 1&1 for example. But those recurring renewals got me through some pretty "invoice light" periods in the early days.
Any web designer/developer that does not offer resold hosting to their client base is leaving potentially business-changing revenue on the table. I still hear the odd agency say they don't do the hosting end – I think they are bonkers. Nine times out of ten, the client does not want to even think about it. They just want you take care of it – another problem for them solved.
What would you say to someone who was considering moving their web design business to 20i?
I moved away from a competitor to 20i about 5 years ago due to some unacceptable reliability issues. I needed to find a hosting company I could trust.
As for the value argument, the previous provider was cheaper but uptime was a roll of the dice. That sounds like a horrible cliché but it's 100% true.
If the services I sell fail for my clients, they will leave me and my business will in turn fail.
I have genuinely never experienced better customer service, attention to detail, actual product development based on customer input and maybe most importantly: 20i just get the business. They know what resellers/agencies need and provide those services with no fuss.
A pleasure to deal with.
Great – thanks for your kind words, Will.
---
Read more interviews with 20i customers on our Customer Stories page. Want to be featured? Get in touch!