As we've changed which SSD we use recently, it's time to introduce you to the latest: the Samsung PM897.
When 20i was founded, we started using the Samsung SM863, then moved on to the SM883, and now we're on the PM897, their latest upgrade.
Firstly, here's a brief run-down of why we choose to use Solid State Drives for all our web hosting and VPS.
SSDs – the basics
I'll be brief here – since if you've bought a computing device recently you probably know this already.
In an SSD, data is stored in microchips instead of magnetic disks, making them faster than traditional Hard Disk Drives (HDDs). SSDs are more expensive, but higher performance, draw less energy and can be more reliable. Many other web hosting companies use SSDs, but often this is in combination with HDDs, which is one of the reasons why our platform is faster than most.
If data can get through the server's processor faster, it means that it can be delivered to the user's browser faster, so website pages load in less time. This means user experience is improved. As search engines thrive on delivering results that satisfy the user, they also favour faster-loading websites.
So SSD hosting is a must for those who want to rank well in search engines and give users the snappy website that will make them buy and keep coming back.
Why Samsung SSD?
Samsung are a global brand with a strong reputation for high standards. They have a legacy of producing high quality products that goes back to 1938.
From the 1990s onwards, they've been a leader in electronic components, winning multiple awards for their products. The sheer volume of their manufacturing process brings about a consistency in their products. They don't suffer the same variability in quality that smaller companies can sometimes be vulnerable-to [Enough Samsung fanboishness – Ed].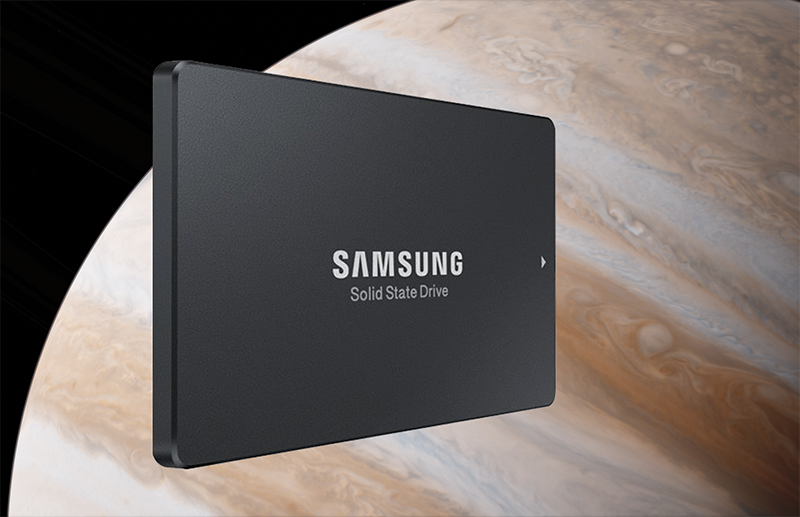 Could we have bought less expensive SSDs?
The quick answer is: yes!
Other web hosting companies use cheaper SSDs, and to be fair to them, they're generally perform OK for hosting. Note the 'generally' there.
The computer storage market is a good example of getting what you pay for. Even though our storage has multiple levels of redundancy, we don't want our SSDs to have any issues, ever. We don't cut corners.
We also want our storage to be as fast as possible without sacrificing reliability. Some of the less well-known (and less expensive) brands of SSD do have quality issues.
In the end, we're risk-averse at 20i.
Our hosting is a premium product: many of our customers are web professionals who value quality hardware. You can get cheaper hosting, but it won't have the same level of speed and reliability that we offer. To get premium enterprise performance, you need to invest in the best.
Stacking up with V-NAND
SSDs use non-volatile flash memory called NAND. This refers to the Not/AND logic gate. Samsung V6 (128 Layer) TLC V-NAND is a notable feature on the PM897.
The 'V' refers to the arrangement of the memory cells within the drive, which store the digital data. Previously, SSD memory was architected as 2D planar NAND. The cells were laid out across the die of the chip in the X and Y direction: two dimensions.
V-NAND is where the memory cells are stacked vertically ('V') as well. Samsung stack 128 cell layers. While this third dimension provides extra space, it also keeps the total chip die size the same, so manufacturing costs aren't increased in proportion to the storage gains.
So you get more dense, faster memory in the same wafer of silicon.
Lots of scrubs with TLC
We've moved from Multi Level Cells (MLC) to Triple Level Cells (TLC). MLC meant two bits stored in each memory cell, and – you've guessed it – TLC means three bits.
Again, this has the effect of increasing memory density, giving better performance in the same overall format. We'd had the option of using TLC when we moved to our previous SSD, the SM883, but we decided against it.
This was because at that time, TLC was more power-hungry. We take our power use seriously, as evidenced with our 100% renewable power green hosting.

However, times have changed, and Samsung have delivered on power use, with the same writing wattage as the SM883, and a 9% reduction in active read power use (2.2W vs 2.4W) on the PM897. For serving websites, 'read' power use is the most critical.
There isn't any reduction in performance either, with improvements on read, write and IOPS (the latter being especially helpful for users with demanding apps):
| | | |
| --- | --- | --- |
| | SM883 960 GB | PM897 960 GB |
| Read | 540 MB/s | 560 MB/s |
| Write | 520 MB/s | 530 MB/s |
| IOPS Read | 97K | 97K |
| IOPS Write | 29K | 60K |
That 560 MB/s read is the maximum available for SATA-attached drives. It makes for 'interface-saturating performance', as Samsung say.
Storage capacity: why 960 GB?
The PM897 is available in sizes ranging from 240 GB to 7.68 TB. The 960 GB model we went-for has plenty of space.
We didn't go with the larger 7.68 terabyte version, since multiple drives work better in a RAID configuration, as in our data centres. This way, they're faster and have more redundancy.
Low latency and consistency
The PM897 delivers where it counts. Despite working all hours, every day, performance remains consistently low latency.
When combined in RAID configurations with multiple drives, small differences in IOPS can multiply and lead to errors or slowdowns. The PM897 delivers an exceptional level of performance accuracy with an Uncorrectable Bit Error Rate of 1 sector per 1017 bits read (that's 100 quadrillion bits!).
3+ Device Writes Per Day
No, this isn't a really slow speed: it's a measure of its reliability.
Device Write Per Day (DWPD) is the number of times a disk can be written-to, to its full capacity, over time. The PM897 is warranted be filled to capacity with data over three times a day over five years. In normal use in our data centres, it's unlikely that the SSD will ever receive that level of punishment.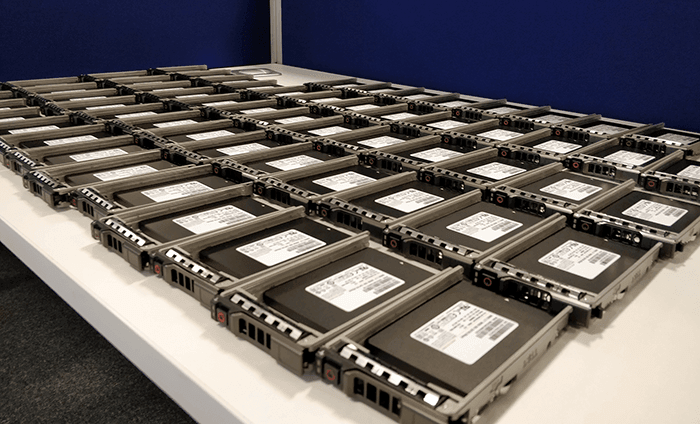 Securing your data
The PM897 includes hardware encryption management to the Trusted Computing Group OPAL 2.0 standard. This 256-bit encryption makes it difficult for your data to be accessed by hackers.
Also, while our data centres already have multiple levels of redundancy to protect against power loss (like backup generators), our SSDs also have their own protection.
An unexpected power outage – however unlikely – can cause problems. Data that's stored in an SSD's DRAM buffers can be lost forever. The DRAM is volatile, like the RAM on your PC or phone.
Samsung's Power Loss Protection (PLP) architecture protects against this by reacting to a power dropout. It uses the stored power in its PLP capacitors to write that buffered DRAM data to flash memory, right away. The SSD's flash memory isn't volatile, so there's no loss of data, even in the worse of scenarios.

The future
We haven't had any Samsung Enterprise SSDs fail in live operation (touch wood!) so we're really happy with their performance. Yet technology moves on, and as such, we need to move with it.
So in the future, will we continue to use Samsung SSDs?
Despite a lot of this article sounding like an advert for Samsung (!), we aren't associated or partnered with them in any way. We don't have blind loyalty to the brand.
If something better comes along, then we'll certainly consider it. That's why we've upgraded all our SSDs twice in the last five years.
But at least for now, we're really happy with the performance of the Samsung PM897s.
We hope you enjoy their benefits too: faster loading websites!
---
You can find out more about our SSD Reseller Hosting, SSD WordPress Hosting, SSD VPS, SSD Web Hosting and SSD Managed Hosting at these links.