There's one thing we can all agree on: search engine optimisation (SEO) over the years has made a pretty-bad name for itself.
It's still a kind of mystical creature that most small and medium-sized businesses wish they could know more about and generally do better at. After all, get your SEO game right and there's no reason your website shouldn't be generating new business enquiries for you on a daily basis.
BUT the problem is that for the last 10 – 15 years, bad SEOs have really made the business of SEO and online marketing stink.
No, I'm not an SEO hater. I say this because I've witnessed it time and time again and am not ashamed to say I've been on the bad end of it myself for various website projects over the years.
For the past 18 months, we have offered our own affordable SEO services. During this time, we have met with around 15 local small and medium-sized businesses. 14 of the 15 business we had meetings with already had an SEO company working for them charging between £250 – £1000 per month.
14 of the 14 businesses who already had an SEO company working for them had NO monthly SEO work being done on their site or sites (the stink). But because these businesses don't really understand even the basics of SEO, month after month they continued to pay and the SEOs continued to collect. Literally money for nothing!
Free SEO tools
So, let's get into it… the reason for writing this post is to educate business owners on the basics of SEO and give you the free tools you can use to make sure that your SEO company is actually doing something worth paying for.
As well as putting the power back in your hands to identify when work isn't really being done you will also be able to pick up some nifty SEO tips, tricks and free tools you can start using today on your own websites.
Security
If you've any interest in SEO or web marketing you'll probably know that having an SSL certificate installed on your website is now a very basic Google ranking factor.
Installing an SSL certificate is the first step in converting your website from http://domain.com to https://domain.com and the difference to a user views your site looks like this:

Not Secure: Google is making its warnings about insecure sites much more obvious. There is even speculation that the not secure warning might soon display in search results pages.
If you look at your own site and discover that HTTP is still the default you should get an SSL certificate installed. Most hosting providers can provide an SSL certificate for free and your current SEO company should be able to do this work for you and setup the correct redirects from HTTP to HTTPS as the new default.

Secure: once you have a valid SSL certificate installed your site will display the secure padlock. It's important to make sure that the HTTPS version of the site is set as the default and update the site settings in Google Search Console.
Broken internal links
The links on your website can sometimes become broken. For example, you update your site's URLs but forget to update the links to match the new URLs.
Most sites we scan have at least a couple of broken links but sometimes we come across sites with hundreds. When Google indexes your websites and comes across broken links these are like errors. To keep Google happy we want to present an error-free website.
You can use any broken link checker to run a quick scan on your site and see if you have any broken links. Although only a very basic and small on-page SEO factor this should be one of the first things any SEO company does when starting work on a new website.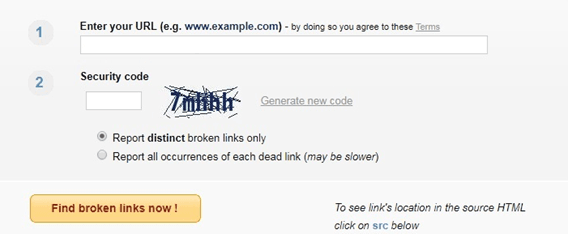 Website speed
It's important for Google to not only serve up the best most relevant search results but to do it quickly. If your competitor's website loads in 3 seconds and yours loads in 10 seconds, it's likely that Google will give a slight boost in rankings to the quicker website.
With gtmetrix.com not only can you scan your website to see how quickly it loads but the results will also show you handy tips on how you can make improvements.

You can see if we use gtmetrix.com ongorazy.com we get a pretty good PageSpeed Score.
If we scroll down further you can see that we have a little work to do on image optimization to make our score even better: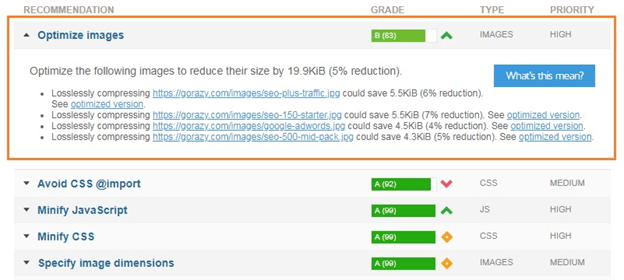 We can even use the same site to scan our own site vs. our competitors and get an idea of all the things we need to do to be better than them.
Although some of the tips are very basic, sometimes improving a website's page speed can get a little bit complicated.
Any good SEO company should have already done this for you but if you discover that your website is slow (anything around 3 seconds is good) and decide you want to make improvements, try to seek the help of your website developer or an SEO company. Obviously, every website is different but 2-3 hours work should be enough to make a huge difference to any slow website.
A little tip: if you're looking at employing an SEO company, why not use gtmetrix.com to scan their website for free and see how they do…? This is a great way to tell a serious SEO company from one that might not be very good.
For another recent blog post (Surrey SEO), we scanned over 20 different SEO/online marketing websites and ALL the sites which made outlandish 'award-winning' claims scored worse than their local competitors.
Be mobile
Over the last three months or so Google has been rolling out 'mobile first indexing'. This basically means that if your website doesn't perform well on mobile devices you could suffer a drop in rankings.
The easiest way to check if your site is up to Google's mobile standards is it use their mobile-friendly tester. [A full review of all Google's tools can be found here: Testing Mobile Site Speed.]
Google's switch to mobile first indexing is probably the biggest known change to the Google algorithm last year (2018).
Any SEO who is being paid a retainer for SEO work should have made sure your site was mobile friendly a long time ago. If you find your site fails Google's mobile-friendly test you should raise this with your SEO company ASAP.
Keyword research & communication in SEO
As SEOs, our most time-consuming job (and the most important job) is keyword research. Put simply and honestly most small businesses likely won't be able to rank highly for their dream keyword.
WHY??!! If we were starting a new business selling flowers it would be incredibly difficult to rank in the top 3 places for the keyword 'flowers'. Although this might be the ultimate goal it could take years to appear even on the bottom of page 1 for such a huge and impressive keyword.
This is where keyword research comes in. Even if we establish that our dream keyword could take years to achieve there are still thousands of other keywords we can rank in the top 3 places for much more easily (even for a brand new website).
What your SEO team should be excellent at is establishing with you what these keywords could be. After all, it's your business and you're the expert so your first guesses at alternative keywords are likely to be better than mine.
With the right communication between SEO and expert in no time, you should have a list of intent-focused long tail keywords you can be targeting to generate traffic and sales.
So even if 'flowers' is off the card for the moment you might discover that 'flowers for Valentines Day' – although having a much smaller total search volume- actually drives a much more intent-driven quality visitor who is more likely to buy.
Yes, the keyword 'flowers' does have a HUGE search volume but 200 visits per month for 'flowers for Valentines Day' isn't to be sniffed at! These are 200 high-quality intent driven searchers much more likely to buy:
Notice that the keyword difficulty is much lower for the long tail keyword example.
Don't stop with just one idea for your business – I bet there are hundreds or even thousands of quality long tail keywords you could be ranking for.
So what does all this mean for you and your current SEO?
Well, frankly we spend a lot of time over email, phone and skype with our customers going over the keyword research we've done and best identifying the keywords we all think we should be targeting to generate the best return on investment.
Of the 14 businesses we've met with this year who were already paying for SEO services, NONE of them ever heard a peep directly from their SEO after signing the original contract.
Free keyword research tool
Have you ever noticed at the bottom of a Google search result the "searches related to" section? It looks like this:

These 'related to' keyword suggestions are long tail keywords actually provided by Google. This is a great way to begin your keyword research for future pages or blog posts without the need to buy premium SEO tools like ahrefs or SEMrush.
Not every 'related to' suggestion is going to be a winner so to take your research to another level choose a long tail keyword suggestion you like and run a Google search. Assess the first page of results using the tools we have already discussed and decide if it's worthwhile and possible for you to rank on page 1.
Putting the power back in your hands…
This post was written to help you – even if a total SEO novice – gain some understanding of SEO and some of the free SEO tools that are available to use.
I have seen way too many times bad SEOs taking money for nothing and I really hate that! It's hard enough to run a small business without giving your hard earned money away.
I really hope you have enjoyed my first article for the 20i blog! My name is William Brook but you can call me Raz (it's a long story!) if you enjoyed this I think you'll love my Gorazy blog. I write free, detailed and hopefully very useful posts for small & medium businesses who I have been working with and helping for over 15 years!
If you run a business, be sure to check out our web hosting for businesses!