I had the pleasure recently of interviewing SEO guru Mark Williams-Cook. He is not only the founder of AlsoAsked and Deathsave, but also the SEO director at the digital agency Candour and Top Dog Harnesses.
Mark will be known to many of you via his social media activity where he shares his knowledge and tons of useful SEO tips (you should really look him up and follow him if you are not already).
He is a very busy man and I am very happy that he takes some time to talk to me about AlsoAsked. It is a tool every SEO should know about and use in my opinion. Let's have a closer look at the tool and what the founder can tell us about it.
Hi Mark and thanks for taking the time. You seem to be a busy man, so I am sure it was not boredom that made you create AlsoAsked. Can you tell us a little about what has inspired you to create the tool?
We've actually been using People Also Ask data for content and SEO purposes for many years now.
We started off with some command line tools that helped us scrape the data, which really sped things up.
When showed off these tools at some SEO conferences, it seemed very few people were doing similar, so we decided to make an online version.
We launched the alpha version of AlsoAsked in November 2019 and ran it for free for over a year while we developed the final version.
We actually ended up having to take the free version down because it was so popular, the running cost was going into the high 4 figures per month!
You are a well-known SEO, is AlsoAsked only for SEOs or who else can use it and what benefits does it bring it to the user?
I think this is one of the great things about People Also Asked data. It's one of the few keyword sources where important intent isn't drowned out or hidden by a lack of search volume.
The data can be used by anyone that wants more insight into their customers, whether that's a product designer, content writer, or someone running a PPC campaign.
Take a simple thing like buying headphones: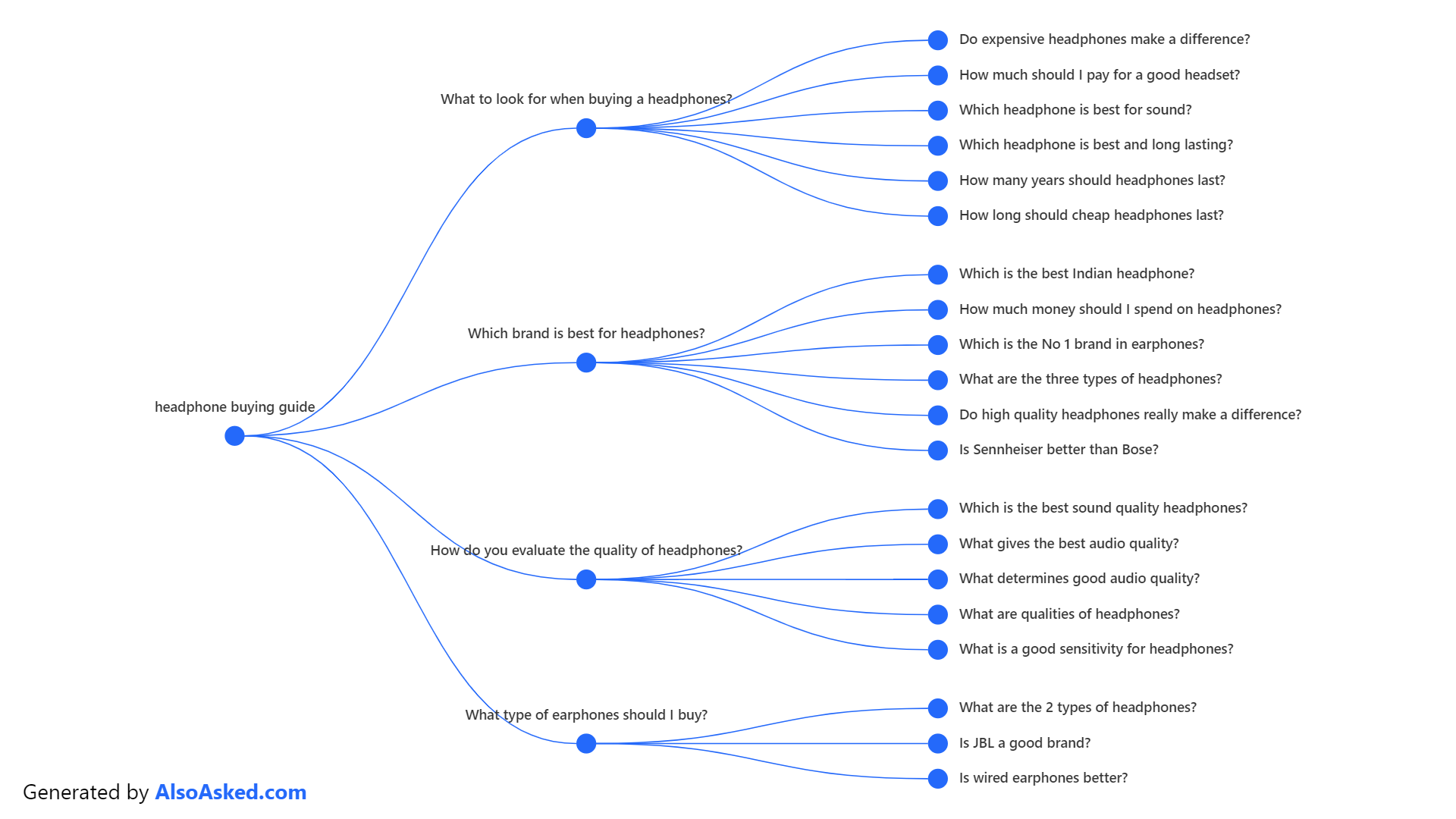 We can see hugely insightful searches covering things like:
Not even knowing what features to look for / how to evaluate
Lots of questions about quality vs price
How noise cancelling works and the benefits
Specific comparisons of known brands
Looking at wired/wireless and in-ear/over-ear
How long they last
There are similar tools out there. Can you tell us what makes AlsoAsked different from other tool?
It really can be confusing!
There are a few tools that do similar things, but none that use our method of extraction. AlsoAsked gets live People Also Asked data by simulating clicks on the PAA questions.
Why this is so important is that you get a different set of questions if you click on a PAA than if you "re-Google" those questions, which is what many tools are doing by using cheap SERP scraping APIs.
The other result here is that an initial scrape is always limited to 4 questions, so not only do we return results that are more accurate to the user journey, we'll actually return more results than anyone else too.
Most of the "big" tools like SEMrush and Ahrefs have some PAA data, although this is not live – it's only what they found in their last crawls. PAA data can change on an hourly basis, so it's a great source of up-to-date information and we can give a competitive advantage with our fresh data.
Lastly, we're going to be the only service that offers an API for this data, allowing scale and integration with other workflows and tools.
One of the best-known is AnswerThePublic. I know you have explained this on Social Media, but for those who don't follow you, can you explain the difference is in the questions generated and the use of the output for the user?
It really is the most common question! I think people get mixed up because the output looks similar.
The key difference is that AnswerThePublic uses Google Suggest data and AlsoAsked relies on People Also Asked data, so the output you get is completely different and actually useful for different things (we use AnswerThePublic!).
As it says on the site, AnswerThePublic performs best by using 1-2 words. This is because it wraps your query in things like "how, why, can" and then sees what Google Suggest comes up with (what you see in your autocomplete when you search).
AnswerThePublic gives you a great overview of a topic from a keyword-centric perspective, so it's a great tool to decide what to write about.
However, if you actually then put a specific question in, like our questions about headphones, it will return almost nothing – which is where AlsoAsked shines.
Once you have decided on the topic you want to write about, AlsoAsked will tell you what you need to include in that article. It will provide an intent-centric perspective on that topic, meaning – "when someone asks this, what else do they want to know, or what do they want to ask next?"
The key thing here is that we're also using Google's own clustering on the questions – the things Google knows are related and therefore, make very logical sense you should answer!
I made a video with some examples to demonstrate both tools side by side here.
For everyone now interested in AlsoAsked, what is the best way to try it out and what would be your tip to best utilise the results?
We offer 90 searches per month for free (3 per day), so you can go right over to AlsoAsked and give it a try, you don't even need to register.
If you subscribe, I would highly recommend using the CSV export function and make it part of your content brief process. This will allow you to really quickly output the data from the tool and it will even provide you with the snippet that is already ranking in Google, to show what kind of answer you need.
I tend to use AlsoAsked to make our content better than competitors. If I see a competitor writing about something that I think is important, I'll run it through AlsoAsked and normally find several key things they have missed.
This means I can cover the same topic, but be more helpful to the user – which is what is going to make me win in the long term.

Before we let you go. After developing a successful tool like this, is there any advice you can give to someone having a great idea to start when starting to create a new tool or app?
Ideas are cheap, worry less about people copying you and get feedback early. We ran AlsoAsked for completely free for a year and got loads of feedback, testing data and ideas for features that we never would have before.
A big thank you to you Mark for taking your time for this interview.
If you haven't tried AlsoAsked already, I really recommend having a look at this tool.
If you would like some really valuable SEO tips, follow Mark on LinkedIn or Twitter, he shares a lot of his vast knowledge in regular posts there.