With so many to pick from and conflicting reviews, choosing the right SEO tools can be a bit of a minefield.
Here are the SEO tools we use at 20i on a daily basis to help monitor performance, guide the creation of new new content and improving existing content.
Let us know your favourite SEO tools or blogs in the comments below.
Ahrefs
I'm personally a huge fan of Ahrefs and it is the go-to SEO software for a lot of our research and performance monitoring.
It isn't cheap, and I personally wouldn't use it for non-revenue generating websites, but it is packed full of really powerful features and useful tools.
I much prefer the UI and UX of ahrefs to the likes of SEMRush and Moz, which I've both used and have never felt as comfortable interacting with the data.
The reports we use a lot include:
Keyword research
Ahrefs keyword research tool is one of the most advanced out there, with loads of options to expand the data or drilldown further.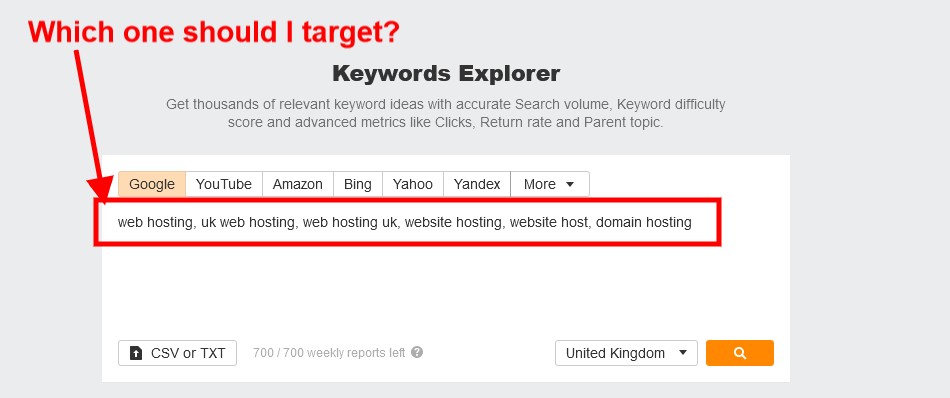 As you can see below, web hosting is incredibly competitive with a very high difficulty score (Keyword Difficulty gives an estimate of how hard it is to rank in the top 10 organic search results for a keyword on a 100-point scale).
Also, 'web hosting uk' is a more popular search term than 'uk web hosting':

Site Audit
Ahrefs will crawl all the pages on your website and flag any SEO issues it finds, as well as recommendations on how to fix them.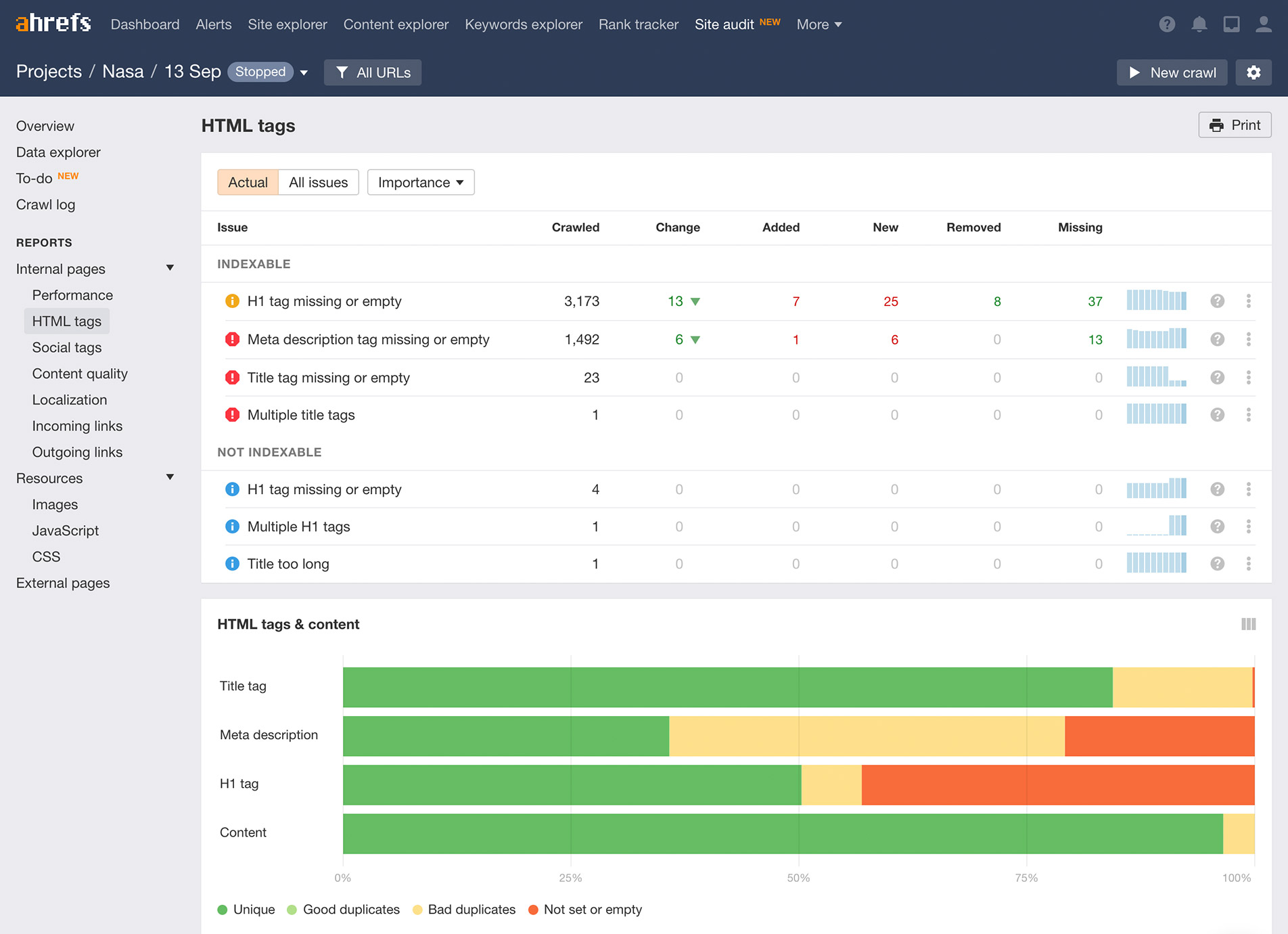 The reports cover issues related to:
Performance: slow pages, too-large CSS or HTML
HTML tags: missing, duplicate or non-optimal length of title tags, meta descriptions and H1 tags
Social tags: incomplete or missing Open Graph tags and Twitter cards
Content quality: low word counts, unconsolidated duplicate pages
Localization: all issues with Hreflang
Incoming links: detecting orphan pages, issues with nofollow links
Outgoing links: detecting links to redirects, broken pages
Resources: issues with images, JavaScript, CSS
We've set up a daily report to make sure any issues that may crop up are identified and fixed asap.
Backlinks
How many new links have we gained in the past x days?
A lot of these links come naturally, but we do occasionally conduct a bit of outreach, especially when we publish something meaty like the web designer survey.
This report let's us know how successful that has been.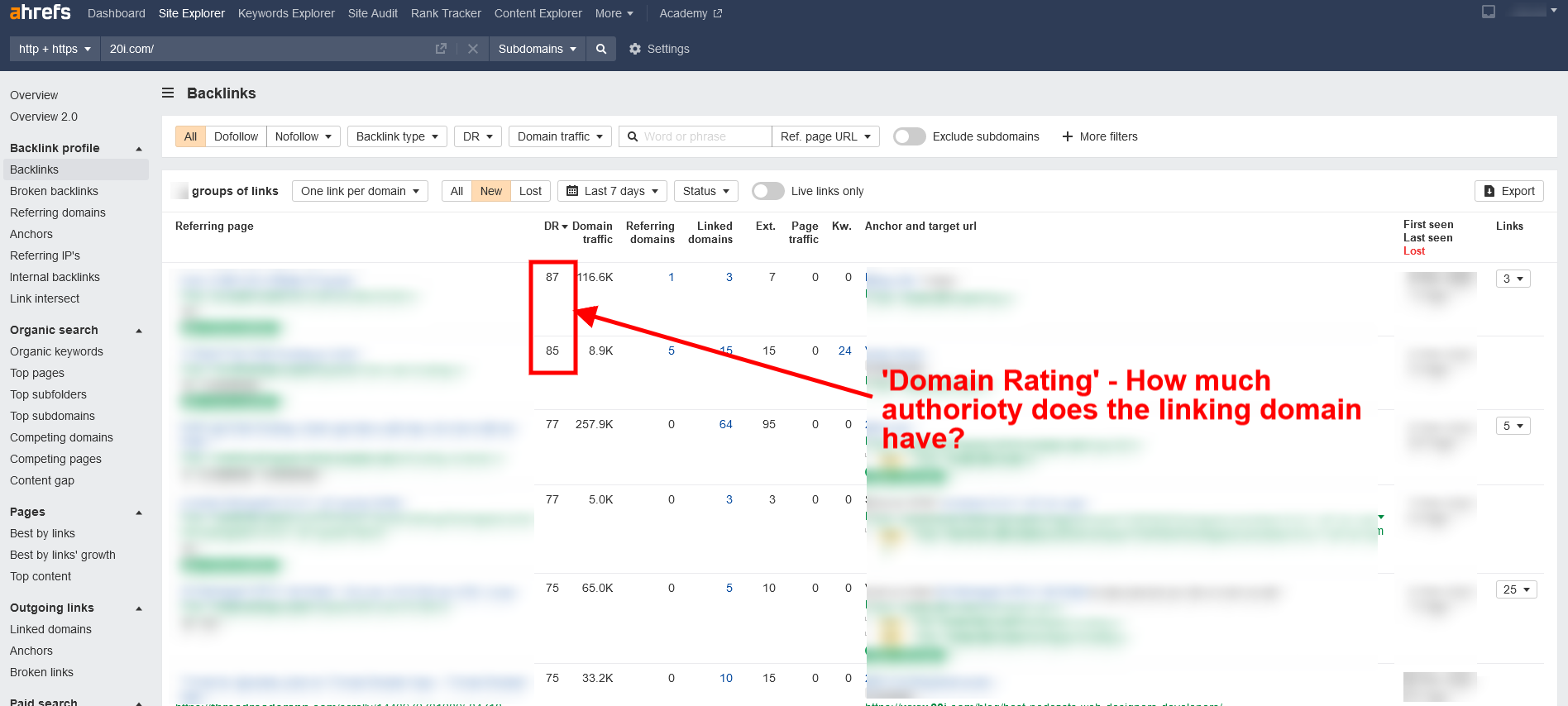 Although proprietary and totally unconnected to Google's ranking algorithm, the 'Domain Rating' metric is useful to gauge how much 'authority' a linking domain has, the higher the better.
This report isn't limited to your own site. It can also be used to track competitors' links and identify opportunities for your brand.
Best pages by incoming links
This report is great for identifying your top pages by external links (do more content like that) as well as other sites' links.
With this information you can apply a few well-trodden tactics to acquire some of those links yourself (skyscraper technique anyone?).
Limitations
Although ahrefs is an important part of our SEO tool set, it isn't perfect.
The biggest downer is the frequency of updates for your tracked keywords' SERP rankings.
At best you'll get updates every 3 days on the agency plan, which is a whopping $999 per month.
To plug that gap we use SERanking for daily updates.
SERanking
We use SERanking to monitor how our target keywords are performing in Google's SERPs daily. Are there any unwelcome drops we need to investigate or increases thanks to changes we've made?
Getting set up is very easy and the interface is really clean and easy to use.
It also comes with website audit, backlink checker and social media management tools, but we don't use those.
Other keyword research tools
It's always good to get second opinion, so sometimes we make use of SEMrush, AnswerThePublic, and AlsoAsked. These all present results in different ways – for example, some of these concentrate on questions – but they can help to widen your scope.
Schema markup tools
We have developed our own Schema generator which can be used for free by anyone and it's the only one that includes entity and website hierarchy markup.
With just a few clicks and inputs it will spit out valid schema markup for you to add to your site.
SEOReviewTools.com
Like the above, SEO Review Tools includes lots of free online tools. It's useful for 'filling in the gaps' in our toolset. For example, they offer a useful keyword density checker to make sure that we're not over-optimising to the point of getting spammy!
Google's tools
Google Search Console (GSC) provides us with insight in to how successfully Google is crawling our content along with how we are performing against the market (search impressions and clicks).
We tend to use GSC to identify the areas where we could improve, such as Core Web Vitals, schema and mobile usability.
We use Lighthouse to test page speed – more information about that tool here.
For diagnosing Cumulative Layout Shift, we use web.dev's CLS debugger. This is really useful for our developers to narrow-down the source of a poor CLS score.
Screaming Frog
This site crawler – or 'SEO spider' – offers great bulk metrics about our website, for example, if we want to know PageSpeed Insights scores of all our pages.
It's most well known for being able to find broken links on sites. This is useful for looking for link opportunities. It has a bunch of other features – too many to list here! It's available in both free and paid versions.
SEO Pro
SEO Pro is a simple Chrome extension, which can be used to quickly and easily to check the basics of a page, such as headings, alt-text and schema.
SEO blogs we read
Because we're huge marketing nerds (and because it is our job) we regularly check in with top SEO blogs/news sites to get the latest news and ideas.
There are countless SEO blogs out there, so here are the ones we'd recommend checking out:
20i SEO guides
We've also produced some great, in-depth guides to help you improve your SEO:
Over to you
Are there SEO-related tools/blogs that you use that you'd recommend? Any that you wouldn't? Let us know below.