They've been at 20i since November 2019, and moved in to a more senior position towards the end of 2021.
We spoke about what it's like behind the scenes in 20i's award-winning support team.
Hey Ruth – thanks for taking your time to answer these questions. What were you doing before you came to 20i?
Hey! No problem at all, thank you for having me.
I'd just come fresh out of the end of my degree by the time I joined 20i – I studied Computer Science as my Master's at Nottingham Trent University, and was looking to apply the skills and methodologies to a more real-world environment to see how far I could push myself technically.
What made you apply for a job here?
I joined 20i for a couple of reasons.
First and foremost, the entry-level training available. A lot of companies these days expect a lot of experience prior to moving into any kind of role, and not many are really willing to invest the time needed to train up someone suitable for the position.
20i was offering a spot to allow me to grow with the company, which was something I couldn't pass up.
On top of this, I took interest in the way the systems that ran the hosting functioned – how load-balancing helped with distributing site traffic and resources as needed automatically was fascinating to me, and I wanted to learn how it all came together internally.
FAQs: I'd like to think that our extensive Knowledge Base and videos cover the most 'FA' of our FAQs – but what type of questions do you get most in tickets and live chat?
Whenever we note patterns and consistencies in questions support are receiving, we'll work to create and produce guides to help save customers time and allow them to find the information they need as quickly as possible.
As a result, a lot of the answers I'd usually give are already in the database!
However, if I had to really think about one, I think the most consistent types of question would be understanding the process for migrations. So, how to go about migrating from specific hosts external to us and what details are needed.
If you look at our customer reviews, our technical support is by far the element of 20i services that people value the most.
Why do you think that is?
In my experience, it comes down to feeling like you're being spoken to as an individual.
A lot of the times customers have expressed satisfaction with how a ticket or live chat was handled, it's usually that they felt listened to and that their problems were addressed by someone who wants to actively help them.
Many say that they're happy that our team doesn't simply just read from a script, but rather instead go out of their way to both understand and address any issues that a customer may have, and I have to agree.
When you come to someone for help, you want to feel like they actually want to help you, after all!

How do you/we keep that consistent though?
It's a matter of ensuring that personal connection remains. Our focus as support is, and always will be, on ensuring that the customers don't feel like 'just another number' when they come to us for help.
Focus should always be on listening to the problems clients are bringing to the table, understanding what's going wrong and providing solutions and advice to the best of our ability.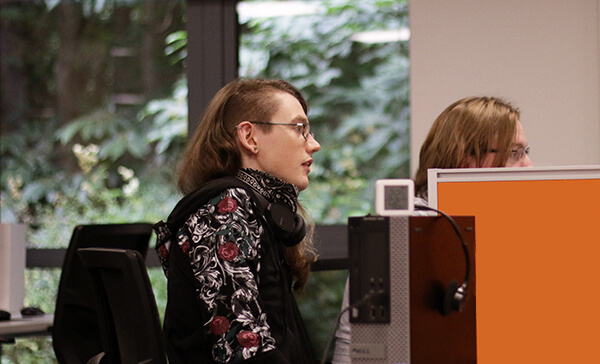 As a company grows, it's often the quality of the support that declines – why do you think that happens? Is there a way to stop that?
Usually that type of problem boils down to the support team being distanced from the rest of a company as it grows. With the addition of more departments, often companies will become more segmented with less communication between key points which can slow down processes and make fixing issues for the customer much more difficult.
The key in my mind is to ensure that, no matter how large a company gets, these individual departments still have means to properly communicate and work together.
By bridging these gaps, support can in turn bring attention to problems earlier, get customers where they need to be and bring a much more consistent support experience for their clients.
You've been successful in the 20i Support Team – I've seen you singled-out by customers for praise a number of times – what's the secret of your personal success?
Thank you!
I'm always flattered to hear messages from clients who are happy with the support I've provided, though I don't know if I'd say there's any kind of special 'secret' to it.
It really just boils down to doing everything you can to help someone out.
If someone's come to me for help, no matter how small they may deem the issue, I'm here to help them, so I go at it with my all and try to go above and beyond what would be expected.
It's not just about fixing something – if I can also help guide and advise while we sort the issue, I'll gladly do so, and I think a lot of people appreciate that.
Some people are under the impression that the fact that 20i doesn't have telephone support is an issue.
Could you explain why we don't have telephone support?
I can certainly understand why someone would think that: when you're stuck in a rut, hearing a human voice reassures you that the person you're talking to is legitimate, not just some bot reading from a script.
But there's also problems with phone support that often go overlooked.
Explaining problems succinctly and demonstrating what's going wrong over purely audio can really be quite difficult for both ourselves and for clients, depending on their level of technical skill.
Not only that, if a support agent does need time to fix an issue, clients can end up stuck on hold which is an incredibly frustrating experience we've all been through.
Through tickets, agents have the time they need and the means to communicate information as clear and direct as possible. They can provide screenshots and demonstrations to help break down difficult processes.
If a fix does take a long time to work through, we're not taking up our client's evening asking them to hold on a phone line while we work to get them where they need to be.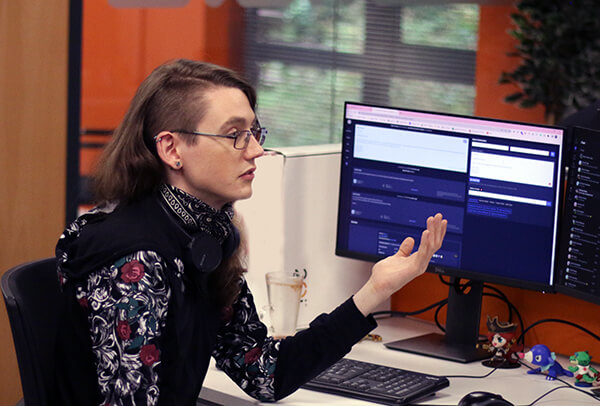 What do you enjoy doing when you're not solving people's problems?
I'm a geek at heart, if the interest in technology wasn't a dead giveaway.
Most of my time outside of work is spent gaming or writing for personal projects with friends. I've also recently been enjoying a lot of podcasts lately – services like Spotify have made it really easy to keep up to date with comedians and internet personalities while I go about my day to day.
What's the best thing about working for 20i?
The coffee! Nah, honestly, if I had to say so, it'd probably be how personable the team is.
One of my biggest worries when I first came out of university was that I'd join a company and my colleagues would remain just that. But everyone who works with us is friendly, and we're all open to chat to one another regardless of what part of the company we work in. I feel like I know practically everyone here, which isn't something you can say often for a lot of companies.
On top of that, the company is incredibly accepting and forward thinking – the office is a safe space for members of the LGBTQ+ community, and positivity is clearly a priority here. We're like one big family, really!
That's an interesting question.
Honestly, I think the best advice I could give would be to think about any times you've tried to contact support or talk to customer service, and think about how it was for yourself. How would you want to be approached and talked to? How would you approach the problems you raised if you were in the shoes of the person providing support?
If you can think of areas that could be improved, or steps you'd take to make that type of experience better for someone, you'll do well with us.
An absolute cliché: but where do you see yourself in five years' time? Still here hopefully..?
Hahah, well, "here" is definitely the answer.
20i's provided me with a great workspace with fantastic colleagues, and I've found myself a position I'm both confident and happy with.
I've no intention to change that, and I fully intend to continue to grow with and as a part of this company. If possible, I'd like to strive even higher in the future, and push my technical skills to their limits in the process.
Good news! Thanks again for your time, Ruth.
---
Would you like to see more interviews like this? From which department at 20i? What questions would you like us to ask? Let us know!