Through time, men of letters have gained fame for spreading word about the deeds of men who do. Can you recall the author who wrote the last non-fiction book you read? The lesson to take from this is simple: learn from those that do, not those that say.
In that light, for those who are serious about harnessing web traffic, competitive analysis has become an essential tool. It should be a key pillar of your business marketing activities, anchoring everything you undertake.
The art of war has often been parallel to the business world of today. Among the vital things taught is the need to know the competition. Far from stealing ideas, it has become imperative that you learn their strengths and weaknesses to develop your strength the right way.
1. Identifying the competition
The key to success in knowing your competition lies first in identifying the right competitors. No matter what line of business you're in it is likely that your competitors will number into the hundreds.
How do you know which of them are the greatest threat to you?
The solution to this problem is relatively simple. Remember the saying that Google is your friend? It really isn't – but can be a useful resource in the matter. Google some of the products you sell or services that you offer and see what comes up.
Results that appear the highest up the list are often sold by companies that pose the highest threat. While this is a quick and easy way to do it, if you're serious about competitive analysis a tool like Ahrefs or SEMrush can be invaluable.
These tools are specially designed for those seeking an edge in digital marketing. They have built-in features that will help you do much more in less time. For example, Ahrefs allows you to perform a bulk analysis of up to 50 competitors (see image above) based on a domain name you input.
The mechanics are relatively simple, but not something you can easily do on your own. Ahrefs identifies the most likely common keywords that your domain and competing domains rank for.
2. Click and observe
Once you've identified who your top competitors are, it's time to take a page out of their playbook. There is a lot you can learn by just looking at competing websites and social media profiles.
Kick-start your competitive analysis and dig a little deeper to gain a better understanding of what type of content they're publishing. This doesn't simply refer to the content. You need to get down to the details and include elements like web page layouts, call to action elements, how they integrate and use social proofs, and more.
Let's see how these things can be of use.
Web page layout – your foundation
While business owners often want "something different", principles of User Interface (UI) design calls for design to be intuitive. Because things are often built in the same way, users get used to them.
For example, all Japanese cars have the controls for indicator lights on the right of the steering wheel. This stems from having the driver's seat on the right and the gear on the left. The design, however, is standardized and results in users easily being able to switch car models while retaining general operational capabilities.
In the same way, it is desirable to have a UI design that is intuitive for your users. This enhances their experience and lowers the probability of having frustrated website visitors who struggle to navigate your site.
'Popular' page designs are popular for a reason. While repetitive may be boring, they are known to work and have been proven in action. A happy user is more likely to add to your conversion rate.
Content – blood surging through the veins of your site
Content is much more than chunks of text put in place as fillers. Crafted and laid out correctly, they influence how well you rank in search results for specific queries.
Take note of the mix of content and types your competitors use and ask yourself:
Do they focus on specific types of articles like product lists, case studies, interviews, or videos?
How balanced is the mixture of content types?
Is new content being added regularly and at what intervals?
It also helps to take note of their existing volume of content. You can do this quickly in Google by running a simple query:
site:URL topic
Example:
site:www.toyota.com 4WD
This will return a list of all pages where the topic '4WD' comes up on the Toyota website. Just tally up the numbers and you will know how extensively a site has covered a certain topic.
Trust markers – reputation matters!
People put their trust in brands but so do search engines like Google. Taking note of what endorsements your competition is getting – and displaying – can be useful.
There are literally a million and one types of endorsements a brand can sport today. The difference is that some have much greater weight than others. Many things matter, not just awards. An endorsement can even be a simple customer review.
Ideally, you'll be able to demonstrate a mix of endorsements from various sources. A good example of this is this very website you are reading – 20i.com. They mix and match a strong range or endorsements including industry awards, celebrity partnerships, reviews, accreditations, and more.
Some endorsements have their value in the source. Trustpilot, for one, is a strong source of endorsement. Along with this, customers who allow you to display their logos as a source of endorsement can serve as a bigger indicator than you may think.
Social media – increasing your reach
Social media channels can be a quick venue of instant gratification. Because of their nature, you have an opportunity to expand your reach exponentially, if you craft the right content for them.
Aside from the 'Big Four' of Facebook, Twitter, Instagram, and Pinterest, there are many others. In most cases, each has their set of targeted users and content types that fit that audience. This helps you to narrow down the right channels for yourself.
By observing your competition on social, you can get a quick grasp of not just the right platforms to go for, but also how to effectively capture the right audience on each of those channels.
Quick Tips:
Pinterest is very visual and has many female users
Twitter suits the fact-paced newsy crowd and is often tech-heavy
Facebook leans more towards family and friends
Instagram has grown past it's still-image stage but remains very focused on those seeking visual appeal
Take note of what kind of content your competition is posting to their social channels and learn from the responses their followers generate. See what works or does not, and most importantly, look closely at the way interactions happen between brand and customer to adapt and learn.
Understanding the rationale behind their choice of actions can result in you building better social media guidelines for your own brand.
3. Dive deep
Despite what I've covered so far, it's been mostly just a scratch on the surface. For maximum effectiveness, you need to look past what's on show and do a little digging in the cupboard. The showroom is stocked from the store room and you need to understand the details of both.
Conduct a web technology analysis
Since you can make use of tools, so can the opposition.
Are they using different and more effective software to gather and process their web analytics? Does this give them deeper insight into their data that you don't have?
To understand this, let's consider what Google Analytics does. Due to privacy, Google Analytics doesn't show you some information by masking it and making it unavailable. Matomo Analytics (formerly known as Piwik) can unveil that information.
Learn how your competitors advertise by discovering the platforms they work with. Some of them may be unfamiliar to you, but more effective in certain ways. One way to quickly learn more is by using a tool like WHSR to discover web technologies they run.
Run advertising analysis
Discovering the advertising platforms a competitor uses won't be much good unless you're also able to understand why.
Consider how some advertising works, like on social channels. When you've visited a website, do their ads sometimes appear on your social channels? A social media marketing campaign can be effective by doing exactly that.
You can also use tools to learn what keywords competitors are bidding on for Google ads. One way to do this is in fact free, thanks to Spyfu.com. Once you've done that, simply leverage on the theme by observing budget and mimicking the competition's ad strategy.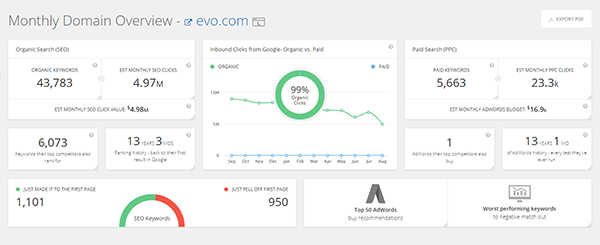 Quick Tip:
One way of doing this on a budget is by going after the low-hanging fruit. Target low-cost Google Adwords to make a little go a long way.
Learn from their content
If you duplicate something it may lead to allegations of plagiarism, but learning from something and improving it is research. By observing the type and composition of the content posted by competitors, you can come up with better ideas to achieve the same thing.
One way of doing this is by using Ahref's Site Explorer tool. Through their content gap analysis function, you can come up with ideas based on specific keywords that you're interested in.
To do this, log in to your Ahrefs account and click on Site Explorer on the top navigation bar. From there, type in the domain which you want to run the analysis on. Next, hit 'Content Gap' on the left navigation bar.
Now you can type in a number of URLs that belong to your competitors and click the 'Show Keywords' button to see what keywords are missing on your site. Ahrefs will display all keywords that your competitors rank well for but are missing on your site (see image below).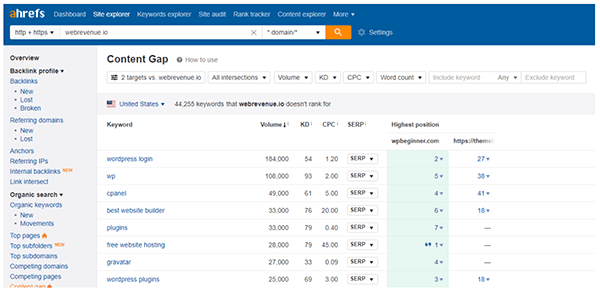 For content that is on Youtube, simply visit their channel and you can see which of their videos gather the highest number of views. You can also take note of interactions such as likes, dislikes and comments that viewers have. Based on this you will learn what content might work best.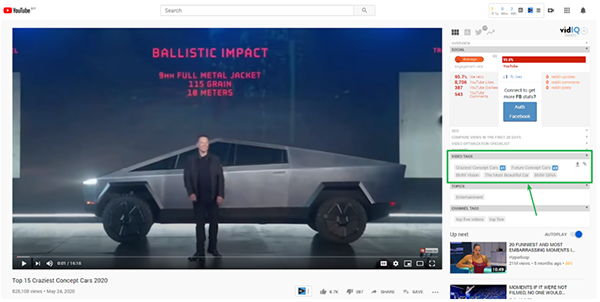 For more technical information, make use of vidIQ to discover what video tags are used in the top results you've uncovered.
Following up on content analysis
As with all game plans there is always an after-analysis.
To leverage on everything you've discovered, construct a list of all the best (most effective) topics that you've come across. From there you can start crafting new content that you may have missed-out on previously.
If you already have a version of some of the content ideas you've found, look towards refreshing and improving it. This way you can breathe new life into old resources and increase their value to your site.
Some ways of doing this can be to add new elements like infographics or video. You can also streamline what you have so that it becomes more focused on some areas that are more important.
Backlink analysis
Link building is a big part of SEO. If you're unsure about this, it's something you can learn from your competitors as well. An analysis on your competitor's backlinks can show you all the ways their site is linked to the web and give you a better 'big picture' view of the SEO game.
Backlink analysis without the use of a tool can be an impossible task. There are many SEO tools that will help you do this quickly and effectively in a matter of minutes. Here are a few of my favorites:
Ahrefs – This is a great choice, albeit a bit of an expensive one. Ahrefs can help you in almost all areas of SEO, from analyzing your own site to those of your competitors. It can take some time to learn how to use it, but that's simply because of the sheer scale of what they have to offer.
Majestic – Simpler to use and cheaper. Unfortunately it's also more limited in effectiveness as well. There are a number of features missing that makes it good, but not great. Still, for those on a budget – every bit helps.
Sistrix – Helping its users see where they are in the context of Google, Sistrix can help you do keyword analysis for you to improve your ranking. As with Ahrefs this tool is feature-packed and covers the A to Z of SEO.
Linkody – Linkody is a lot cheaper than most SEO tools and you can take advantage of a 30-day free trial. However, its focus is purely on discovering and building backlinks. The lack of other features is a major downside.
Based on link analysis that you conduct, you can build or enhance your existing link portfolio.
If you're looking for a shortcut, go directly to your competitor's SEO agency and sign up with them.

Jerry Low
If you're looking for a shortcut, go directly to your competitor's SEO agency and sign up with them. It may not be obvious, but you can sometimes discover who they are by observing their links and guest posts – those may be done by their agency instead.
Final thoughts
SEO and content marketing is a major challenge for many because it's not an exact science. Yes – there are general guidelines and 'playbooks' to follow, but at the end of the day, you'll discover that success will only come from blood, sweat, and tears.
Still, it is the most important way of attracting targeted traffic (and the rewards therein). Be prepared to invest as much time and money into this endeavour as you expect to reap.
As a final note – there are many who whisper "SEO" on the internet, offering low prices and instant results. Be very cautious of these, no matter how many 'positively stunning reviews' you see of them.