As well as web design, they also offer SEO, graphic design and website hosting.
Website Design USA is one of the oldest businesses of its type on the web – what's the secret of your success?
Excellent customer service, high quality work, and of course value! I do my best to make sure my customers feel like they got a great deal for their hard earned money. Web design is a seriously overpriced industry, and I do my best to be as fair as possible with my pricing.
In your opinion, what's been the biggest/most impactful change to web design since you started out?
Without a doubt it is the development of WordPress.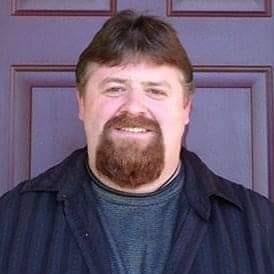 WordPress has given anyone the ability to create a website and have a web presence without having to read/write code. Of course, most people find out quickly that you can produce a decent website yourself, but you really need to hire a pro for professional results!
What services do you provide? Or it might be easier to say, what don't you provide?
Hmmmmm… I don't provide marketing of any type, however I do recommend marketing companies from time to time when a client asks.
I see that it's a 'veteran owned business'. Would you care to share what you did before getting in web design and web hosting?
I was a US Navy Hospital Corpsman.
Despite being in the Navy, I spent most of my time with the Marine Corps playing both roles of unofficial doctor and emergency paramedic for my military brothers and sisters.
Looking at your websites – they look as American as they can be: Uncle Sam or a bald eagle front and centre! (Don't be offended – we're far less patriotic in blighty!) What was it that made you choose that design?
In the U.S., veterans are revered as brave, trustworthy, and honourable. I wanted the designs of my websites to portray my values and who I am. I want my customers to know that when they use my services they are getting quality backed by integrity.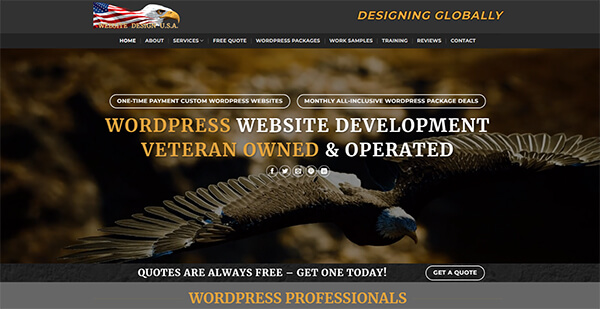 Does that design ever cause you any problems?
Not to seem harsh or dismissive, but I couldn't care any less if people have a problem with my websites. If they do, then they are more than welcome to take a chance on another company's services. 😀
Do you work alone, or do you have a team?
I work alone on my development business, websitedesign-usa.com but I have a team of front line customer service people that assist customers on websitehosting-usa.com and they do a brilliant job.
They are the sole reason I am able to still work independently on Website Design USA projects.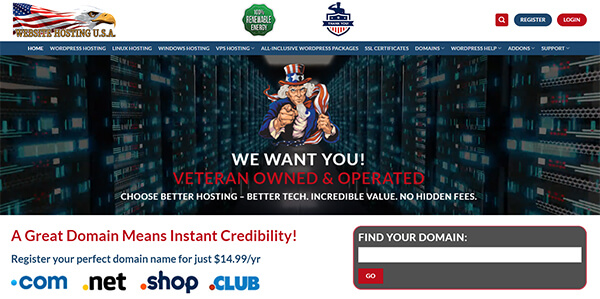 You also run Website Hosting USA. I understand that you were a web designer first: what made you get into web hosting too?
I don't know if you can put this on here, but the sole reason I started Website Hosting USA was because of my poor experiences with GoDaddy.
I wanted to create a much more hassle-free hosting environment and a platform that doesn't fool people by suckering you in with a low price and crushing you with a GIGANTIC renewal price.
Basically, I wanted to create a place were customers were treated fairly and everything was black and white.
How do you make use of 20i web hosting?
20i is an AWESOME hosting company.
They are at the top of the list in terms of innovation and their price-point on their reseller hosting is amazing. I have integrated 20i's servers and domains directly into my website, so that my customers get the best hosting available, as well as they can purchase affordable domains.
20i has given me the opportunity to bring incredible hosting to America and beyond!
Did you join 20i before we had our US data centre?
I believe I joined just after the Dallas data centre was added.
How does 20i hosting compare with other web hosts you've used?
20i is extremely reliable and the auto-scaling setup is genius.
There are a lot of companies out there that advertise that they offer unlimited plans but in almost all cases that is a bunch of rubbish!
20i is truly unlimited at an amazing price, which makes 20i's hosting an ultimate value. Also, I want to give a shout out to the 20i support team: WORLDS BEST!!!
What features do 20i offer that you value the most?
The reseller control panel was extremely well thought out. It is so nice to have the ability to access every aspect of my business from one page.
I see you use WHMCS to manage your sales, and customers. Have you looked in to using our free HostShop WHMCS alternative?
I have, but as a developer I want more control over customisation. Otherwise, I would definitely be using it.
What do you enjoy doing when you're not web designing/hosting?
I love sports, I cook, I love gardening, and I love the outdoors. I have a wife and 5 children who are now grown, but there is always something going on to keep me busy!
Probably the thing I enjoy the most is brewery hopping with my wife. Here in Maine, where I am from, we have hundreds of micro breweries. So, on a lot of Saturdays, my wife and I choose a new brewery to try and we have a couple of pints and a bite to eat. Good times!!!
Thanks Heath – it's great to hear such insight from our cousins across the pond – we hope that your businesses continue to thrive!
---
You can find all of our Featured Customers on our Customer Stories page. If you'd like to be a Featured Customer, get in touch!