Maddy Osman is the author of Writing for Humans and Robots, a style guide on how to write well for the web.
She also runs The Blogsmith, a successful content agency, out of Denver. We spoke on the eve of the publication of her book.
It's a must-read for anyone who creates web content, especially if you want to provide a good user experience *and* rank well in search engines…
Hi Maddy! What made you decide to write Writing for Humans and Robots?
In the back of my mind, I wanted to write a book and wasn't sure what to write about. I also got the idea that I would write my book during November 2020's NaNoWriMo: a 30-day event with an end goal of 50,000 words and community support.
So I started brainstorming ideas and eventually decided on utility as I saw a benefit to writing this book for others, but definitely for my own team.
It's a great title: it got you a pre-order from me! What made you think of it?
I wrote the chapters based on the various sections of The Blogsmith Style Guide, then later rearranged and reworked them into the current structure: part of the book is focused on humans, with another focused on robots.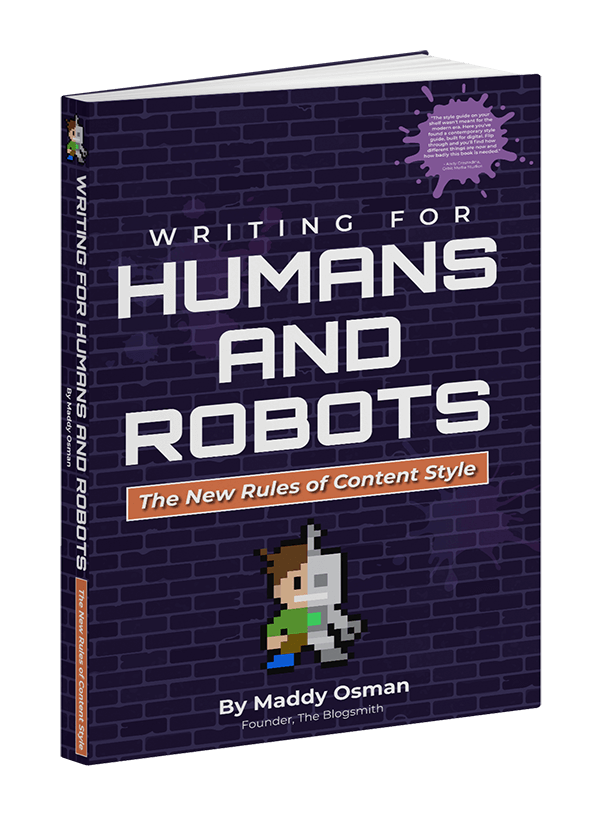 The idea and execution very much came together over time—I definitely started without the ultimate end in mind and I think the book turned out better for it.
What audience is your book aimed at?
Generally, my book is for anyone who creates content for the web.
It's about creating a great reader experience with text and visuals. Specifically freelance writers, in-house content team members and creators who focus on personal projects. I wrote the book to help people achieve consistency and quality at scale.
As an SEO-person, I'm fascinated that your book may go against Google's traditional attitude of 'write content for your users/humans only'. Is that right?
Yes and no. It's about finding a balance. The human is the most important user, but the robot is the entity that connects you with them.
I talk about the nature of the balance between appealing to humans and robots on Nick Westergaard's On Brand Podcast.
Beyond an article being an interesting/entertaining read, what do you see as most important for SEO?
Visuals are an important aspect of the reader experience in addition to the words themselves. Visuals include images, formatting, how you organize information, the font size (and the list goes on).
Although Google doesn't have 100% foolproof/strict measures for measuring user experience, it's getting closer to that with Core Web Vitals. So I guess what I'm trying to say is whether or not these aspects of content publishing are important for SEO—they are important for the end human.
But to answer the question, I think the most important thing for SEO is to do research to understand the reader you're writing for and create something that's different than what's already out there.
How do you ensure that your content is unique?
One great way is to interview subject matter experts: on a client's team, in your network, or by using tools like HARO. Creating visuals like statistics or infographics can be a helpful way to convey information for different learning styles.
What kind of SEO tools do you use?
The Blogsmith's stack includes Ahrefs, Clearscope, Frase, MarketMuse, SerpWatch and Google tools like Google Analytics and Google Search Console.
In your experience, is there a tension between SEOs and writers?
There may be some competing interests, but there is definitely a way to find harmony for both parties as long as they're operating off the same game plan and have mutual respect for each other's expertise.
Do you find that your content is affected by updates in search algorithms, such as Google's Core Updates, or even new search-parsing techniques like BERT?
I think every major algorithm update shakes things up, for better or worse.
It's good to stay abreast of major updates so you can continue to push the bar on your content's quality. But the best futureproofing you can do is to write for the human and create the best piece for the topic.
Google's algorithm will continue to get more contextual and will need less pointed assistance from content creators in the future in terms of exact match keywords in key signal areas.
'The new rules of content style' is the subheading of your book. How do you think the style rules have changed?
I think the fundamental rules in writer must-reads like The Elements of Style haven't so much changed as not been able to account for the modern digital medium the majority of the world uses to communicate.
How much do you see content style changing in the future? Will there be a 'new new rules' book coming soon?!
I think my book has many timeless rules and some that will need to be revisited a few years from now.
Like the AP Stylebook, I'm thinking that it may potentially have multiple editions because the rules of content style are constantly changing—and that's a good thing!
How did you get into content writing?
My boss at an impactful college job took a chance on me.
I was a web designer and he let me take a stab at contributing to the Student Life blog and social media channels after thinking it could be a fit. I had always loved creating for the web and this unlocked a new level of excitement for work.
What made you set up The Blogsmith?
It started as my freelance business. But it ultimately made for a great agency name.
I moved from a freelance to agency business model because I hit the wall of what I could accomplish on my own, so I wanted to see how else I could scale the business while personally disentangling from day-to-day details.
I find myself more drawn to building processes and growing the business and have learned to delegate by necessity. I enjoy working with a team to accomplish a shared goal of creating great content.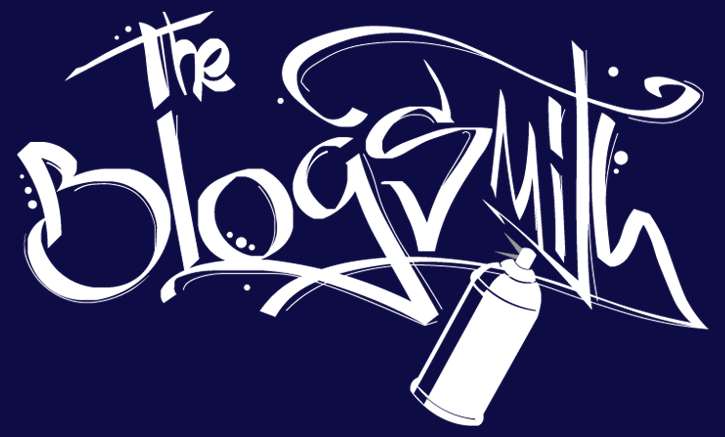 Your team writes search engine-optimised blog posts and page content, but are there any other services that you offer?
We also have been helping clients with content audits and content strategy projects. We've recently seen a higher demand for assets like case studies and e-books—The Blogsmith can help with a range of different content needs.
Many clients have also expressed new interest in article refreshes and à la carte services like having our team edit other blog contributor articles. There are multiple ways we can support your content operations.
What's your process after receiving a brief from a client?
The next big step is our keyword research process. We validate the topic, then dig into the data to start fleshing out a content structure in tandem with brief details.
We provide our writers with primary, secondary/semantic keywords, featured snippet(s) to target, direction for keywords in headings vs. body copy and a determination about search intent and the target buyer's journey stage. Then the writer fleshes out these inputs into a more detailed outline!
How many people work with you?
We are a team of ~25 (2 employees, the rest are independent contractors) and always growing!
Do all your team work remotely, or do you have an office?
We are all remote, spread across many different time zones!
Is that easy?
Good communication, organisation and processes are essential for great teamwork. We continue to figure out the best way to do things over time but make many small improvements, often.
Are you scared that the 'robots' might put you out of a job? What do you think of the current state of writing by AI, like OpenAI's GPT-3 etc.?
At this point, no.
Robots don't know great formatting. They can't effectively art direct. They don't understand nuance around tone of voice. Will they ever? They lack empathy.
Comparing bot-generated to human-generated copy so far demonstrates that bot-generated copy is not as effective at getting attention or action. I share more about how to wield GPT-3 tools to be a positive part of your process on The Blogsmith's blog.
What advice would you give to someone who wanted to set up as a freelance writer or a content production agency?
Definitely—start small.
When I graduated college, I freelanced on the side of a 9-5 job. I hedged my bets by waiting to make it my full-time gig until I had abig enough client to cover my baseline expenses.
I built my business up one step at a time. Take manageable risks and don't be in a hurry but aim for steady, sustainable growth.
Thanks Maddy – we appreciate you taking time out to answer these questions at what must be a busy time. Good luck with the launch!
If you're reading this on or before July 18th 2022, you can join the live book launch on LinkedIn and be in with a chance of winning a copy!
You can order Writing for Humans and Robots: The New Rules of Content Style here.