We're thrilled to have the chance to present an interview with Trevor Bowden, a co-founder of the .eco domain project. We cover how .eco started, what it's achieved and what the future holds.
Interview with Trevor Bowden, co-founder of .eco
Hi, Trevor. First, congratulations for five years of .eco being public and thanks for agreeing to this interview. Can you tell us a bit about the story behind .eco and how it all began?
How much time have you got? We got started on the .eco idea over 15 years ago – you know, sustainability's all about thinking long term. We were a couple of former colleagues with backgrounds in sustainability who'd heard that new internet extensions were coming – and we thought – '.eco has to exist'.
Of course the next problem was – '…but how do we make sure it means something?' We knew that we couldn't do this alone – and that community perspectives were crucial.
So, we reached out to a number of leading environmental organizations and convened an advisory process to get their input and guidance on what .eco should be and how it should operate to serve the global environmental community. That coalition – and those leaders – really set the foundation for how .eco should operate. They helped us deliver the vision and define the policies that make .eco what it is today.
With UNEP, the WWF and Greenpeace (to name a few) you have some environmental heavyweights partnering up with the .eco organisation. How did you get global players like this on board and what does that mean for the community of .eco domain users?
Basically, we were just honest – we told them that this opportunity was coming, and that we wanted them to be engaged in how .eco was operated.
We spent a few years working with them on .eco's values and processes and building support with the broader community. If we were going to make sure .eco was created with these values, we needed their support – and thankfully, they saw the opportunity and stepped up.
All this means that .eco isn't just run with profit in mind – it's fundamentally about transparency, a key value articulated by the community.
At 20i we are committed to green hosting and proud to be one of the selected retailers offering .eco domain names. But with a .eco domain, it's not just about buying it. Can you tell us about the process involved with registering a .eco domain and the reasons behind this process?
We're always so pleased to see green hosting companies like 20i offer .eco to their customers – we're working to help .eco registrants find ways to identify and reduce their impacts. Being conscious of where they register and host their domain is a great action that they can take.
This sort of action (and telling the world about it) is important to the .eco community. So, you're right, when you register a .eco domain we ask you to take one small step – to create a public profile which shows why you've chosen .eco for your business, your organization, or yourself.
It's pretty simple – if you want a .eco domain, tell us what you're doing to help the planet.
This step is key to the transparency component of .eco. We want to encourage people to share their sustainability priorities (based on the Sustainable Development Goals), the actions they're taking, what certifications they hold or what environmental groups they belong to or support.
Some .eco registrants are just getting started with their sustainability priorities. Others are leaders in their industries. But they're all welcome! We hope that through the community they'll find other like-minded community members to work with, buy from, and learn from along the way.
With a .eco domain people, businesses and organisations can show their commitment to positive environmental change. Is there a way to get more involved in the .eco community and support the idea and the organisation and community behind it even more?
Ultimately this has to be a community of action, so while the .eco profile displays what you're doing, you also need to do it! People using .eco domains can rest assured that we're trying to build a trusted domain that they can be proud of. If they have ideas, we're always happy to hear them.
Most of all, we want people using .eco domains to do great things – and help make positive change for the planet. If they succeed, we all succeed, and we'll be right behind them highlighting their work.
The best thing that you can do to get involved with the .eco community is to help amplify the great work that people are already doing and consider supporting .eco community members for products or services that you're looking for.
The environmental movement is about collective action – we all need to be working together and supporting each other to achieve our common goals. You can leverage the .eco profile system as a directory to learn about the community members operating in your area or working on causes you support or providing products that you need.
The past five years have been quite a journey. Forming one of the largest coalitions of environmental organisations and establishing .eco as a symbol for engagement for a better future is no small feat. What are your hopes for the next five years?
They have been quite a journey! We were proud of the coalition that came together to support the creation of .eco. To see .eco come to life and attract a community of active, inspiring people, organizations, and business gives us hope for the future.
And of course we hope people continue to recognize the power of a domain name and its ability to help tell their story to the world.
Get the latest news on the go.eco homepage.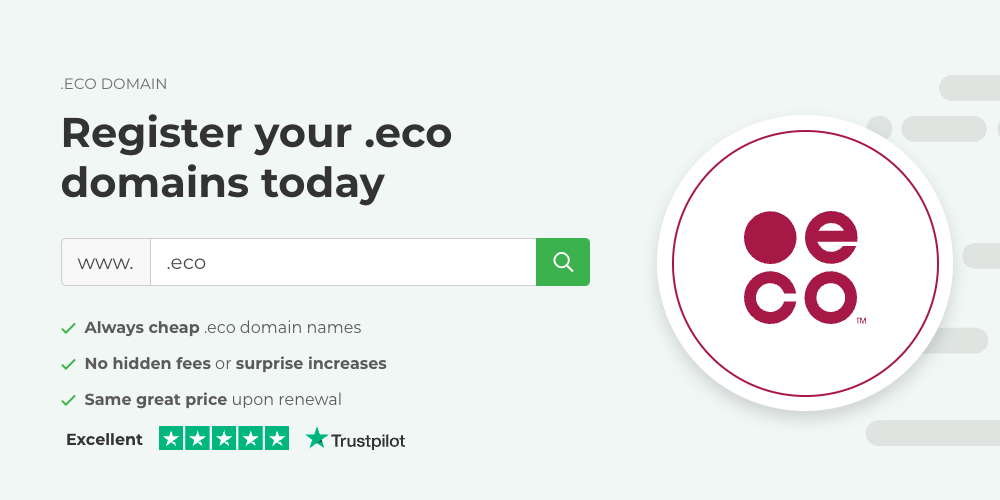 Register your .eco domain today!