We've brought all the market-leading tools, features, intuitive control panel and expert support you expect from 20i to Managed Cloud Hosting.
The new service is powered by our world-class infrastructure, using our proprietary 20iCloud as well as Amazon Web Services (AWS) and Google Cloud Platform (GCP). Simply choose the right platform for your needs and spin up new cloud servers on demand.
Our multi-cloud hosting enables you to host almost anything with us on a lightning-fast, ultra-reliable, and flexible platform.
Click here to find out more about our brand new Managed Hosting.
Wait: Amazon and Google website hosting through 20i?!
Our aim is to innovate – so we've continued that with Managed Cloud Hosting.
Yes, you can now choose to host with Google Cloud Platform or Amazon Web Services, as well the 20iCloud. You'll receive all the benefits of 20i hosting, but now that we've partnered with the internet giants, you'll also have the option to easily host your websites on their servers.
Each Managed Cloud Hosting service is available in several different tiers, based on server resources: cores, RAM and storage. It's simple to scale up should you need to.
Our team does all the server deployment, monitoring and security. So it's perfect for digital agencies, developers or anyone who needs enterprise-grade web hosting, but hasn't got time to worry about server management.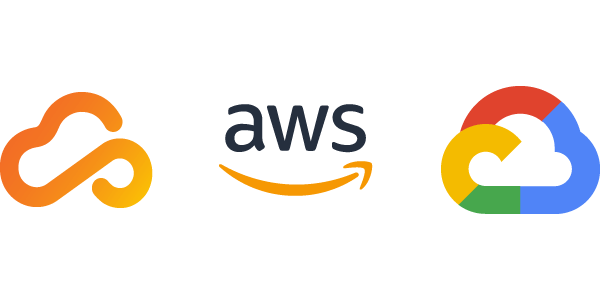 Managed Cloud Hosting that goes above and beyond
So far, so good. But what makes us different?
We've built a platform where developers get everything they need to build, deploy and manage all aspects of their projects from one powerful, but simple to use dashboard.
My20i allows developers and teams to get projects up and running in minutes. Rather than spending time and money configuring servers, we do the heavy lifting, including server deployment and security.
You get the core benefits you expect from any quality managed cloud provider:
Deploy in minutes
PCI compliant hosting
Automatic daily backups
Fast and simple scaling options
But you get so much more with 20i Managed Cloud Hosting:
Free 24 x 7 expert support for everyone
Host unlimited websites
Unlimited business-class mailboxes
Unlimited databases
Unlimited, anytime migrations
Unlimited free SSLs
Domain registration and full DNS control
Advanced image/code optimisation tools
Advanced DDoS protection
Malware scans, scheduled and on-demand
Web application firewall, brute force login protection, FTP security lock and 2FA
80+ one-click apps incl. WordPress, Joomla!, Laravel, PrestaShop, OpenCart, Moodle and more.
Dev tools like a Git version control UI, SSH access, phpMyAdmin, FTP accounts, PHP version control, scheduled tasks, remote MySQL access and more
At other cloud providers, these features are either absent or only available as costly add-ons.

WordPress-optimised Managed Cloud Hosting
We've brought all our award-winning WordPress optimisations and tools to Managed Cloud Hosting too. Unlike our standard Linux hosting, our WordPress-optimised Cloud Hosting has had specialist PHP-FPM and OPcache tuning unavailable anywhere else, making it the fastest around. Meanwhile, Stackcache is designed to serve your content from the network edge and works with our unlimited CDN to speed up page loading across the world.
Lots of plugins can be costly in performance as well as cash, so we give you tools that are server-based instead of client-side:
WordPress staging allows you to duplicate your website in a click. Work on your website in a safe, private environment. Then when you're happy, clone it to live.
WordPress Manager gives you the option to manage multiple WordPress sites from one control panel. Malware, updates, PHP version, themes, plugins and users can all be managed in bulk – no need to log in to wp-admin for each site.
WP-CLI (Command Line Interface) is a powerful tool that speeds up your development time
Ecommerce site owners also get the benefits of Redis, ElasticSearch, PHP-FPM and PHP OPCache pre–installed for optimal Magento and WooCommerce performance.
Easy deployment and management
There are other companies that offer options like a choice of AWS and GCP. They simplify the purchase process, much like 20i Managed Cloud Hosting.
But that's where we're different. Their control panels are limited by what's possible in AWS or GCP. With My20i, you're empowered.
You can manage everything from My20i, whether that's Managed Cloud Hosting, Reseller Hosting, Self-Managed VPS or domains. No need for a separate control panels and multiple logins: you can manage your Google or Amazon hosting (or both) alongside all your other 20i hosting.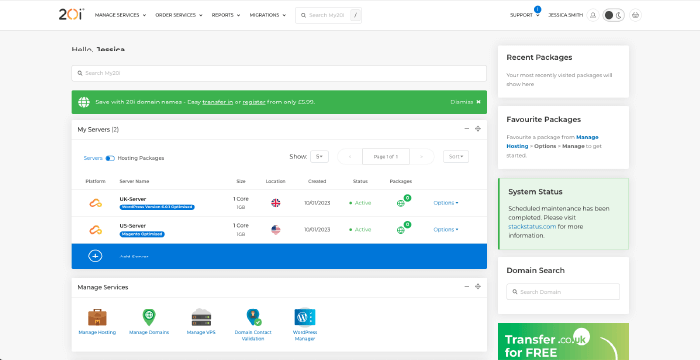 A new era
The addition of this service to our product range ushers in a new era for 20i as a cloud platform. 20i Managed Cloud Hosting will enable agencies, ecommerce, developers, growing sites and high traffic sites to run all their sites and apps from one easy to use dashboard, across multiple cloud platforms.
We will continue to offer Reseller Hosting and self-managed Virtual Private Servers as normal, but for all future Managed Hosting, Web Hosting and WordPress Hosting we recommend using our Managed Cloud Hosting. You can host unlimited sites up to the limits of each server.
Whilst we're rightly proud of our shared hosting platform, our Managed Hosting comes with dedicated resources you don't share with anyone else. This helps boost your sites' speed, reliability and security.
The introduction of AWS and Google Cloud also provides you with added choice and flexibility for launching your projects.
How does this affect my current hosting?
This doesn't affect your current hosting at all and you'll manage all your services as normal. We will continue to fully support and develop our autoscaling hosting platform with new features.
We recently launched Git Version Control, WordPress Manager, new one-click apps and dark mode, and we've got loads more on the road map to come!
Can I transfer my current 20i hosting to Managed Hosting?
Yes you can. Just choose the Managed Hosting specifications you want in My20i. Once purchased, use our Platform transfer tool to do all the work for you. Don't forget to cancel your old hosting package if you don't want to keep it.
Choose your spec, your cloud platform and get started
It's an exciting time – a real game-changer for 20i – so we hope you can join us on our journey.
How do you get started? Just choose the hardware resources, decide which hosting platform you want – 20iCloud, AWS or GCP – and the location of your origin server.
Your cloud server will be created and you can then host unlimited websites, subject to the resource limits you've chosen.
If you need any help choosing, we have a friendly support team on hand to offer you honest advice. You can book a one-to-one demo of Managed Hosting if you like.
If you have questions, please contact us or comment below.
Find out why AWS and GCP is better through 20i.