ProWebsiteGuide.com provide WordPress training. It's run by Jessica Thomas, who is based in Edinburgh.
I spoke to Jessica about her work, how it's been impacted by recent events and how she uses 20i hosting.
What does your company do?
WordPress training for individuals and businesses looking to begin their online journey. People can easily feel daunted by WordPress so Pro Website Guide aim to demystify the process of starting a website.
If people realise they don't have the time to start their own website from scratch, we can also build it for them.
Who are your customers?
I am based in Edinburgh and run in-person training in both Edinburgh and Glasgow. I always think it's nice meeting people face to face but I have just started offering remote training due to the current circumstances.
I'm lucky to have a real range of customers, from illustrators and aspiring bloggers to marketing execs at large tech companies. It's a real mix, which is one of the reasons I love WordPress users, they really don't seem to fit a stereotype!
I assume that the COVID-19 outbreak is having an effect on your business?
It's having a HUGE effect.
I am trying to pivot my business and it's offering as quickly as possible whilst remaining optimistic. The reality is the next few months are going to be tough.
At this time of uncertainty my aim is going to be to put as much free, useful and relevant content out there as possible that helps people start new projects and get their ideas off the ground. I'm working on some free WordPress training which will be available soon.
In Edinburgh the business community have really pulled together. I feel it's going to be tricky to balance the urgency with which I want to put my course online whilst also maintaining the course quality. I just have to be patient until it's ready to go live.
My aim is going to be to put as much free, useful and relevant content out there as possible that helps people start new projects and get their ideas off the ground.

– Jessica Thomas, in response to the coronavirus outbreak
What makes you stand out from the rest?
I think not being too evangelical about how WordPress is used helps. I understand that people just want to learn the basics, get stuck in and build a website.
Do you recommend 20i to your course delegates?
Always! It's pretty much the only UK host I recommend. The support with 20i is perfect for anyone building a website for the first time.
I also have my own HostShop with 20i, so delegates can simply visit my HostShop, then buy their domain and hosting through me. It makes it really easy for me to provide them with support after they have had their training.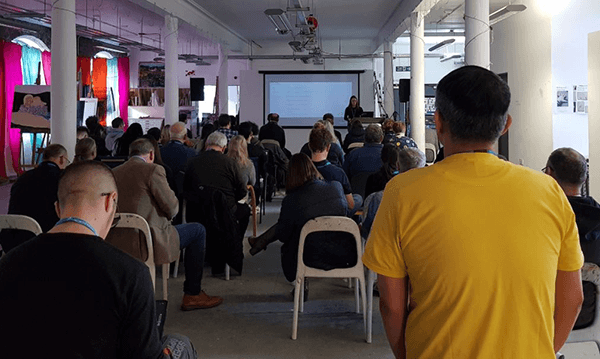 What made you choose 20i?
20i was recommended to me initially and after the trial I was seriously impressed! From a reseller perspective it looked a bit too good to be true, but blimey you guys really pull it off!
Being able to create unlimited staging websites makes my WordPress training very easy. Every attendee can have their own blank install of WordPress to start from scratch, then when they are ready to make their website live they can do so by the touch of a button.
The HostShop looks very professional and being able to offer a hosting discount to my course attendees is an added plus.
Any interesting stories?
At the start of the coronavirus outbreak my WordPress course attendees were evacuated from the training venue… but I guess that's more dramatic than interesting!
Thanks Jessica.
I really appreciate you taking time out to speak to me, especially in the current environment. I hope the pivoting of your business goes well and wish you best of luck with it in the future.

Are you a 20i customer with a story to tell? We'd love to hear from you. Get in touch for a chance to be featured here.
You can find all our Featured Customer interviews on one page on 20i.com.