Since 2017, you might have heard the term Dragons' Den Effect around the 20i offices.
No, we aren't starting a new business.
Why Dragons' Den?
For those unfamiliar with it, BBC's 'Dragons' Den' is a TV show that's been running since 2005 (there are international versions too).
Entrepreneurs pitch business ideas to wealthy investors who are known as 'Dragons'. If the Dragons like the idea, they will offer to invest an amount of money in the company, usually in return for a share in that company.

What has that got to do with web hosting?
It means small, relatively-unknown companies suddenly get a national platform. A website that might get 50 visitors a day suddenly gets hundreds of thousands. Those visitors arrive all at once.

That spells problems for a last-generation shared hosting platform – one which uses software that confines sites to a single server. The busy site will make huge demands on the resources of that one server: processing, RAM, storage and network bandwidth.

This will lead to other sites having less of a share of resources, slowing down server responses and increasing loading times. Slower loading sites mean less engaged users and declining search engine rankings.
The site(s) could also go down completely: commonly known as a server crash. This is when users can't view a website in their browser because some or all of their requests are being refused.

Understandably, most shared hosting companies ask customers to warn them if you know that you're about to have a spike in traffic, so they can prepare their server and allocate extra resources to the site.

We don't ask you to do that.
Our confidence was put to the test when one of our customers appeared on Dragons' Den in August 2017.
The successful pitch
On a Sunday in August 2017 one of our direct hosting customers appeared on the programme.
They were successful: they received an investment which helped kick-start their business. They're still doing well now.
The audience of 3 million was interested in them too: visitors flooded their site.
What could have happened
In a less robust shared server configuration, the spike in traffic would have caused problems. Those visiting the site would be inconvenienced: the site may be slow, or they may not be able to see it all (503 error).
The server would also be forced to reallocate resources from all the other sites on that single server, leading to a slow-down for them. It could even result in downtime on those sites, inconveniencing even more people.
Even if they were with a traditional hosting company that had multiple data centres, this wouldn't have helped. That's because traditional load balancing technology only works on a single server.
Single-server load balancing is fine for its purpose: to prevent failed hardware causing website downtime. But it wouldn't have helped in this situation, as one server wasn't enough to handle the traffic.
So it would have not only hurt their business, but also all the other businesses/sites hosted on that server.

What happened with the 20i platform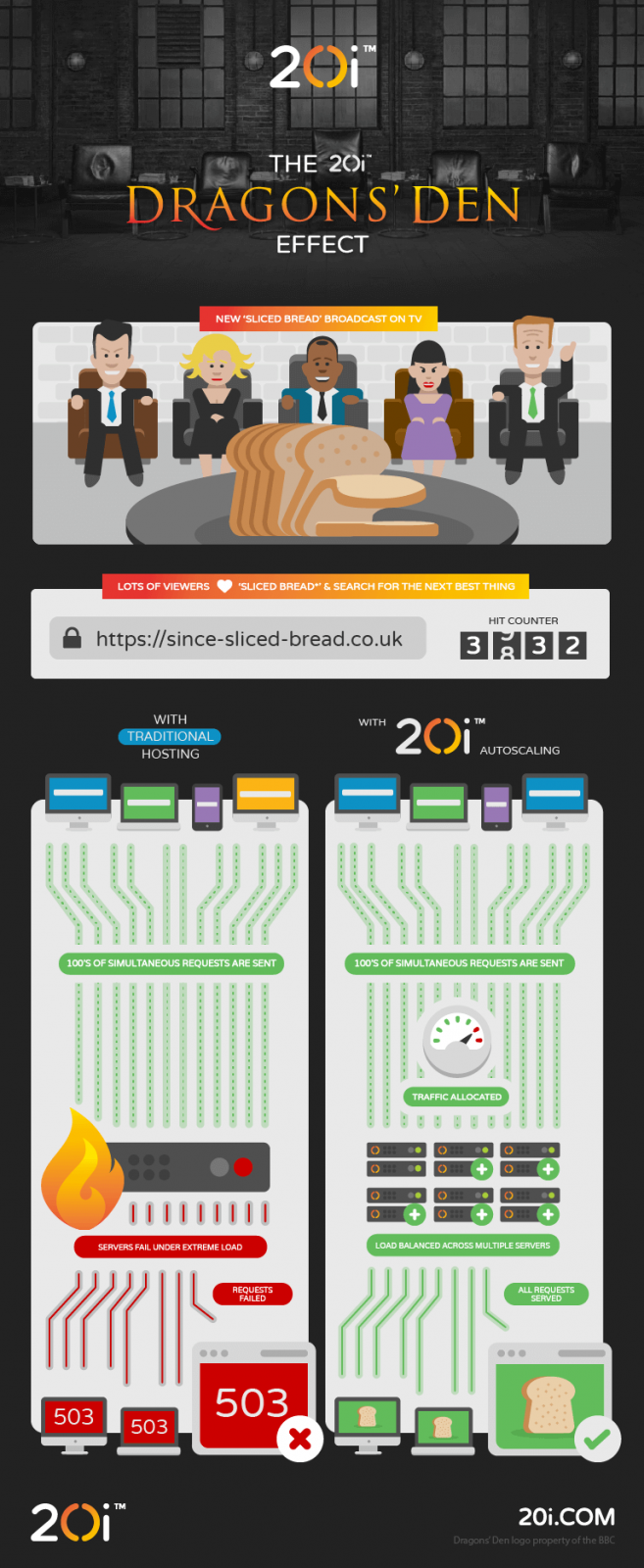 The Dragons' Den entrant's site continued to work as normal. As did all the other sites on 20i's shared hosting platform. No one had their Sunday evening chill-time interrupted.

The difference with 20i comes from our autoscaling technology, which we created in-house (and don't share with anyone else).
What happens is that a traffic monitor will detect an upsurge in traffic and respond immediately: moving the site to its own dedicated 'Dragons' Den' groups of servers.

There, the site is allocated as much resource as needed: raw hardware with no other shared neighbours. Multiple redundant 40-core machines are available to take up the slack. Once the Dragons' Den Effect is over, your site is moved back to the normal infrastructure.
This wouldn't be possible for a site that was confined to a single server, like you are forced to use with old software like cPanel or Plesk. Our autoscaling tech is available across our Web Hosting, WordPress Hosting and Reseller Hosting packages.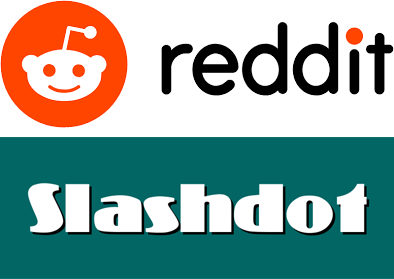 Essentially, the Dragons' Den effect is our version of what was first called the Slashdot or Reddit effects, after the popular sites.
So, there you have it: that's how the Dragons' Den Effect term came about at 20i.