Web Hosting Automation & Billing
Create an automated web hosting business
Start your own hosting company in a few simple steps
HostShop gives you all you need to start making a profit right away
Free with Reseller Hosting
50% off first 6 months – Only £19.99/pm
Then only / month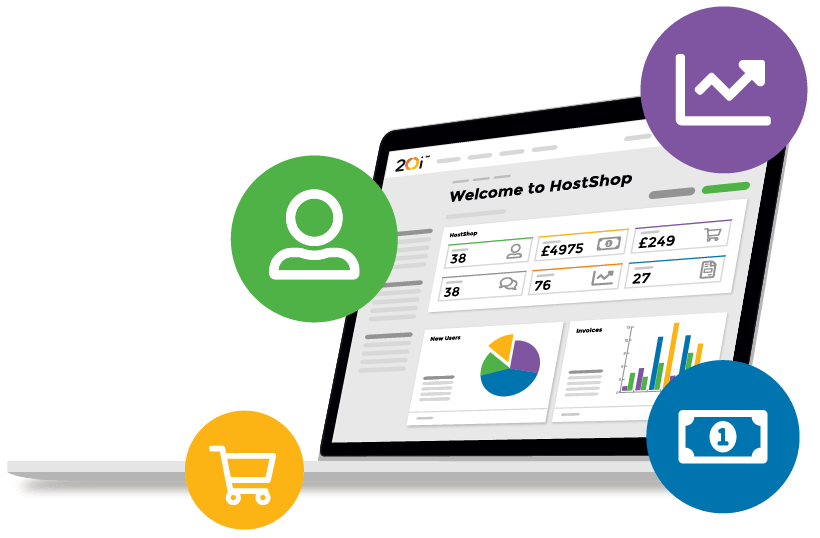 Start making a profit with only 10 customers!
Start making a profit with only 10 customers
You can break even and start making a profit with a small number of customers on your lowest-priced packages.
It's easy to begin your reseller hosting startup business. Just set up some hosting products, choose your prices and add your payment providers' details.
Use our calculator to work out how much you should charge.
What is HostShop?
Automated. Flexible. Modular. Beautiful.(And free!)
There's more to running a successful hosting business than simply buying an unlimited hosting package.
You need to set up a website and a store. Then you'd have to put in place all the business processes and customer support systems which you'd need for any online business.
HostShop takes care of all of this out of the box: giving you the freedom to concentrate on what you enjoy. It can be customised to match your branding, and it's modular – use all of its features or just what you need. We created it in-house, using the expertise and experience built up over 20 years in the web hosting industry.
The best alternative to WHMCS comes free with the 20i Reseller Hosting package.
Buy UK Reseller Hosting
HOSTING ECOMMERCE TOOL
A Seamless Shopping Experience
Just enter your hosting products, prices and payment provider details into My20i and your shop is ready to go. A customer can select and pay for hosting, domain or a VPS and begin using it immediately – all without your input.
Any payments will go through a free automatic fraud-checking service. HostShop supports all the major payment gateways including GoCardless, PayPal, Square, Stripe and more.
The shop is visually identical as your customers' control panel, StackCP, so the flow between them is seamless.
Manage Pricing and Content Easily
Simple Product and Service Management
You can sell all of 20i's products and services: hosting, VPS, domains, SSLs, database licences and more. You can also sell your own products – such as themes – through HostShop.
Products and pricing can be as simple or as complex as you'd like.
It's just a few clicks to change prices or descriptions, and there are no limits on what you can offer. You can manage prices and taxes globally, or drill-down to change individual hosting packages. Offer discounts on any product through codes your customers can enter at payment. We include helpful 'recommended prices' on domains and VPS to give you a head start.
You can even charge for services that we provide for free to Resellers – like our malware scanner – meaning that you'll be making 100% profit on every sale.
Based on Bootstrap 4
Stylish Website Templates
HostShop also features a set of 4 modern website templates, prefilled with white-label marketing copy and royalty-free imagery. While they give you all you need to start your business, we would recommend personalising your hosting site to suit your brand. The templates are based on the Bootstrap 4 framework, so it's easy to make those changes.
Selling Hosting Fast
Integrate into your Existing Website
If you have an established business, you can add the hosting store to it: it will integrate with any pre-existing site.
You can add products other than hosting to the shop too. Web design, SEO, one-off design charges, themes – all these can be added to HostShop. Your clients can then make all their payments in one simple, attractive and secure interface.
BUSINESS AUTOMATION
Set and Forget
While we don't want you to abandon the human touch, it's easy to automate all your business processes. You can set up and manage:
Preset default automated sequences and messages are included to give you a running start. So you can start your business today. Or, if you'd prefer, you can edit and tweak all the business automation features until it's exactly how you want to run things.
MARKETING AND COMMUNICATION
Stay in Touch
HostShop gives you the tools you need to keep your customers happy and engaged.
Business Analytics
Reporting Tools
High quality business intelligence is at the heart of a successful and sustainable business. So HostShop has a dedicated area for this, where you can view customers, revenues, products and services.
WHY CHOOSE HOSTSHOP TO RUN YOUR RESELLER HOSTING BUSINESS
HostShop vs The Rest
COMPLETE SOLUTION FOR WEB HOSTING MANAGEMENT
HostShop Features
Pre-built modern hosting website templates

Integrated web store

Automatic fraud checking

Recurring contracts

Renewal notification sequences

Automatic invoicing

Automated email sequences that manage payments and debt

Fully-featured customer support helpdesk

Customer bulk emails

Control panel messaging

Business performance reporting

Sell any product
ALWAYS IMPROVING
Ongoing Development
HostShop is already the #1 turnkey web hosting business solution. But we know – from our experiences with web hosting platforms – that we have to keep getting better to stay ahead.
So we're committed to an ongoing development program. Your feedback will help shape the future direction of HostShop. So let us know via the My20i feedback form today.
Insight from Georgie Barrat
"20i's HostShop makes selling web hosting a pleasure."
"By automating routine business tasks, it frees-up your time so you can concentrate on helping your customers and getting more leads.
I'd recommend it to anyone wanting to start their own Reseller hosting business."
Georgie Barrat
Gadget Show Presenter & Tech Journalist
Feedback
What our Customers Think
HostShop makes it super easy to get my customers signed up to my plans, and manage payments.
Since joining 20i, I have managed to expand my business with the helpful, handy HostShop that I can customise to my heart's content. I absolutely love this service.
Have more questions? Talk to our experts…