Managed Hosting
High Performance Managed Hosting
Power your websites and apps with the fastest, most reliable managed hosting platform.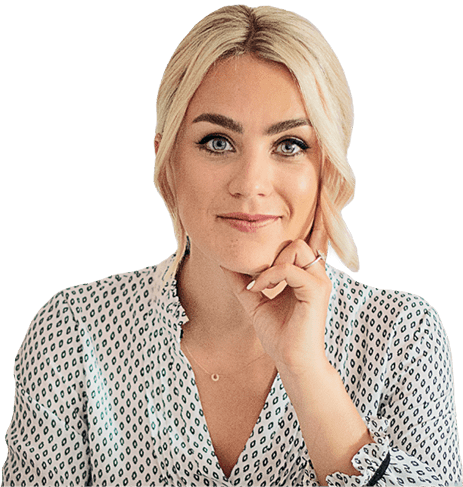 Recommended by
Georgie Barrat
Tech Journalist and TV presenter
What you can expect from 20i Managed Hosting
Our Managed Virtual Private Servers (VPS) combine the industry's best platform with expert customer support. Get the speed, security, and reliability your websites and apps deserve.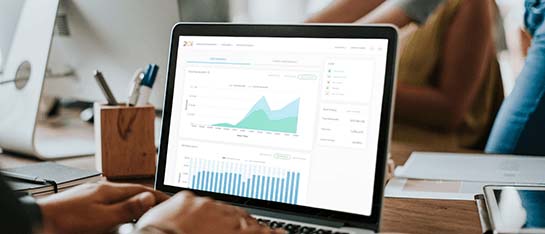 Next-gen servers
We only use enterprise-level Dell servers with 100% Samsung SSD storage. Our SSDs have significantly higher IOPS, perfect for intensive apps/projects.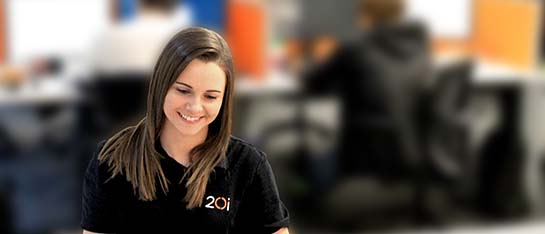 Top rated support 24x7
Our Support Team are all hosting experts and available 24x7. Our technical knowledge and enthusiasm for the subject shows in our amazing reviews and perfect Trustpilot score!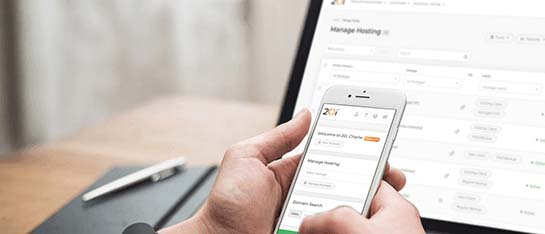 Easy server management
My20i is our custom-made server control panel, designed to put you in control. It's like cPanel, but better (and free). By not being restricted by cPanel, we can offer more features and better performance.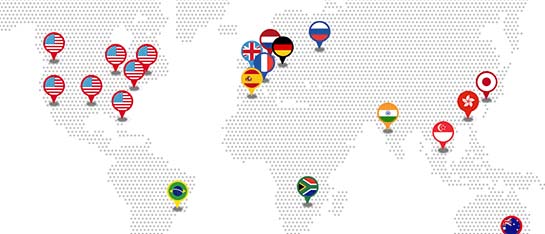 Lightning-fast & reliable network
With no single point of failure, our global load balancing responds to traffic load and balances it across multiple servers. Your site stays online, and remains fast, whatever load the servers are under.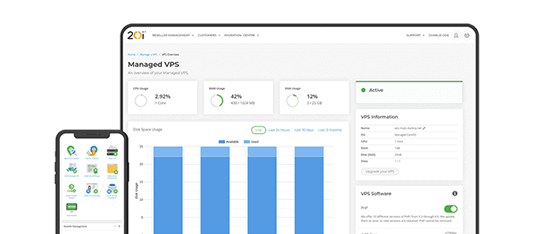 No bandwidth charges
Data limits don't go as far as you think and can get expensive quickly. At 20i you don't have to worry about costs or throttling traffic. We offer truly unmetered bandwidth on a dedicated port.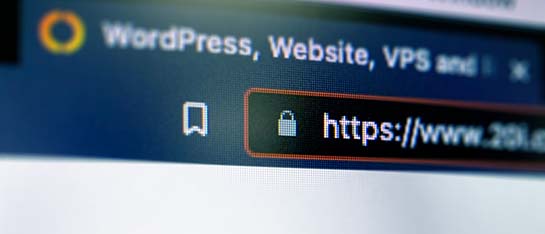 Ultra-secure hosting
PCI-compliant Data Center, malware scanning, 1Tbps+ DDoS protection, web application firewall, brute force login protection, FTP security lock and 2FA are all included.
Managed Hosting built to help you succeed
Our Managed Hosting is powered by next-gen hardware for maximum speed, reliability and security. Plus, no server overselling, ever.
Core
s
---
/pm
/pm
Usual price per month
---
Become a Reseller
[[ mvps.cores ]] Cores

[[ mvps.ramGb ]] GB RAM

[[ mvps.diskGb ]] GB

SSD disk space

[[ mvps.portMbps ]] Mbps

port speed

Eco-friendly

hosting
Core
s
---
---
Become a Reseller
[[ mvps.cores ]] Cores

[[ mvps.ramGb ]] GB RAM

[[ mvps.diskGb ]] GB

SSD disk space

[[ mvps.portMbps ]] Mbps

port speed
20i Managed Hosting comes with…
Automatic Timeline Backups
80+ One-Click Apps Inc. WordPress
Unlimited × 10GB Mailboxes
Hosting Software
11 Versions of PHP: 5.3, 5.4, 5.5, 5.6, 7.0, 7.1, 7.2, 7.3, 7.4, 8.0, 8.1

Popular Modules (PDO, SOAP, MBString, Mcrypt, XML)

PHP Ioncube Loader

Perl and Python

Python WSGI

Node JS

phpMyAdmin

App Optimisation

NEW
datacenter & Cloud Platform
Host in the UK or USA

Powered by 100% Renewable Energy

NEW

Redundant Network

Global CDN

Edge Caching for Speed

Website Acceleration Suite

Google-Based DNS Servers

40 Gbit/s Network with Multiple Internet Connections

Redundant Power Supplies, UPS and Generators

24 × 7 × 365 Onsite Technicians

Biometric Security, CCTV and Firewalls

PCI Compliant Servers

No LVE Limits
Security Features
One-Click G Suite Setup

Automatic Malware Scanning

1 Tbps+ DDoS Protection

FTP Security Lock

Block visitors by IP or Country

Web Application Firewall

File Permissions Checker

Two-Factor Authentication (2FA)

Website Password Manager

Hotlink Protection

Brute Force Login Protection
Email
Cloud Hosted

'Catch All' Address Support

E-Mail Forwarders

Autoresponders

Webmail

Antivirus & Antispam protection

E-mail Blacklist & Whitelist Management

Mailbox Autodiscover Support

DKIM Email Authentication

Unlimited Email Accounts
Web Hosting
Automatic Migration Centre

Free Wildcard SSL Certificates

Back up and Restore Your Website and Databases

Unlimited Subdomains

Unlimited FTP/SFTP Access

Additional FTP/SFTP Accounts

Scheduled Tasks

Online File Manager

SSH Access w/ Google 2 Factor Authentication

Directory Indexing

Access/Error/Bandwidth Logs

Custom Errors

Mapped Domains

Sitemap Generator

Website Builder

24x7x365 Support
Number one for support
Our Managed Virtual Private Server specialists will patch, update and monitor your server for you. Our team has your back, and our experts will respond quickly, whatever the problem.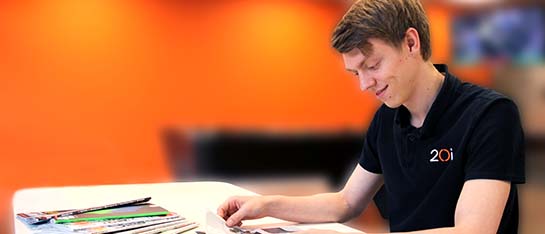 Expert Support
Hosting fanatics who know Managed Hosting inside and out.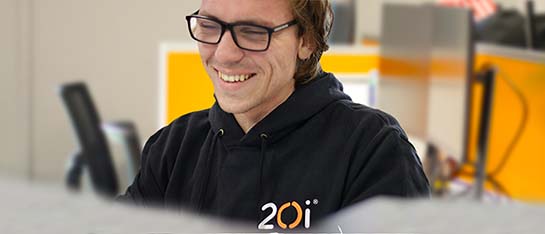 Support you can rely on 24x7
Here when you need us, with quick responses and resolutions.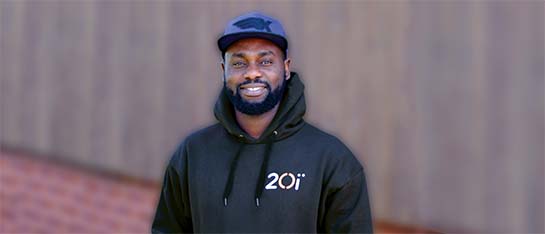 Top-Rated Managed Hosting
We are rated #1 on Trustpilot by our customers.
Its good jobs and continius
This is the best platform
The best hosting company about, support is amazing
Showing our 5 star reviews
Transparent price promise
We're disrupting the industry by being up-front and honest with our Managed Hosting pricing. Everything is included in one great value package and you could save hundreds every month. Don't pay a salesperson's commission – pay for a great product and service.
One clear price per month, so no nasty surprises.
We don't have any salesperson receiving commission by upselling you.
All our customers get server control panel, unmetered bandwidth, security and 'priority' support as standard.
We always charge the same price for every customer.
Quick and easy free Managed Hosting migrations
Zero downtime and no risk of data loss.
You can migrate to 20i Managed Hosting automatically from other web hosts, including those who use cPanel, Plesk, DirectAdmin.
If you're coming from a provider using different technology, our Support Team is on hand to help.
Always free, unlimited migrations
Migrate in minutes, not hours or days
Move your websites, databases and emails to 20i automatically
Preserve all folders, files, scripts, emails, databases and other data exactly as-is
Choose exactly what you want to migrate and when
Frustration-free server management with My20i
My20i is the most advanced web hosting control panel around.
It's like cPanel, but better (and free).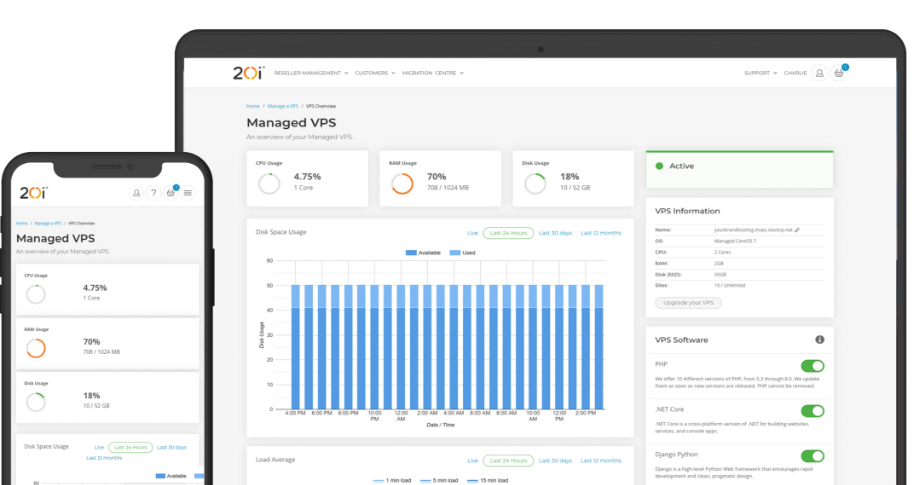 My20i is our custom-made server control panel, designed to put you in control. No bloat, no extra subscription or license fees, and custom-built for managed virtual private servers. Host unlimited websites, install apps, create databases and set up email.
The free My20i control panel is acclaimed for its ease of use: especially bulk management of web hosting. Don't settle for software that's dated and overly complex. Use a fresh modern interface that's refined for user experience.
Read more about My20i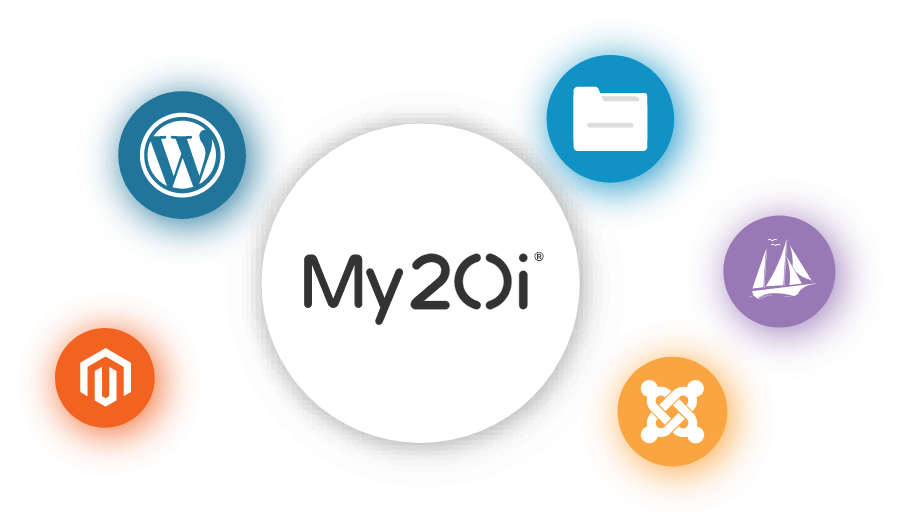 Control all your web hosting from one place. My20i includes a complete file manager, DNS manager, SSH access, backups manager, phpMyAdmin, FTP control, 80+ one-click installs (incl. WordPress), and much more.
My20i makes finding features hassle-free. Touch-focused icons, drop-down menus, a quick-add menu and a powerful search bar offer a range of options to get you where you need, fast.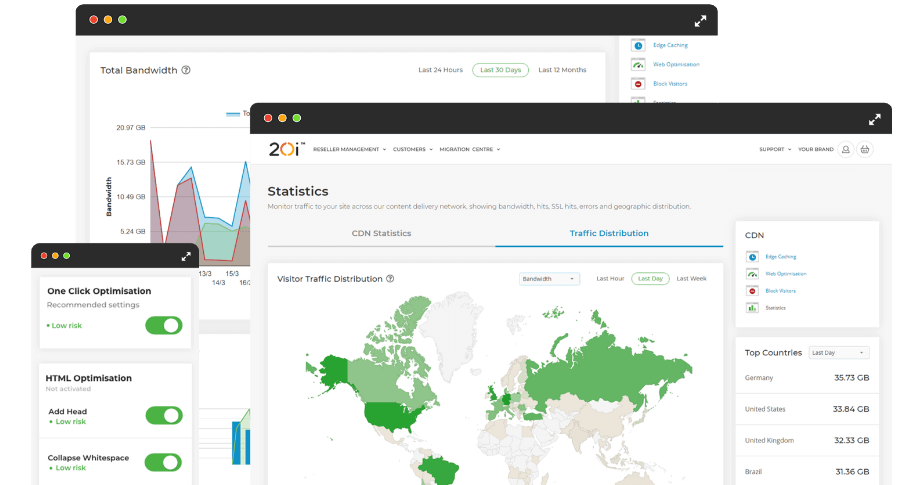 Use My20i to manage our global content delivery network (CDN). Included free with all Managed Hosting, your content will be stored at data centers around the world. This global edge caching means that your site will load quickly, everywhere.
The CDN also includes our Website Acceleration Suite, which reduces web page loading times by optimizing images and code for speed. It's great for SEO. It's available as a one-click set-up or you can experiment with over 40 different settings.
Read more about our free CDN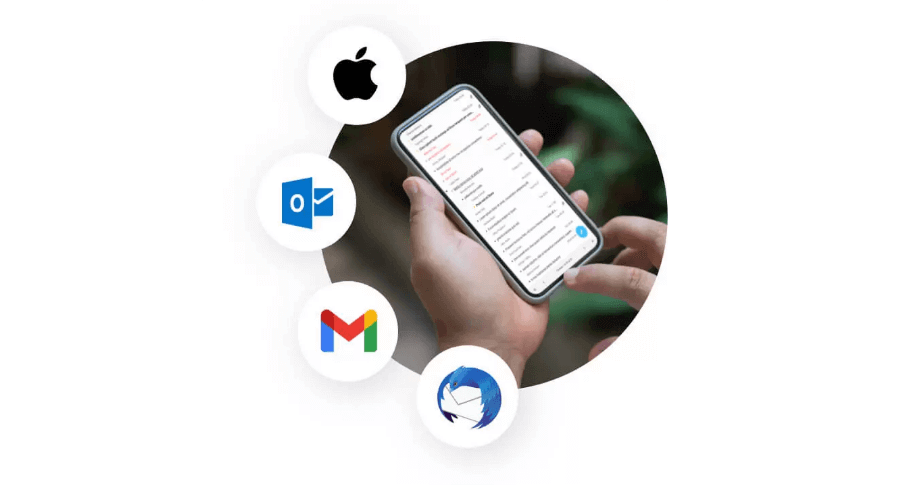 Set-up and manage your email from within My20i. Alternatively, our email works with all mail clients, including those from Microsoft, Google, Apple and Mozilla.
It includes webmail, so you can view your messages anywhere, at any time. Through IMAP you can synchronize your mailboxes across desktop, tablet and mobile.
We use the latest tech to ensure that the email you send is delivered safely, and the email you receive is spam-free. All email is encrypted in transit using TLS for security and privacy. Additionally, we use 3 layers of inbound spam and virus scanning; network-level, virus scanning and content-based scans.
Read more about our email hosting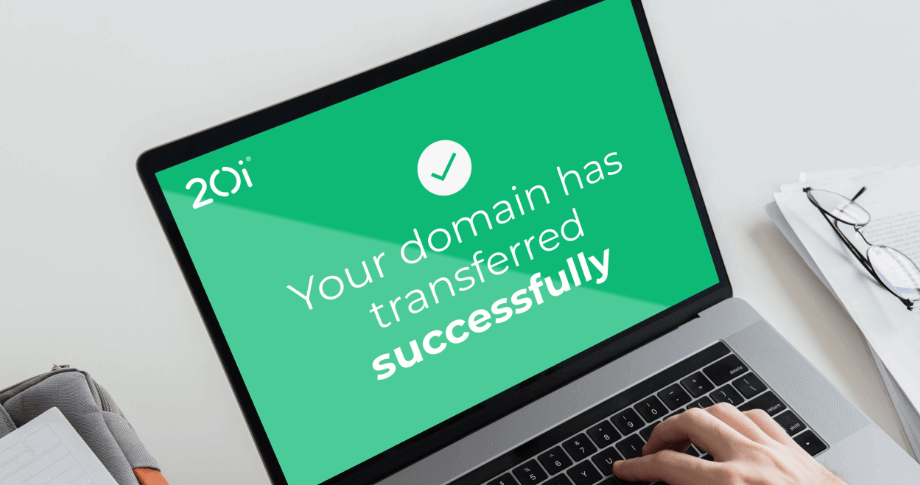 Our domain names are amazing value for money every day, not just short-term price promotions. Save up to 50% on your .com and co.uk domains compared to other hosts.
We've made managing one hundred domain names as easy as managing one. All your DNS records can be controlled from My20i: from A and CNAME to TXT and SRV. Our nameservers use Google's reliable global network to deliver quick responses.
All 20i web hosting includes free wildcard SSL certificates to secure your site. You can also purchase paid SSLs direct from us too.
Search for a domain
Managed Cloud Hosting designed for developers
Our Managed Hosting services are perfect for running daemon-based apps like Node.JS, .NET Core and software that runs on Python WSGI, like Django and Flask.
Dev tools like Git, WP CLI and Drush are all available via SSH.
With Redis you can use persistent object caches in WordPress. You can set up permanent processes too.
You can monitor server performance through detailed charts in My20i and we'll keep an eye on performance.
Next-generation Managed Hosting solutions
Expert technical support available 24x7x365 – top-rated host on Trustpilot
Ultra-secure platform for sensitive applications and websites for both public and private sector projects
Our custom-built and lightning-fast CDN network ensures that your projects have global reach, low latency and fast transit through ISO 27001-accredited data centers.
Consistently excellent in every way.
Consistently excellent, from large requests in the middle of the night to small ones at any time. Superb value too.
We're an SME-specializing marketing business and 90% of our clients' sites are looked after by 20i.
Tom – July 2021 "
CALL +1 866 463 5007
Managed Hosting: Frequently Asked Questions (FAQs)
Find answers to some frequently asked questions about Managed Hosting:
What is Managed Hosting?
Managed Hosting gives you the freedom and power of an Unmanaged VPS, without the extra work. You don't have to manage the server, install all the software and keep it updated. With Managed Hosting this is all done for you by our team. If you have any problems, support is on hand to help.
20i Managed Hosting is extra-special. You can control all your websites through My20i, so your admin tasks are made super-simple. You can take advantage of features in My20i that aren't available anywhere else, like our free CDN, bulk website management and automatic migration.
What level of support is provided with Managed Hosting?
With 20i Managed Hosting you get full access to the 20i Technical Support Team. Universally-praised for their speed and clarity of responses, you'll always get expert support. They'll make sure you're set up with the best solution possible, and should you need help, they're available day and night through live and chat email.
Can I host several websites on Managed Hosting?
Yes. With Managed Hosting you'll be able to host as many sites as capacity will allow. You can partition your VPS to allocate disk space to each site you want to host. You're in control: you can set custom package types for each partition all from within the My20i control panel. Should you need to expand, upgrading is just a one-click process with no interruptions.
Do I get email with Managed Hosting?
Yes. With 20i Managed Hosting you can take full advantage of our high-end clustered mail platform, stored and processed separately from your virtual machine. You'll be able to create mailboxes, auto-responders, forwarders and more, all from the My20i control panel.
Can I choose another operating system on Managed Hosting?
Managed Hosting comes with the bespoke My20i control panel which runs on CentOS 7. No other operating systems can be installed. If you need a different OS you can use an Unmanaged VPS.
Should I choose Managed Hosting or shared cloud hosting?
Our cloud web hosting is rock solid and suitable for most needs. But if you're looking for a hosting solution that dedicates resources to your sites and lets you lean on our expert Technical Support team, then Managed Hosting on a VPS would be for you. If you're a developer, Managed Hosting will give you more freedom to install extra apps.
Do I get SSL certificates with Managed Hosting?
Yes. We offer unlimited Let's Encrypt SSL certificates for any sites or web applications you host on Managed Hosting. They can be added in a click from the control panel and renew automatically every 3 months.
Can I resell Managed Hosting?
Managed Hosting is perfect for those wanting to sell web hosting As a hosting Reseller you get a 25% wholesale discount on Managed Hosting. They also get access to an exclusive single-site 1 Core VPS.
All web hosting can be sold under your brand or under a white label
Offer you customers their own hosting control panel – StackCP – that can be customized to your brand or each individual customer, should you wish
Sell individual hosting packages on a VPS, or sell full virtual private servers to single customers
Controlled through My20i which makes bulk management of sites and customers easy
Use our free HostShop to automate your billing, provisioning, communication and reporting
Find out more about how you can resell VPS.
Is your hosting climate friendly?
Yes, all our hosting servers run on purely renewable energy. For more on how our Managed Hosting is eco-conscious, please see Green Hosting.
Green web hosting powered by 100% renewable energy
We're committed to making sure our hosting is as green as can be.
GREEN ENERGY
All our hosting is powered by 100% renewable energy, which means all your sites and apps are too. That's great news for you and the environment.
GREEN DATA CENTER
Our data center has an extremely low PUE (Power Usage Effectiveness) of 1.12. Plus, our Autoscaling Cloud Hosting only uses the resources it needs, so no energy is wasted.
LOW CARBON FOOTPRINT
Our office also runs on renewable energy with its own solar farm. We also have a paperless office, cycle to work scheme, and recycle all our waste.