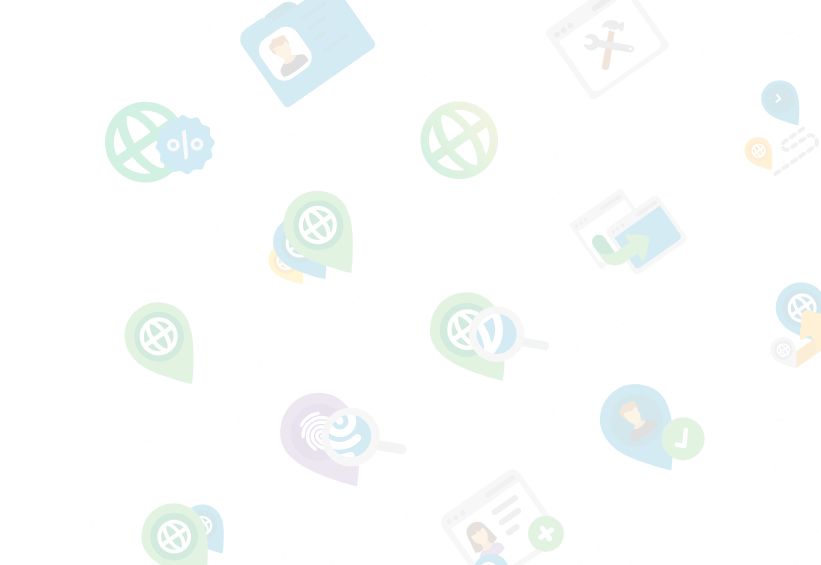 DOMAIN NAMES
Register Your Perfect Domain
Buy domain names with the best prices around. Pay the same low, all-inclusive prices every year.
£12.99/yr
$15.99/yr
$29.99/yr
Compare Domain Name Prices
Compare Domain Name Prices
Buy a domain name – the same low price, year on year
Find your perfect domain name – for less – today

Best Value Domains: All This Free
Seen a domain name that's cheaper? Congratulations – but remember to check the small print! There are no 'hidden' charges with 20i.
Free Basic Web Hosting
We've built such an amazing platform that we want to share it with as many of you as possible! So how would you like a free hosting plan, with a free CDN and no ads?
Full DNS Control
All your DNS records can be controlled from My20i: from A and CNAME to TXT and SRV. Our nameservers use Google's reliable global network to deliver quick responses.
100 Free Mailboxes
Start receiving email at your domain email addresses right away with 100 free 10 GB mailboxes. No need to spend time redirecting everything to another service provider.
Park your domain
Web forwarding
Catch-all email forwarding
Change nameservers
Change tag / transfer away for free
Bulk domain management
Domain for sale page
Add-on mailboxes
Opt out of Nominet WHOIS
Upgrade to full web hosting instantly
UK technical support
My20i & free basic hosting
Other companies ask you to pay for two years' registration on sign up – we don't.
Ready to transfer? Move your domain to 20i today and avoid rip-off renewal prices
It makes sense to move and start saving right away. Just enter your current domain to begin the fast and reliable transfer process. It's free to transfer domains.
MORE ABOUT DOMAIN TRANSFER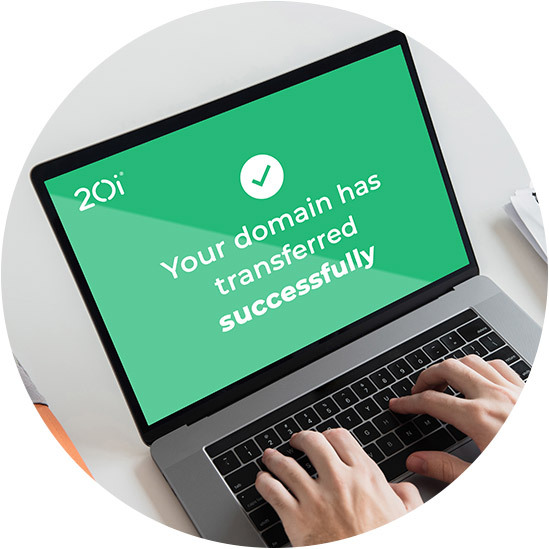 Domain names explained
Are you buying your first domain name? Here's everything you need to know.
How to buy a domain name
You should only buy a domain name from a company with a good reputation. We've been registering domains for happy customers since 1997 - so we're experts. Our reviews speak for themselves.
How to search


If you aren't sure about which top-level domain (the letters at the end, like '.com') to choose, don't worry. Just put the name of the website or your company name in our easy domain search and we'll suggest some options. If it's not available, we'll let you know.

We'll start by showing you the most popular domain extensions. You can then use our 'Categories' filter to see more alternatives. They're arranged by topic, like Business, Hobbies, Lifestyle, Sport, and so on. You can also sort them by price.

How to buy


Choose how many years you'd like it to be registered-for: the minimum is one year. Add it to your basket, then check out. The only optional extra we offer is Domain Privacy - everything else is included in the price. Some registries ask for extra contact details, but you'll be contacted if that's the case.

You'll then be the proud owner of a new domain, free hosting and email. You can manage it in our user-friendly control panel, My20i.

Restrictions


Anyone over 18 can register a domain name, but some TLDs have rules that restrict their use. Examples of these rules would be the .eu domain which is open to European Union residents, some country codes or some generic domains that are specific to an industry.

We'll let you know if there are any barriers to you registering your chosen domain once you've entered your details.
Find a domain
Domain Privacy
Free for .co.uk & .uk


Are you an individual with your own .uk or .co.uk domain name that's not for business use? If so, you can use 20i's Domain Privacy to hide your personal details for free.

Keep your Personal Details Private


Every time you register a domain you risk exposing your name, postal address, email and phone number to spammers, identity thieves and fraudsters.

Privacy ON


By using our Domain Privacy service, we'll list our generic company ContactPrivacy.com as the contact for your domain name. This ensures that your confidential information isn't available online.

Stay in Contact


You can still be contacted. Our service comes with free email forwarding of the protected email address to an e-mail of your choice. So you'll continue to receive any notifications or enquiries.
What is a domain?
A domain name is an address for your website. Computers use IP addresses: long strings of numbers which would be hard to remember. A domain name is designed to be memorable by us.
These addresses are made up of two or three elements. Reading from right to left, the top-level domain (TLD) are the letters at the end (like .com), that are also known as an extension. The second level domain is the name of your website or company. The third level domain - or subdomain - can be something like blog.example.com or www.example.com.
Your web address (second-level domain) can contain a combination of numbers, letters and hyphens, but not any other punctuation marks or special characters. They ignore upper and lower case, so you can capitalize the first letter of words in publicity material for easy reading. They can be a maximum of 63 letters long.
Which-Top Level Domain?
If you're looking for a website address for a new business, you might like to go for a top-level domain (TLD) that matches your geography - called a country-code top-level domain (ccTLD). Like .uk, .us, .scot, .wales or .it. Or even more local, like .london.
Or perhaps you'd prefer something more international like .com, .org, .net, or .info? If it's a personal site, perhaps consider something like .me or .blog?
Or you could go for something more descriptive. The new generic TLDs (gTLD) like .dev, .online, .agency and solutions offer plenty of options.
Whether your new site is for a business or hobby, there are over 400 to choose from, so you're likely to find a TLD that covers your products or services.
How to choose a domain name
Registering a name for your site shouldn't be done in haste. It will be central to your identity, whether that's for a small business, startup or your own personal brand. If your project is a success, then you could be using it for many years to come.
It may only take seconds to purchase a domain from 20i today, but here are some things to consider before you buy:
Can you say it easily?


Word of mouth is still one of the best ways to get leads and recommendations. So make sure that it can be said easily, or if it does need to be spelled-out, keep it short.

Will you use hyphens?


Opinions differ on hyphens – some may find that they make your internet address more readable, whereas others avoid them.

Is it memorable?


The best way to make a website address memorable is to keep it short and unique. Of course, that's easier said than done!

Does it cover what you do?


Consider having your product or service in your address, but exact matches can be seen by some - including search engines - as potentially 'shady'.

Has someone else got a similar domain?


You don't want your users getting confused, or to be a target of legal action. So we recommend checking this using a search engine.

Will you need to buy variants?


Fraudsters may try to copy your domain name, but with a different TLD. So consider whether it's worth buying popular alternative extensions. For example, if you've bought example.com, you might want to buy example.net and others.
Domains: Frequently Asked Questions (FAQs)
Why are your renewal prices so low?
Our main business is web hosting, so we don't seek to make a huge profit on domain pricing. If you buy a domain from 20i you'll enjoy the service and consider hosting your website with us.
How do I transfer my domains to 20i?
There's a couple of different ways:
UK domains (all domains that end .uk)
Update the IPS Tag to STACK at the current host.
Complete the transfer from the 'Transfer a Domain' option in your My20i account.
gTLD domains (ending in .com, .net, .org and most other domains)
Ask your current domain provider for the domain name authorisation code.
Log in to your account at My20i and click 'Transfer a Domain'.
Enter the domain name and click 'Search'.
Add the domain to your basket and complete checkout.
An email will be sent to the email address listed as the admin contact.
Follow the link in this email and approve the transfer by entering the authorisation code.
Once authorized, the transfer will complete automatically within 5 days.
Our support team is always there to help you or read our support article on 'How to transfer a domain name' for more information.
What is 20i's IPS tag?
20i's IPS tag is STACK. To transfer .uk domains you'll need to enter this at your current host to process the transfer.
Do I get a free year upon transfer?
For many domain names we'll add a free year to the renewal date when the domain is transferred to 20i. To check if your domain names are eligible contact our Sales Team and they'll let you know.
How long does it take to transfer?
Can you buy a domain name permanently?
No, you cannot buy a domain name permanently. The registration of domain names works on yearly contracts. You can pay upfront for up to 10 years to have your TLD secured.
How to renew your domain name
We work on an autorenewal basis, that means you don't have to worry about your domains expiring.
We will send you a reminder to renew your domain name one month prior to the expiry date. You can renew the domain registration manually from the renewal section in your account at any time.
What happens when a domain name registration expires?
If your domain name registration has expired, the domain will enter the process of being deleted from the registry and you will lose control over the domain name. When the process is complete, it will be freely available for anyone to register.
For most TLDs (like .com, .uk, .org etc.) we offer a 30 day grace period to renew the registration. After this there is a 30 day redemption period in which you can still renew the registration, but there is an extra fee for this process.
There are some TLDs which are regulated in a way that don't allow for a grace and/or redemption period (e.g. .io) and are directly available for anyone to register when expired.
Are there any rules and restrictions for domain names?
Green web hosting powered by 100% renewable energy
We're committed to making sure our hosting is as green as can be
Green Energy
All our hosting is powered by 100% renewable energy, which means all your sites and apps are too. That's great news for you and the environment.
Green Data Center
Our data center has an extremely low PUE (Power Usage Effectiveness) of 1.12. Plus, our Autoscaling Cloud Hosting only uses the resources it needs, so no energy is wasted.
Low Carbon Footprint
Our office also runs on renewable energy with its own solar farm. We also have a paperless office, cycle to work scheme, and recycle all our waste.
20i domain names: simply better value