Our proprietary, industry-leading control panel
What is StackCP®?
We built the Stack Control Panel (StackCP) with you and your customers in mind. It's the best way to enthuse your clients – so they want to manage their own sites. You can customize it as much as you like, both how it functions and how it looks.
Launch demo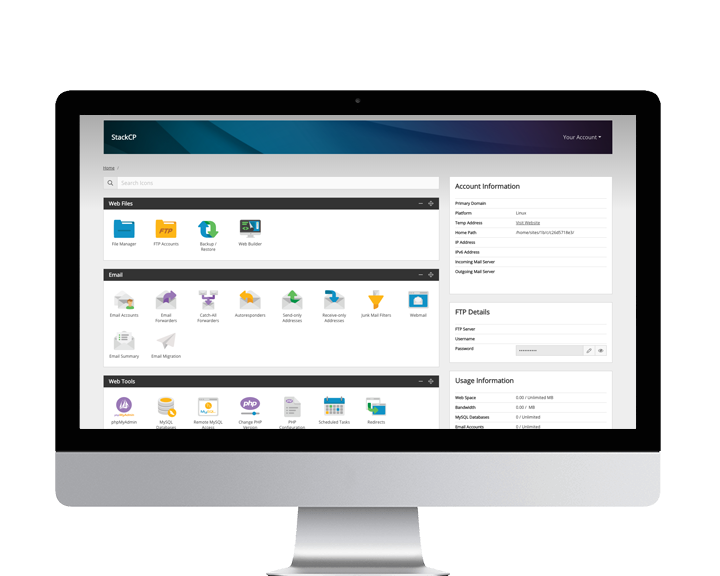 Create your own unique customer experience
One-Stop Web Hosting Control Panel
Choose the features you want to make available to your customers. Select a simple, minimalist control panel or a feature-packed hosting management experience.
StackCP gives you the flexibility to create as many different variations as you like. Each time you make a new hosting package, you can design a new StackCP experience to match it. You could disable SSH access for less technical customers. Or remove the Website Builder on hosting plans targeted at expert customers – the choice is yours.
You can edit your StackCP versions at any time, from any device.
StackCP's theme can match the theme for your HostShop installation for consistent branding. Customers will be able to upgrade from StackCP and their new services will be provisioned automatically.
100% Brandable
Make It Yours
Stick with the default "StackCP" branding or choose your own name, logo, images, CSS and custom URL to match your business.
You can fully customize StackCP. Either choose a preset theme in a click, or go more elaborate. It's built on the Bootstrap 4 framework, making it easy to customize.
StackCP always remains generic by default so you don't disclose your partnership with us if you don't want to.
Manage from one control panel
Single Secure Login
You can assign multiple packages to a single StackCP login easily. Your customers have the convenience of managing all their hosting packages in one place.
We're committed to secure hosting. Your customers can secure their login details through two factor authentication (2FA). You can use 2FA to verify their identity when communicating with them.
Sleek & Intuitive
Easy To Use
We've developed StackCP to provide a sleek, intuitive experience whether your customers are new to hosting or confident experts.
It's fully responsive, so your customers can manage their websites and email easily wherever they are, from any device. We also designed it with accessibility in mind – it's easy to use with screen readers.
No more routine requests
Minimise Support
We know how precious your time is. StackCP has been developed with this in mind. Your customers can manage their own hosting accounts, simply and easily.
If they do have any questions, they have a comprehensive database of questions and answers to turn-to. Our White-Label Support Database is based on the 20i Support Database that we keep up to date. It's 'white-label' in that it can be branded with your company name and URLs, so it has no mention of 20i.
StackCP saves you the headache of dealing with routine requests. Use that extra time to find new business and provide great service!
Support ticket system
StackCP Help Desk
StackCP Help Desk gives you and your customers easy access to a powerful customer service tool. Your customers can create and respond to support tickets in StackCP, and you can manage their tickets within My20i.
As you'd expect, it's fully customisable. You can create and change departments, statuses, and email notifications or use our defaults.
StackCP Help Desk can be used straight away without any configuration. It's disabled by default in case you already have a customer support solution in place.
Try the Demo
We're always working on something new, meaning you're always getting even more for your money. We regularly add new features for you and your customers, and make seamless background updates so you don't have to worry about modernizing or updating your control panels for your customers. We let you know about all the updates we make so you can pass them on to your customers.
Launch demo
Everything you will Ever Need
StackCP For Resellers
Crafted by web professionals for web professionals, StackCP is a frustration-free, fuss-free web hosting management solution available for all your customers at no extra cost. StackCP includes:
Web Hosting Tools
File Manager
FTP Accounts
Backup/Restore
Backup/Restore
Snapshot Backups
phpMyAdmin
MySQL Databases
Remote MySQL Database Access
Manage Domains
Manage Subdomains
Change PHP Version
Scheduled Tasks
SSH Access
Block Visitors
Hotlink Protection
SSL Certificate
Password Protection
Directory Indexing
Manage IIS Applications
Website Log Files/Download
Website Security
Website Builder
Manage VPS
Two-factor Authentication
Email Tools
Email Accounts
Email Forwarders
Autoresponders
Send-Only Addresses
Receive-Only Addresses
Junk Mail Settings
Catch All E-mail
DNS Tools
Manage DNS
Manage Contacts
Change Nameservers
Domain Lock
Transfer Away
Domain Redirect
80+ FREE WEB APPS
Give your customers all the apps they need
Your clients on our Linux hosting have access to over 80 one-click web apps to build and run websites. You can choose which ones they have access-to.
MOST POPULAR APPS
Abantecart
Agora Cart
B2 Evolution
Backdrop
Bamboo Invoice
BuddyPress
Cachet
CakePHP
CMS Made Simple
Concrete5
Coppermine
Craft CMS
CubeCart
Dolibarr
Dolphin
Dot Project
E107
Elgg
Expression Engine
Feng Office
Flarum
Flux BB
Form Tools
Forma LMS
FreshRSS
Geek Log
Gibbon
GNU Social
Help Center Live
Invoice Ninja
Invoice Plane
Kanboard
Laravel
Lime Survey
Matomo
Media Wiki
ModX
Nucleus CMS
October CMS
Open Web Analytics
OS Commerce
osTicket
phpBB
PHP Coin
PHP Form Generator
PHP Free Chat
PHP Fusion
PHP List
PHP Mailer
PHP My FAQ
PHP Nuke
PHProject
PHProjekt
Piwigo
Processwire
Revive Adserver
Serendipity
SilverStripe
Simple Machines Forum
Slim
Snipe-IT
SquirrelMail
SuiteCRM
SugarCRM
TCExam
TextPattern
Gibbon
Trouble Ticket Express
Typo3
Vtiger
Webcalendar
Xerte
Zencart
ZenphotoCMS
StackCP Gallery
We've developed StackCP to provide a sleek, intuitive experience whether your customers are new to hosting or confident experts. It's also fully responsive, so your customers can manage their websites and email easily wherever they are from any device.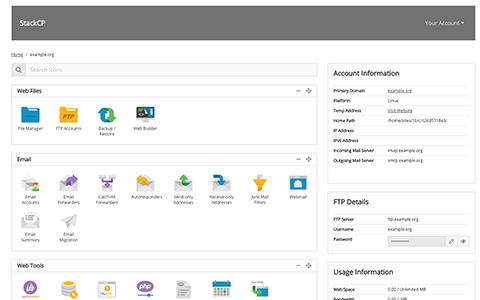 Fully brandable / white label control panel.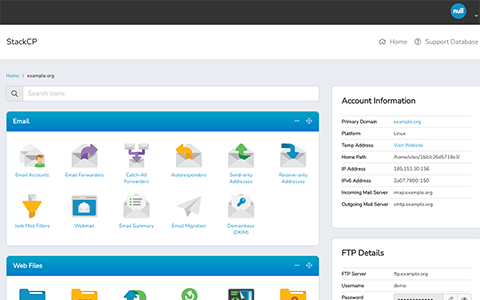 Use one of the available themes.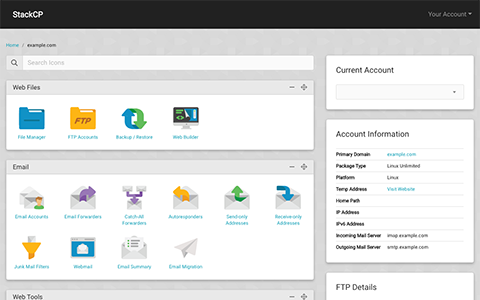 Develop your own theme with custom css.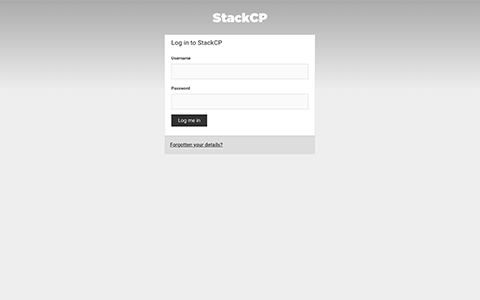 One simple login to manage all plans.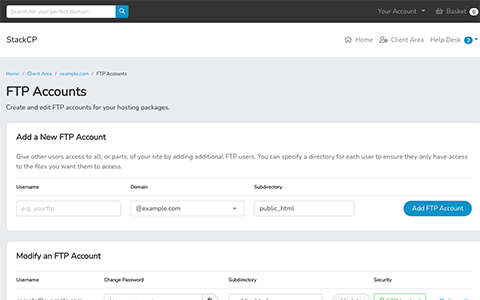 Manage FTP accounts for your customers.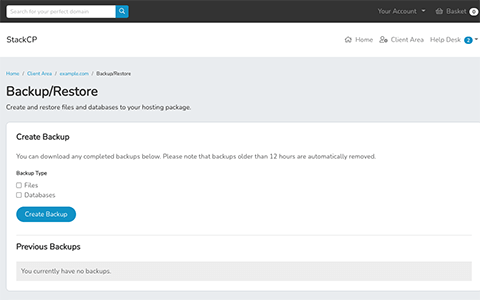 Easily backup and restore your hosting accounts, files and databases.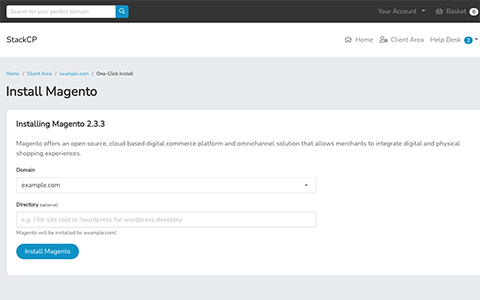 Install from over 80 applications at the click of a button.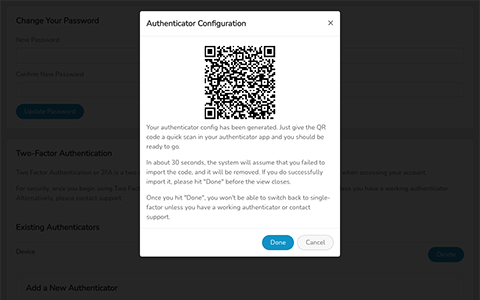 Two Factor Authentication
My20i Gallery
All elements of StackCP can be rebranded from My20i's reseller control panel. Customize what your customers can see and do on an individual package level.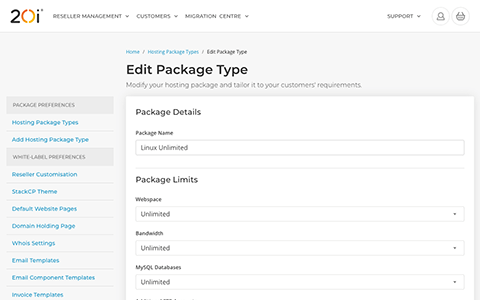 Edit your Reseller Hosting packages on the fly.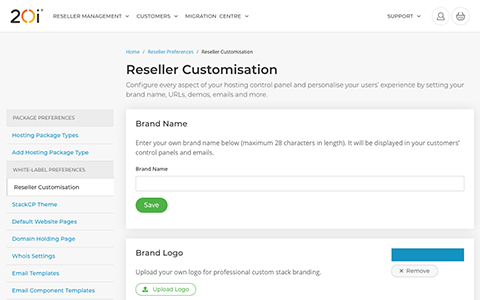 Customize your Reseller Hosting brand name, urls and business details.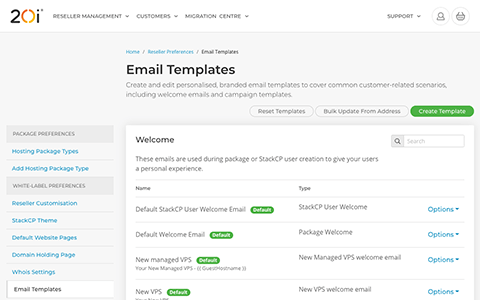 View and edit customer welcome emails.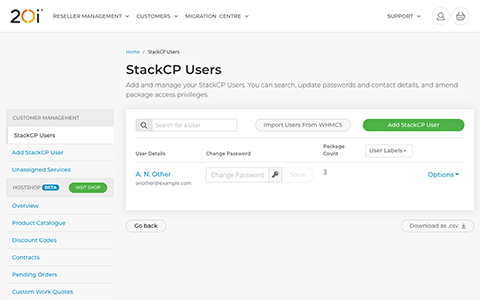 Simple user account management.
Try the StackCP Demo
Don't just take our word for it – give StackCP a go and see what you think. Below you can try the demo, which includes full access to all StackCP's features (aside from the File Manager and Scheduled Tasks, which have been disabled for security reasons).
Launch demo
StackCP Support