Customer Testimonials
20i Customer Reviews
Whether you're just starting out or you're a web hosting veteran, you're guaranteed to have a fantastic experience thanks to quality custom-built platforms and incredible customer support.
Scroll down for 20i reviews, or read interviews with our customers here:
20i

CUSTOMERS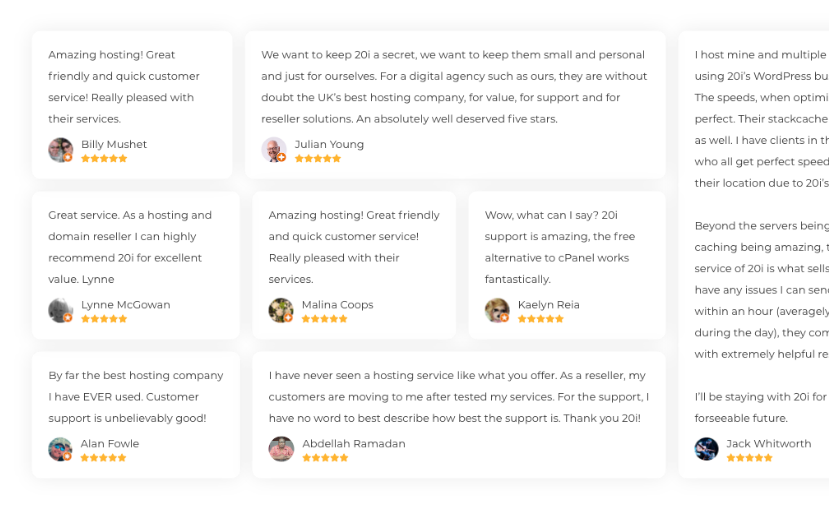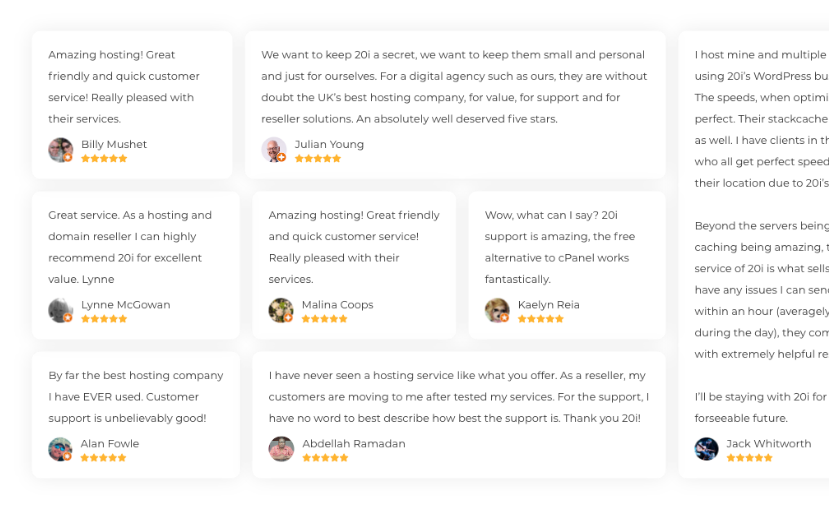 The perfect solution for hosting.

What do you like best?

20i User interface is very easy to use, I can set up a new website environment within minutes. The migration tool is great as well and I managed to move over 20 websites and email within one afternoon.

What do you dislike?

There is not much to dislike about 20i! The prices have increased slightly within the last year but that is to be expected in the current climate.

Recommendations to others considering the product:

I would recommend 20i in a heartbeat. I moved to 20i from another service after they were having lots of downtime on their servers. I managed to move to 20i within an afternoon with all my clients' websites, domains and emails all intact. In the 4 years I have been with 20i I have experienced little to no downtime.

What problems are you solving with the product? What benefits have you realized?

As a small business owner, I am able to set up websites for my clients within minutes. The support they provide is also very good and get back to you with an answer very quickly
We were very sad to learn that directadmin wasn't working properly. But soon we were able to reach someone in the team who took the time to...
Using 20i for years, amazing service very user friendly. Customer support is the best i've seen and there always available.
Always first-class support and always delivered promptly. Without exception, this is the best hosting company I use. Thank you to all the t...
The support at 20i is very very good, very much like their actual hosting packages.

I had big issues with a website after an upgrade, Alexis R spent quite a bit of time going through errors and curing the problem for me.

The support at 20i is very very good, very much like their actual hosting packages.

I moved my sites over to 20i from Heart Internet some 4 years ago, I've never looked back.

I can't recommend 20i enough!
Incredible service!

The speed of the response from technical support is jaw-dropping! No sooner have I requested assistance, and the team are straight back to me within minutes and then resolving my issue a few minutes after that! I can't think of any other company that operates so perfectly!

I have been a customer of 20i for many years, and you couldn't pay me to leave them. I trust my business website with them 110%. Having used many of the other well-known hosting companies in the past, I can tell you hand-on-heart, they are embarrassing compared to the extremely high standards that 20i adheres to.
A stable and responsive partner to host your business.

If you're looking for a stable and responsive partner to host your business, look no further.

Found them to be quick, helpful and knowledgeable.

Found the WordPress migration quick and easy.

Full cPanel migration very quick and easy.

Great packages and network, fast website, no downtime, & easy use panel.

What more can I say?
Migrating a lot of web sites over from Heart.

Fantastic support, in the process of migrating a lot of web sites over from Heart and it's so far been a wonderful experience, if there are any issues the support is super speedy at all times of the day, even in the evenings and at weekends, really impressed.
A massive thank you.

I just wanted to say a massive thank you to all the tech guys who've helped my wife and myself over the last few weeks. We had a number of domain names, WordPress sites, basic html sites and email servers, linked to our businesses, family and local concerns.

Through the years these were amassed in various locations at home and abroad, as and when they were needed. Over a year ago I was advised to move them all to 20i, a UK-based company, to consolidate everything. I'm no tech-head when it comes to website migration, and the person who began the process couldn't finish the work, leaving me with the task. I put it off for almost a year but things were becoming increasingly difficult, especially when a shared server with another host became blacklisted, with emails bouncing.

I turned to 20i and, between the really helpful guides plus a copious amount of support from the tech staff, all domains (bar one which belongs to a friend), sites and email are now hosted at 20i. I can't begin to describe the relief that has ensued. Your guys went above and beyond, and we are so extremely thankful for it. Plus everything is so much quicker now!

Thank you!
Excellent service as standard.

Over the last 25 years I've used a number of hosting service providers, as a reseller, and I have to say 20i are one of the best, and when you factor in their prices I reckon they are the best value for money by a long way. On this occasion, I needed a nameserver update, which they dealt with in a matter of minutes.
Incredible support.

Incredible support from 20i.

We are migrating 20 websites from our current server company to 20i.

It has been a steep learning curve!

Throughout this we have been able to get fantastic support from 20i

Their technical expertise and knowledge and the ability to communicate it an understanding way is very special.
The best Hosting Company!!

I have been using 20i for a few years now, not only do they offer an amazing price, their customer service is the best in the industry. They have helped me out on many occasions, including being understanding when I had payment issues. The friendly interface is easy to use, powerful, and full of options. Am a small reseller, selling hosting packages to my clients whom I've built websites for. The reseller shop setup is easy and customisable, and it works!! The cache system is fast and works great with WordPress.

They also offer a wide range of instant app installs, including WordPress, BuddyPress, Magento, Opencart, Zen Cart and many many more.

Big thanks to everyone at 20i.
After a year at 20i I'm very pleased with the service.

I made the move to 20i about a year ago and have been very pleased with the service reliability, functionality and, the few times I've needed to use it, customer service.

Previously I'd spent 10 years as a reseller of Heart and 3 years leasing VPS's from OVH but had been badly let down by both in terms of reliability (Heart) and customer service (OVH).

The contrast at 20i is marked - nothing but smooth sailing so far, highly recommended.
More tools and features frequently.

I've been with 20i for over 3 years using their reseller platform. Whilst I have had the occasional technical difficulty it has always been resolved promptly and professionally. It is also really nice to see the platform grow giving more tools and features frequently.
Blazing fast sites.

New to this hosting provider, needed a little help, and the team, Connor especially sorted it all out. Blazing fast sites now!
I'm switching everything over to 20i.

The best hosting provider I have ever used. Excellent support, great features that come as standard. Excellent control panel. Cheap domain renewals.

I'm switching everything over to 20i.
Unbeatable support and value for money.

I migrated all my services (around 50 websites) to 20i years ago from Vidahost (now TSOHost). It was 20i's offer of £1 for the first month that tempted me to test out their service and wow, I was blown away.

If you're looking for a webhosting company that is always innovating, provides reliable and responsive support and listens to user feedback - look no further. I haven't been disappointed once.

Naturally over the years, I've had perhaps one or two issues, and they've been resolved in less than 20 minutes. Remarkable.

20i have also invested in their customers' interest, for example, creating their own HostShop that they offer resellers for free - it competes with WHMCS and saves me money!

Fantastic company.
Perfect speeds regardless of location.

I host mine and multiple client websites using 20i's WordPress Business hosting. The speeds, when optimized properly, are perfect. Their StackCache setup is fantastic as well. I have clients in the UK and Canada who all get perfect speeds regardless of their location due to 20i's global caching.

Beyond the servers being top-tier and their caching being amazing, the customer service of 20i is what sells them to me. If I have any issues I can send in a ticket and within an hour (averagely when submitting during the day), they come back to me with extremely helpful responses.

I'll be staying with 20i for the very foreseeable future.
Top of class hosting and support.

Been with 20i for several years now: constantly updating the services, and support is second to none. They really go above and beyond to help, even when the problem is website related and nothing to do with the hosting. This is the standard other companies (yes you Heart Internet!) should be measuring up to if they want to continue to be viable in a very crowded market.

If there were more than 5 stars available, I would give them more. Platinum-class hosting at a reasonable price and support like nowhere else (and I have been everywhere else over the last 20+yrs). Special shout out to Alexis Robinson: gave me outstanding support today with an issue that was nothing to do with 20i.
I always end up moving back.

I've built many websites over the years and tried numerous UK based hosting services but I've had an account with 20i since they launched and no matter what other hosts I try, I always end up moving that website back to my 20i account.

Why? The service and the amazing support! Can't thank the team at 20i enough for their amazing support over the years.
The support is STELLAR.

I've been hosting my clients' websites with these guys for over a year now - the support is STELLAR. I have not received support on par with 20i's.

Any issues you're having with any of your website, they'll help you get it back up and running, even if you did something by mistake. It's so cheap and has everything, so easy to use.
They don't try to cut corners.

I've used 20i for my own business over several years, as well as in my new position as IT Manager in a larger company.

It is fantastic and gives you everything you need. They don't try to cut corners in terms of technology and in fact go far beyond what most other Hosting Companies offer. I always recommend it to people, business and personal and they keep adding features while ensuring their platform works.

I can't praise them enough!
A great reselling experience.

What do you like best?

20i offers everything we need as a reseller - domains, SSLs and various different solutions for hosting customers sites. This is all offered in a single dashboard. Support is also very helpful.

What do you dislike?

I can't think of any disadvantages. They're very excellent in what they offer - provide a great solution at an affordable price for all different customer sizes.

What problems is the product solving and how is that benefiting you?

They help solve managing multiple clients hosting, domains and SSLs all within one control panel. It's a central location to go and much quicker than having to go to each individual clients own control panel.
Great company, top class service.

Excellent service from 20i, I've moved tons of domains and hosting packages over to 20i over the years. Queries are answered very quickly and the service is superb. Highly recommended!
Always improving their already great offerings

I truly can't say enough about this company! EVERY time I have had to reach out for support, they have provided me with service that exceeds expectations (which are high)!

Always improving their already great offerings, I look forward to continuing to with them indefinitely!
Never been so good.

I run a small web hosting business and ever since moving my sites and clients to 20i, things have never been so good.

Sites are always up, emails are always delivered, and support is fast and helpful. Since I joined there has been a steady stream of updates to the control panel and platforms.
Excellent service, even better support.

Before I start, let me say that I have had a long career in IT Support - all the way from the front line to being a Support Director in one of the largest software firms in the UK. So I know good support when I see it!

I chose 20i for my reseller hosting needs primarily on the basis of the recommendation of their service - and I wasn't disappointed. High speed, high availability, lots of customization options for resellers and great value. What's not to like? (100% green energy now too - absolute bonus.)

But that's not the main reason I recommend 20i to everyone now. That reason is the quality of their support.

You can tell a lot about a company by how it treats its existing clients. 20i's support is fast, friendly, responsive, flexible and professional. This is not something that happens by accident - this has clearly taken both a culture of respect for the client and some decent investment by 20i to achieve, alongside a focus on finding, training and keeping the right people with the rare blend of skills good support needs.

But the results are well worth it. I wholeheartedly recommend 20i and will continue to do so to everyone I meet based on this factor alone. Thank you for all you're doing for your customers folks, and keep it up - you're doing a great job.