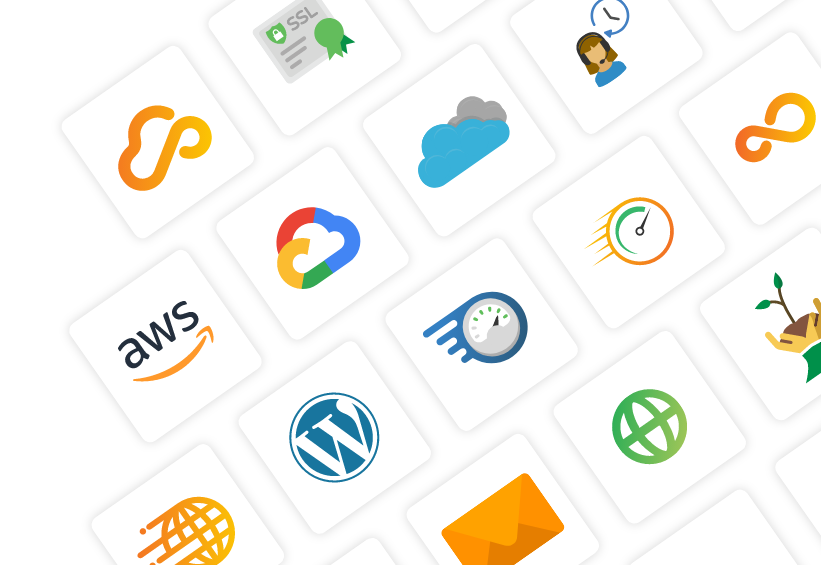 Best cPanel alternative
My20i makes managing your hosting quicker and easier
Intuitive and powerful control panel 
Deploy effortlessly across 20iCloud, AWS and Google Cloud
One UI to manage all your sites, domains, email and security
100% free - no license fees we pass on to you
Built for today… and tomorrow
Tired of old-school, fussy control panels, license fees and single-server hosting? My20i offers a simple and elegant solution built for autoscaling shared hosting, 20iCloud, AWS and GCP.
cPanel: a control panel for yesterday's hosting
cPanel was released over 25 years ago and built for the era of single-server hosting. It also charges your host license fees that they have to pass on to you.
Single-server hosting
License fees out of host's control
Single geo-location
By not being restricted by cPanel, we can offer you more features, better performance and true multi-server cloud hosting. And we do this for no extra cost.
Frustration-free web hosting management with My20i
Whether you're running a large ecommerce business or publishing a personal blog, your control panel shouldn't be a barrier to great hosting. Get more power with the resources of an entire platform, not just a single server.
Powerful multisite hosting
Manage all your hosting, email, security and domain services in one place, whether you're using shared hosting, 20iCloud, AWS, GCP or unmanaged VPS. Advanced multisite management features and filters put you firmly in control.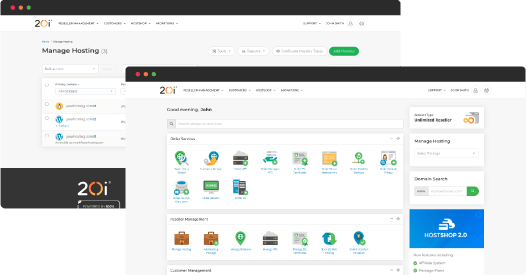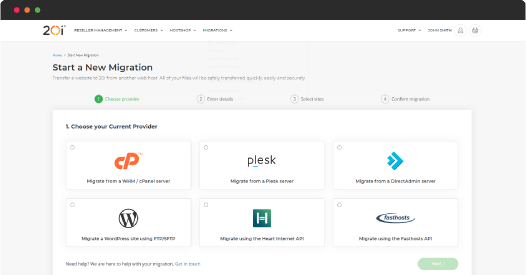 Automatic migration built-in
Migrate from other hosts (including cPanel-based hosts) in a matter of minutes with our Migration Center. It's free and unlimited with no risk of data loss.
Read more about our Migration Center
Free 20iCDN for faster websites
Use My20i to manage our fully-featured global content delivery network (CDN), included free with all web hosting. Your site will load quickly, wherever your users are.
Read more about our free CDN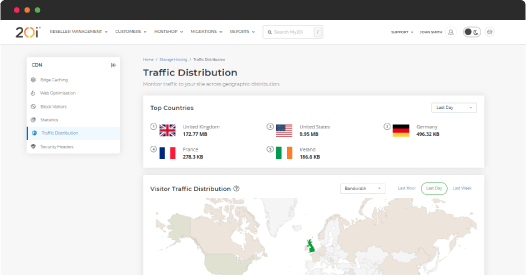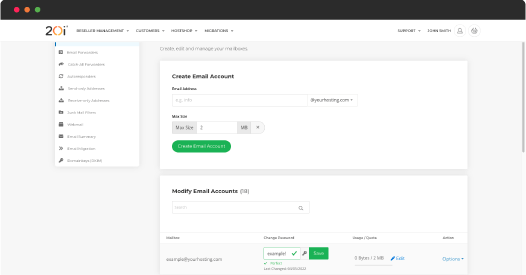 Secure and ad-free email
Set up and manage your email from within My20i. Alternatively, our email works with all mail clients, including those from Microsoft, Google, Apple and Mozilla.
Read more about our email hosting
Easy domain management
Full domain name management including DNS settings, WHOIS, nameservers, privacy, contacts, DNSSEC protection, transfers and more. Plus apply preconfigured DNS entries for Google Workspace and Microsoft 365.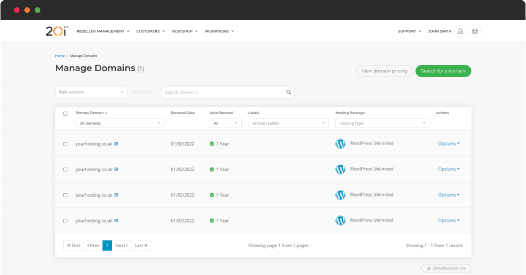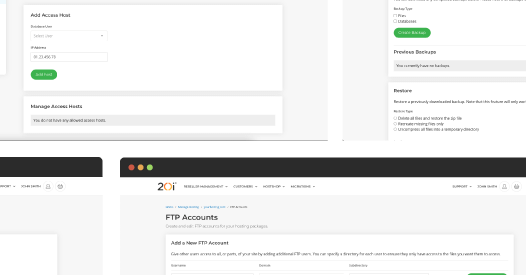 Advanced tools built in
Manage databases with phpMyAdmin, and use an integrated Git user interface to develop websites. Manage remote MySQL access, backups/restores, FTP accounts, PHP versions, scheduled tasks, redirects and much more.
Always evolving
Because we aren't beholden to a third-party development cycle we can add new features to My20i frequently, based on our customers' feedback.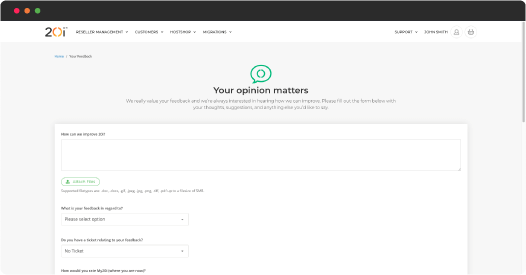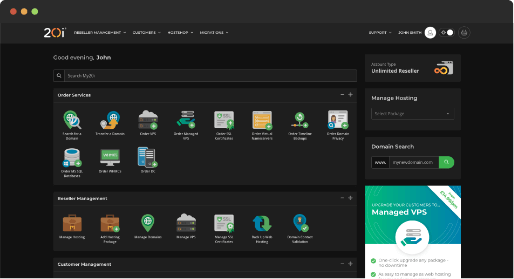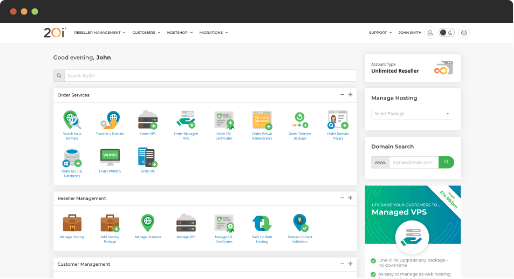 Dark mode
Save energy and rest your eyes by using dark mode in My20i. You can toggle it on at any time, or you can set it to change based on your operating system's preferences.
Web Hosting Tools
FTP Accounts
SSH Access
Backup/Restore
Block Visitors
Snapshot Backups
Hotlink Protection
phpMyAdmin
FreeSSL Certificate
MySQL Databases
Password Protection
Directory Indexing
Change PHP Version
Manage IIS Applications
Scheduled Tasks
Website Log Files/Download
Website Security
Website Log Files/Download
80+ One-click Apps
Remote MySQL Database Access
Integrated Git Version Control
Email Tools
Email Accounts
Email Forwarders
Autoresponders
Mailing Lists
Send-Only Addresses
Receive-Only Addresses
Junk Mail Settings
Catch All E-mail
Domain Tools
Manage DNS
Manage Contacts
Change Nameservers
Domain Lock
Transfer Away
Manage Subdomains
Domain Redirect
Huge library of free one-click apps
Choose from 80+ free apps and install them in seconds
Popular apps include:
WordPress
Magento
Joomla!
Prestashop
OpenCart
Moodle
Laravel
Piwigo
Roundcube
Drupal
WebCalendar
SuiteCRM
phpBB
AbanteCart
osTicket
Invoice Ninja
phpFormGenerator
Feng Office
PHPMailer
SquirrelMail
BuddyPress
Form Tools
Zen Cart
Craft CMS
MediaWiki
Concrete CMS
CMS Made Simple
CakePHP
Cachet
phpList
InvoicePlane
Dolphin
WordPress
Magento
Joomla!
Prestashop
OpenCart
Moodle
Laravel
Roundcube
Drupal
Cake php
MediaWiki
Flarum
phpBB
AbanteCart
osTicket
Invoice Ninja
Agora Cart
B2 Evolution
Backdrop
Bamboo Invoice
BuddyPress
Cachet
CMS Made Simple
Concrete5
Coppermine
Craft CMS
CubeCart
Dolibarr
Dolphin
Dot Project
E107
Elgg
Expression Engine
OS Commerce
Feng Office
Flux BB
Form Tools
Forma LMS
FreshRSS
Geek Log
Gibbon
GNU Social
Help Centre Live
Invoice Ninja
Invoice Plane
Kanboard
Lime Survey
Matomo
ModX
Nucleus CMS
October CMS
Open Web Analytics
SuiteCRM
OS Commerce
osTicket
PHP Coin
PHP Form Generator
PHP Free Chat
PHP Fusion
PHP List
PHP Mailer
PHP My FAQ
PHP Nuke
PHProject
PHProjekt
Piwigo
Processwire
Revive Adserver
Serendipity
SilverStripe
Simple Machines Forum
Concrete 5
Feng Office
Buddy Press
Slim
Snipe-IT
SquirrelMail
SuiteCRM
SugarCRM
TCExam
TextPattern
Gibbon
Trouble Ticket Express
Typo3
Vtiger
Webcalendar
Xerte
ZenphotoCMS
WHMCS
Abante Cart
WHMCS
Web Calendar
PHP Form Generator
Sugar CRM
How does My20i compare to cPanel?
Number of accounts

Unlimited

Restricted by the server's hardware

Native support for AWS and Google Cloud
Disk space

Unlimited

Restricted by the server's hardware

Bandwidth

Unlimited

Restricted by the server's hardware

Autoscaling cloud platform
Redundant web servers
Built-in replication & failover
Global CDN
Website Acceleration Suite
Anti-DDoS protection
Built-in Web Application Firewall
Isolated web, MySQL, FTP, control panel and storage
E-mail kept securely away from website storage
WordPress optimised
WordPress staging
Google DNS
Integrated HostShop

Reseller

WHMCS modules

Reseller

Single login to manage hosting in the UK and USA
Pre-populated white label support database
Number of Accounts

Unlimited

Resticted by server's hardware

Native support for AWS and Google Cloud
Disk Space

Unlimited

Resticted by server's hardware

Bandwidth

Unlimited

Resticted by server's hardware

Autoscaling Cloud Platform
Redundant Web Servers
Built-in Replication & Failover
Global CDN
Single login to manage hosting in the UK and USA
Website Acceleration Suite
Anti-DDOS Protection
Built-in Web Application Firewall
Isolated Web, MySQL, FTP, Control Panel and Storage
WordPress Optimised
WordPress Staging
Google DNS

Integrated HostShop

Reseller

WHMCS modules

Reseller

Single login to manage hosting in the UK and USA
Pre-populated white label support database
Don't just take our word for it
Thousands of happy agencies love our platform and customer support
I recently contacted 20i about a firewall issue where our server was unable to connect to a series of websites hosted with 20i. From start t...
We are all busy in life and nowadays I just don't have the time to do all the backend processes I used to. The 20i team are excellent at kee...
20i support is unparalleled by any other provider we have used in the past. We have had a tricky situation and have been supported day and n...
Find the right hosting for youq
Managing all your sites has never been easier
Managed
Cloud Hosting
Flexible, multi-platform Cloud Hosting. Easy server/site deployment & management
FROM
$10.99/monthly
Managed Hosting
Managed
WordPress Hosting
Host unlimited sites on the #1 WordPress platform.
FROM
$10.99/monthly
WordPress Hosting
Reseller
Hosting
Sell web hosting to your clients - no 'per account' fees.
$1
FIRST MONTH
Reseller Hosting
Green web hosting powered by 100% renewable energy
We're committed to making sure our hosting is as green as can be
Green Energy
All our hosting is powered by 100% renewable energy, which means all your sites and apps are too. That's great news for you and the environment.
Green Data Center
Our data center has an extremely low PUE (Power Usage Effectiveness) of 1.12. Plus, our Autoscaling Cloud Hosting only uses the resources it needs, so no energy is wasted.
Low Carbon Footprint
Our office also runs on renewable energy with its own solar farm. We also have a paperless office, cycle to work scheme, and recycle all our waste.
Frequently Asked Questions
What is autoscaling hosting?
All shared web hosting services use 20i's proprietary autoscaling technology. No other company has access to this.
Autoscaling literally means that our resources scale automatically. Bandwidth, memory and processing power is scaled up or down instantly – depending on demand. This is what makes them true 'elastic cloud'. If there's a surge in traffic, your website will continue to offer the same fast experience for every user.
This is because a site isn't hosted on one or two servers. Instead, it can access the whole platform's resources: multiple servers. It's what makes the 20i shared platform special.
If there's a spike in demand and your shared hosting 'neighbors' become busy, it doesn't affect your site speed. Busy sites are isolated from others.
Is cPanel free?
No, cPanel charges web hosts license fees which they then have to pass on to you. If cPanel increase their license fees those hosts have to increase their prices as well. My20i is completely free and always will be. Plus, we will never charge you per site.
Is cPanel reseller hosting unlimited?
A number of web hosts with reseller hosting packages claim to be unlimited, but then have a very limited number of cPanel licenses for you to sell included in the price. This model punishes success, forcing you to buy more licenses as you grow. Our Reseller Hosting comes with unlimited sites as standard for one simple price.
What are LVE resource limits?
LVE stands for 'Lightweight Virtual Environment'. It refers to how much of a server's resources are allocated to each customer.
LVE limits in cPanel are a side effect of the technology being limited to single-server hosting. Without set limits, one user could consume all the available resources - CPU and RAM - and slow down other websites hosted on the same server.
Because our Shared Web Hosting isn't limited by cPanel or CloudLinux, we host websites across our entire platform through our autoscaling cloud hosting technology. This means we don't have to put any limits on your site's available resources.
Our Managed Hosting does have specified CPU, RAM and storage, but you're free to use as much as your chosen spec allows.