If you resell web hosting, selling virtual private servers (VPS) can be a lucrative new strand to your business.
By selling servers, you get access to new markets: it's not just about hosting websites. As well as web hosting, VPS can be used for:
Software development
App backend hosting
Software as a service for businesses
Your personal virtual private network (VPN)
File storage and syncing
Gaming
Voice over IP services
…or even your own smart home system
That's just some of the things that our VPS have been used for – it's a big market. Every 20i Reseller gets 25% discount off our standard Self-Managed VPS prices, and 10% off our Managed Cloud Hosting. So they're a great way to get more customers and more profits!
How to sell VPS
So you want to resell VPS for the first time? Or get some tips on how to sell more servers? Here's what I'll be covering:
It's based on the 20i VPS Product Guide – one of the many helpful guides available with 20i Reseller Hosting.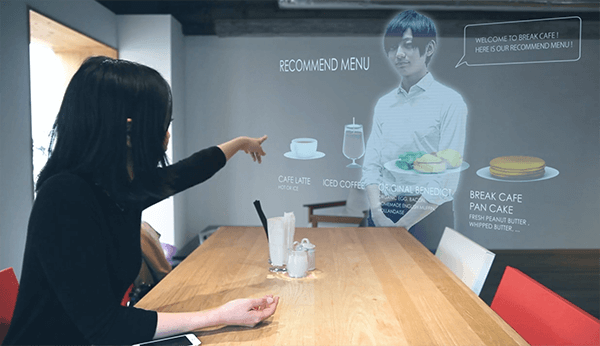 Explaining virtual private servers to your customers
If you work in the tech industry it's easy to forget that most people won't know what a VPS is!
So first you need to be clear about what you're offering. Here's some ideas.
Dedicated hosting vs VPS
Often, it's easier to explain VPS by comparing them to dedicated hosting.
Dedicated hosting gives you the resources of a single server or multiple physical servers in a data centre, which you own or hire. That dedicated server space is used exclusively for your sites and apps. You can specify server performance and upgrade the hardware as necessary.
But dedicated servers have their drawbacks: you're responsible for maintenance and upgrades unless you pay extra. It's expensive at first, and the hardware will depreciate. Over time, unless you upgrade that dedicated hardware regularly – like we do with our servers – performance will suffer.
Dedicated hosting comes from a time when single servers were less powerful than they are now. Once, a large site might use all the resources of a single server, but now a single server can host many sites.
It doesn't make financial sense to use a 'dedi' anymore. There are exceptions: for very large 'corporate' companies, it might be better value for them to own and manage their own servers or even a whole data centre. But exceptions like that are increasingly rare as server performance improves and confidence in managed cloud hosting grows.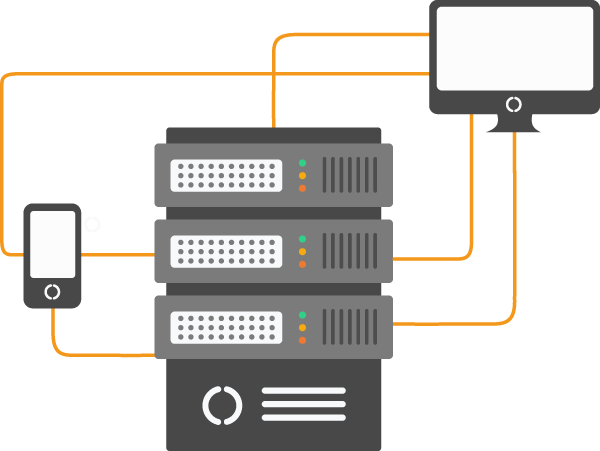 The VPS difference
A VPS is a more affordable and better value option.
Like dedicated hosting, it guarantees you dedicated resources but instead of owning or hiring a physical server, the server is 'virtual'.

It's 'private' in the sense that although multiple VPS may be on the same server, they can't affect each other. One VPS could be running at full capacity, but it wouldn't impact the performance of other VPS on the same physical machine.
Your customers can choose how a VPS performs in terms of processors, RAM and storage. All have unlimited bandwidth.
A simple explanation
Here's something short and simple to explain what a VPS is.
It's a virtual machine (VM). It operates just like a discrete computer: it has its own operating system and apps. The only difference is that instead of it being on your table in or in your pocket, it's in a data centre on a server.
With an Self-Managed VPS, you can install anything you like and run any kind of programs, if you have the technical ability. You're responsible for all upgrading, patching and security, while we look after the hardware and network. They tend to be used those who have a good understanding of software and operating systems.
You can only use Managed Hosting on a VPS for web hosting, but it's perfect for that. It can be managed through user friendly and purpose-built hosting control panel. Managed Hosting includes a lot more features – like a CDN – that aren't available with an Unmanaged VPS, and software and hardware maintenance is monitored and managed by experts. So you have a safety net.
It also allows you access to different hosting providers – Amazon Web Services and Google Cloud Platform, as well as 20iCloud.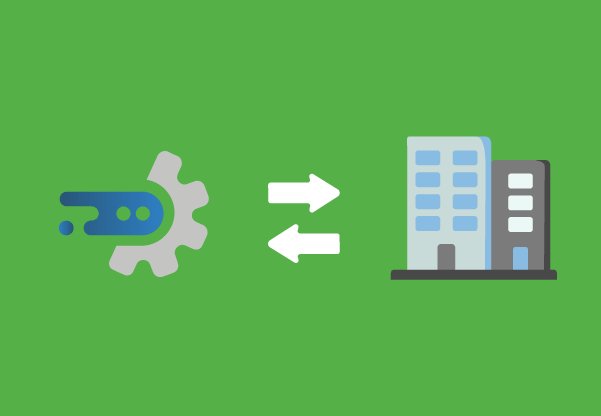 An analogy for non-technical customers
When talking about web hosting with your customers, a good way to describe it is a 'home' for your website. So here's our analogy for Managed Cloud Hosting on a VPS:
"Imagine you're renting an apartment in a residential building. The building is the server, and the apartment is your own private share of that server. Managed Cloud Hosting on a VPS is like an apartment that's furnished, and has a cleaning and maintenance service. You can just move in and everything's looked after for you, but you don't have the freedom to renovate or replace the furniture."
This represents that with Managed Cloud Hosting, everything's simple to use, and is managed and supported by expert teams, but has limits on how you can use it.
For an Unmanaged VPS:
"It's like an unfurnished apartment: in this case, it's up to you to furnish and decorate it, and if things go wrong you have to arrange your own repairs. But you have the freedom to decorate the apartment however you like."
This represents the versatility of Self-Managed VPS. For both Managed and Unmanaged:
"We maintain the land (cut the grass, fix drainage problems etc.) so you can carry on working in your apartment without worrying about it."
This refers to the way we manage and update our platform and network for all servers.
VPS myth busting
Myth: "VPS are really difficult to set up."
If you lack technical expertise, this could be true. While there are step-by-step guides and tutorials available online, we wouldn't recommend an Unmanaged VPS to a beginner. They're for those who are technically-accomplished and willing carry out maintenance and monitoring.
It certainly is a myth for Managed Cloud Hosting: if your customer knows the IT basics, then they should have no difficulty using Managed Hosting for their web hosting.
Myth: "VPS are only necessary for large ecommerce sites."
While shared hosting is the best option for some sites, if you have a small site with specialised needs, a VPS might be the best option. You can sell a range of VPS sizes, from those that give you enough resources for a single site, to those for multiple large-scale sites.
Myth: "You can't use cPanel with your hosting."
Self-Managed VPS are perfect for those who wish to use cPanel, or any other hosting control panel. It's up to you what software you'd like to install.
Myth: "VPS are expensive."
While they are more pricey than single-site packages on shared hosting, you get what you pay for. They can offer much better value: dedicated resources, much more freedom, versatility and dev tools unavailable on shared hosting.
Myth: "Self-Managed VPS are cheaper than Managed VPS"
At face value, this is true, so not strictly a myth! But there are lots of 'hidden' charges associated with an Self-Managed VPS. Software licences for things like your control panel and security can put an extra premium on the total price. You also need to factor in the cost of your own time managing and updating the VPS. If you're only using your VPS for web hosting, Managed Cloud Hosting may be better value.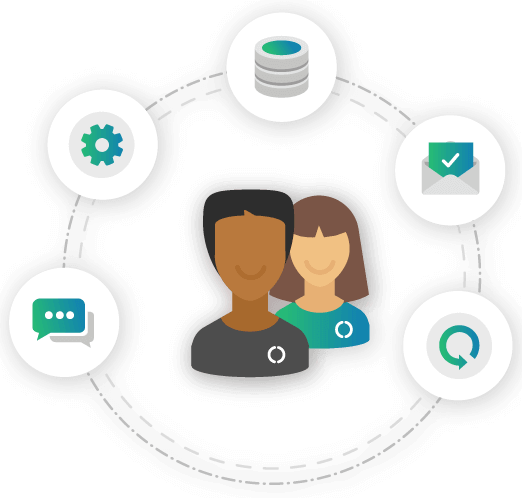 What your customers want
What do potential VPS customers look for? Here's some common features to specify on your product pages or in FAQs to help you sell those servers:
A customer with solid technical knowledge wants to know:
All the specs and features of the VPS, from the type of hard drive used to which versions of languages and tools you support
If you offer features like 'Unlimited email', what that actually means in practice
How much real freedom do you offer? For example, do you get root access?
How your pricing compares to competitors'
What your approach is to resolving issues, and how you communicate with them during the process.
For Self-Managed VPS, it's important that you're clear about support being limited to the network and hardware – unless you want to offer your own specialist support of software and operating systems.
A customer who isn't familiar with the web industry wants to know that:
Your website is easy to navigate and your explanations are clear and straightforward, without technical jargon
You have a small product range so they can make a decision easily
Your service is easy to use: so we'd always recommend Managed Cloud Hosting for this type of customer
They can communicate to someone when they have a question, both before and after purchasing
You will install or fix things for them (if they don't have their own developer/designer)
Even if you're concerned you won't look as good as the competition, it pays off to be honest. For example: if you offer support Mon-Fri 9am-6pm and a competitor offers 24/7 support, be upfront about it. Your customers will appreciate it.
Every customer is different, so they'll have different priorities. As you build your client base and answer sales enquiries, you'll become more aware of what's most important to prospective customers in your market.
We've experienced this ourselves: as you get to learn about your VPS prospects, you should adapt and update your marketing. Make sure your website answers the questions they're asking; prioritise the features they value the most.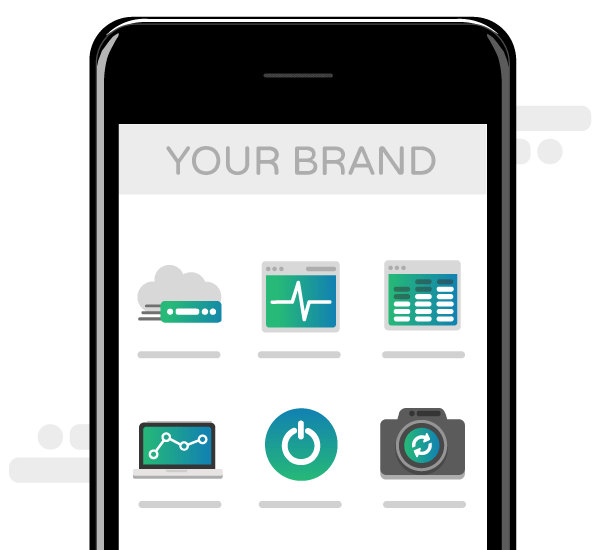 Marketing
As with shared web hosting, it can be helpful for someone starting out selling servers to have a 'niche' target market to offer VPS services-to.
If you don't already have a niche it's worth trying to find one. This way, you can concentrate your marketing efforts on that niche, saving time and money. You can always broaden your marketing later, once you've gained some traction in the industry.
Finding your niche
Ask yourself these questions:
What fields and industries are you already familiar with and have contacts in? For example, there's no point targeting dental practices if you have no links or knowledge of their businesses.
How technically minded you want your customers to be? There are pros and cons to both technical and non-technical clients, but having all your customers at roughly the same knowledge level makes life more consistent (and therefore easier) for you.
Where do you expect to source customers? For example, from search engines, at events, locally, through other services or businesses, via recommendations, etc. Ideally you'll have a few different channels on the go so you're not dependent on just one source of customers.
What language do they speak? Literally and figuratively. You should write your marketing copy for the personas of your audience.
Once you have an idea of your typical customer, you can tailor marketing efforts directly to your target audience.
Managed Cloud Hosting target market
While it depends on your niche, VPS customers have some universal attributes.
For Managed Cloud Hosting, your market could be similar to a shared hosting target market. It can be seen as an upgrade from shared web hosting. Managed Hosting on a VPS might be suitable for those who want dedicated resources and better performance for their website(s), without having to look after a server themselves.

But that doesn't mean that they're only suitable for a non-technical market. A key point about Managed is how they're so developer-friendly, compared to shared hosting.
Some developer-focused tools and software aren't available on our shared hosting, so that we can provide a stable, performant hosting platform. With a Managed Hosting product, you can market to web developers and designers with confidence.
It doesn't end there. As there's more freedom with what you can do on Managed Cloud Hosting, you might want to create bespoke packages that include certain software installed, permanent processes in place, or even template websites for the niche that you're focusing on.
For example, you could create a 'photographers' package that included all our free photo-related software and a sample of differently-themed websites, where your customer just needs to add content.
Brand effects
You shouldn't overlook the value of Managed Cloud Hosting being able to use Amazon AWS or Google Cloud Platform.
Brand recognition is marketing gold, and a key to selling servers. The reason why people are happy to buy costly brand-name groceries over generic versions – even though they're often made by the same companies – is that brands have spent a a lot of time and money promoting them. You can take advantage of that.
The brand stories that Amazon and Google tell are all about innovation in web tech, so it's understandable that your customer might want choose them over your brand. Even if it will cost them more.
Look at this way: if your website is using the 'same' servers as the two biggest internet giants in the world, it's only natural to believe that you've got the 'best' – a comforting thought.
Related is the 'halo effect' of selling servers from the 'web giants'. By showing that your company is partnered with these successful corporations, some of these established brands' authority is transferred for you.
Self-Managed VPS target market
Self-Managed VPS can be promoted to a more technically-minded market, who appreciate the freedom it gives them. For web hosting, they can install their choice of control panel, and use whatever security and backup options they wish.
Where Self Managed VPS are very different is in all their other potential use cases, beyond web hosting.
As you can install any kind of software, they have infinite potential. It depends on your niche. You could create packages that are are focused on one use case – like gaming for example – or go for a more general audience.
Presenting your services
Like with our shared hosting, it's possible to limit features that Managed Cloud Hosting has access-to. So, although our standard VPS sizes are fixed at six different options (based around cores, RAM and storage), you can create many different packages with varied features.
While we don't recommend making too many – customers could become 'paralysed by choice' – you may want to offer a range of different options, dependent on your market.
If you're a web designer, developer or agency, you could create an 'Even More Managed' Managed Hosting package. Your package could be a 'one stop shop' for a website or websites: web design, content updates, bug fixing, SEO, PPC etc., all packaged in to single package (or packages) on cloud VPS hosting that you manage.
This kind of package would be ideal for a small business owner who has little interest in online marketing and wants a simple, 'set and forget' option.
Looking for more inspiration? You can see how we present our Self Managed VPS and Managed Cloud Hosting. There are many other companies to take inspiration from: we're just one example and not intended for replication. 🙂
If you'd like somewhere to start, a Reseller account at 20i includes 'white-label' marketing copy that you've free to use. We'd recommend that you edit this to suit your brand, products and target market.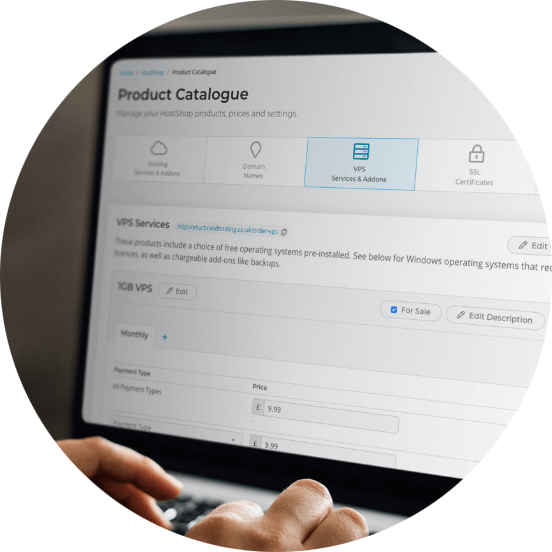 Pricing your VPS
As a 20i Reseller, you discounted 'wholesale rates' on virtual machines, so there are profits to be made. If you create packages with different bundles of features, you can present a range of different options.
You should present virtual private servers – especially Managed Cloud Hosting – as 'premium' products. They give your customers an extra step on the upgrade path. If they have a growing site, VPS are a way to ensure that they continue to host with you.
'Reassuringly expensive'
It's true that a VPS might not be best value for all sites. For example, a small blog with low traffic may not get a huge benefit from being on a VPS. However, that doesn't mean that you shouldn't present it to a potential client as an option.
For one, it may help your customer appreciate the value of your shared hosting. It's better to make a sale than no sale, even if it's not a VPS sale!
However, there's another important psychological aspect to this: we all like to have 'the best'. A £ 100 meal tastes better than a £ 10 one, even if it's the same ingredients.
Many of us will buy the most highly-specked product, even though it may be far more than we actually 'need'. Consumer goods like premium phones or performance cars are good examples of this. It's reassuring to have the 'best available' even if you're rarely going to use the product to its full potential.
Selling web hosting is a lot about providing reassurance: that their site won't go down, that it won't be hacked, that it will load quickly.
So, by offering a VPS or cloud hosting you're fulfilling a need we all have: to feel that we've got the best-possible product. That we haven't 'cut corners' and bought something just because it was 'cheap'. We've chosen the best options out of all available: it's reassuring.
So we'd recommend that you avoid pricing your VPS products too low. While this is possible with the discounts we give you, it can backfire if people think your prices are 'too cheap'.
Chasing the lowest pricing can be damaging to your business. Not only do people sometimes associate 'cheap' with 'bad', there will always be someone who can under-cut you.
If you're planning to offer a high-quality service and develop good relationships with your customers, moderate pricing means that you don't need as many customers to profit.

Show your hosting prices?
One way in which we distinguish ourselves from competitors is to show clear, honest pricing. You don't have to call us to buy a VPS. Some other VPS providers profess to offer 'tailored packages' which include a range of expensive add-ons.
The reality is: in the end, most of their customers are put on to the same 'standard' VPS anyway…
By being clear and upfront about your pricing and features, your customers can simply buy a VPS in a click. Instead of having a long-winded conversation with a salesperson and ending-up on a VPS comparable to yours – but at a much higher price – they can make a simple choice based on their needs and start using the VPS right away.

Of course, you could argue that by going through that 'long winded sales conversation' where you create a 'bespoke package', there are more opportunities for profit…
Over to you
If you're a reseller – or planning to become one – of VPS or Managed Cloud Hosting, we hope these recommendations have helped. They're based on our experience of selling servers – but that's not to say that aren't alternative ways to do it! We'd love to hear any sales tips you might have in the comments.
That's because, in the end, every business is different. What works for us may not work as well for you. There's no right or wrong way to do things.
Test, adapt, then test, test again!
What's probably most important is to keep trying alternatives. Not only things like the design of your website, but sales ideas too.
It's worth testing pricing options – and promotions like sales, introductory offers and the discount codes you can create in HostShop – to see what gets the most interest.
Make small changes, monitor their results, and learn what works best for your business. Good luck with reselling VPS!