Some of the first customers to join 20i came from our friends in Mumbai and across India. They migrated thousands of websites using the Migration Centre to host their customers' websites.
The demand for a host that was able to host websites at scale without 'cost per site' – and for a host that introduced true autoscaling – was clear from the start.
This unique combination was recognised by successful Indian entrepreneurs. They remain thriving 20i customers and benefit from everything the platform has to offer, whilst overheads remain low.
Translating StackCP
We're thrilled to continue to create deeper ties with our customers from the Indian subcontinent by adding Hindi as an official language of StackCP. It will help Resellers' customers to use our hosting control panel across India and beyond.
We're continuing to add technical translations to StackCP to help 20i Resellers better serve customers globally. Additional languages can be made available by heading to Reseller Customisation > Language Support and choosing the languages.
StackCP was translated into Hindi by native industry experts ensuring the accuracy of technical terms within the context they appear. It ensures a natural and high-quality experience throughout the entire control panel.
Not all translations are created equal. We didn't want to provide a second-class translation, which is why we've made sure every single line of copy has been triple-checked.
As well as the StackCP translation, we've positioned a high-powered content delivery network (CDN) node in the heart of Mumbai. The 20iCDN is one of the fastest on the planet and trusted by millions of users to deliver requests at lightning-fast speeds. It's enabled automatically and there's no additional configuration required for requests to travel via the fastest route.
It's included as part of the 20i Reseller Hosting and works out of the box.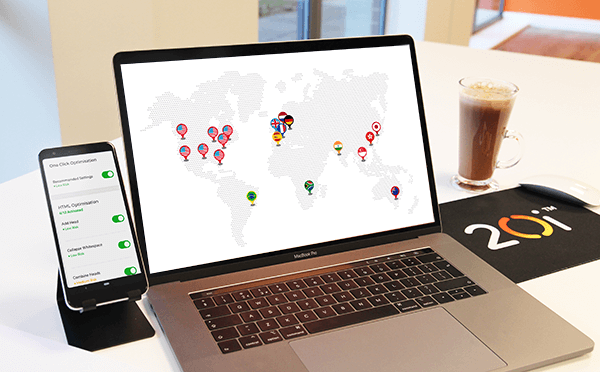 How else does the 20iCDN benefit Indian users?
Our CDN offers best-in-class website speeds.
Content is actively cached at the CDN node in India. This offers an enhanced and consistent user experience to visitors in India. In-house BGP routing rules ensures client requests find the closest server to their content. This is enterprise-grade functionality, simplified and fully managed.
Latency is reduced. The 20iCDN has highly connected CDN nodes globally. This means your users will always reach a node close to them, reducing latency and improving website load times.
Improved SEO. With the 20iCDN, you'll get a Website Acceleration Suite which gives you the tools to help get your Google PageSpeed Score to 100/100. You'll be able to select the One Click Optimisation section to add the recommended settings which will add the ideal, safe settings to improve website load times. Because page speed is a direct ranking factor for your websites, ensuring these options are selected within the 20i control panel can help ensure your websites are optimised for search engines.
In HostShop we also support the Indian Rupee (INR ₹) ensuring customers can pay in their local currency. That way, their user experience is as natural as possible. VAT rules are also adjusted according to place of supply and location of the seller to ensure that this tax is only applied where necessary. 
Complementing the world's best reseller hosting
The features mentioned above are complementary to the core platform 20i offers for Resellers.
We continue to innovate for our customers. We ensure that websites are lightning fast and security is a priority. Businesses using 20i thrive in a competitive but financially-rewarding market.
We're currently working on features to allows Web Hosting Agencies to have a deeper and more profitable business relationship with their customers, through using business and marketing tools directly within My20i.
Further improvements to the 20i WordPress Manager are coming soon. I'll be writing about those too as I'm extremely excited to continue to build on the existing success of this feature. As always, customer feedback is at the heart of what we do here at 20i. We'll always ensure that customer experience and success drives the direction of development.
Thank you to all our customers who trust and use 20i for your businesses, and who continue to innovate and build creative and diverse entities on the 20i platform, both across India and the rest of the world.
---
Book a demo to get a personalised walkthrough of 20i Reseller Hosting with one of our team.