We're delighted to unveil our latest project: the 20i WordPress Manager. It's available for free to all our Managed WordPress Hosting and Reseller Hosting customers.
What is a WordPress manager?
A WordPress manager is a tool to save you time if you run two or more WordPress websites.
If you want to make changes to your installations, it can become tiresome to log in to each separate WordPress admin dashboard.
With a WordPress manager, you can make global changes across all of your sites from one dashboard. Managing hundreds of sites is almost as easy as managing one.
So it's like WordPress Tools?
Not quite – but it shares some similar capabilities. With 20i WordPress Tools, you can carry out many tasks that you'd usually do in wp-admin from our My20i dashboard.
But the changes you make in WordPress Tools only take place on a single installation.
Our free WordPress Manager gives you the option to make changes across all your sites.
WordPress Tools also provides different functions – like WordPress staging – the kind of management that you'd only want to do with one site at a time.
The 20i WordPress Manager
The 20i WordPress Manager is all about bulk management of your sites. It's perfect for those with multiple sites, especially digital agencies and those who resell our hosting.
Of course, they don't have to make global changes. You can also drill-down and manage each site individually, or select groups of sites to make changes-to.
Here's the simple and intuitive dashboard in My20i from where you can make all the changes: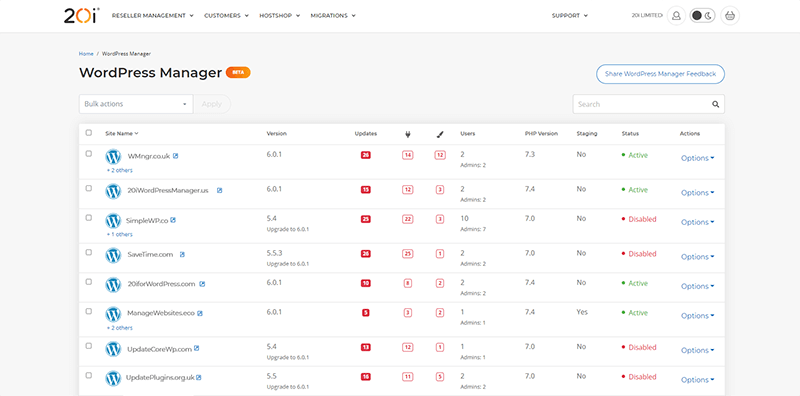 So, let's take this baby for a spin…
Manage websites
The main 20i WordPress Manager table gives a simple overview of all your websites. From here, you can disable or enable sites – particularly useful for when you're using temporary sites, such as those for events.
As part of our service, WordPress Core is updated for you automatically – unless you've set it to not update. If that's the case, you can also update sites from here.

You can also downgrade to an earlier version of WordPress (down to 5.6). This may be helpful if, for example, a WordPress Core upgrade conflicted with a specialist plugin you're using, so you need to roll back.
Scanning for malware can be done in bulk. We automatically scan your site files daily, but if you want to make an on-demand scan, they're free and unlimited.
You're also given one-click access to the site: just click on the arrow next the domain name and you'll be taken to the live site. It's always worth checking that everything is working as intended after you've made changes! 😊
Managing themes and plugins
Just like the sites themselves, you can also manage plugins and themes. It's always wise to keep these up to date, as they're main attack vector for malware.
With the 20i WordPress Manager, you don't have to go into each and every dashboard and look for the 'update me!' notifications, select them, choose which you want to update etc.
You can just select the sites that need updating, click update, and you're done.
It's not just about updates. You can also activate or deactivate plugins and delete them. Heard about a dodgy plugin? Here's where you can purge it from all your clients' sites in a flash!
Verifying plugin checksums
This works the same as in WordPress Tools, which can verify WordPress Core.
A checksum is a unique identifier made from the genuine code produced by the plugin's developers. Basically. it's a long string of numbers that's made by applying mathematic transformations to the data. It's unique, and if any changes are made to the plugin's code, the checksums won't match.
So it's a way of checking that the plugin you have installed hasn't been tampered with. If the checksums match, the plugin code is as the developer intended.
Managing users
User management in WordPress admin can be a faff. In the 20i WordPress Manager, it's a breeze. Just click on the site you want to add users to, select 'Create' and you're presented with a simple, clean form to fill in their credentials and role.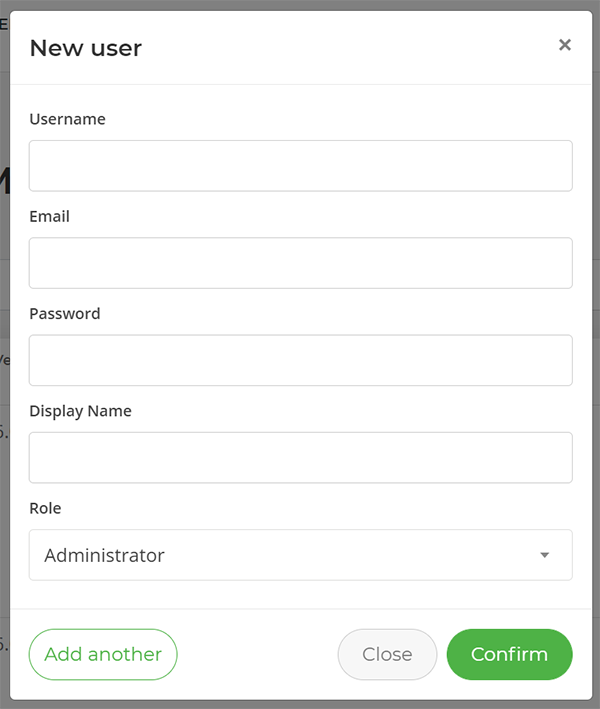 From the same place, you can also update passwords, edit and delete users. You can do this in bulk: select a group of users and make changes all at once.
Edit capabilities
While WordPress roles are extremely useful, we've also made it possible to fine-tune what each user is capable of. If you 'Manage' a user, you can tweak their permissions.
Want someone to have all the capabilities of an Admin except deleting other people's posts? Just give the capability a click to deactivate it.
Alternatives to 20i WordPress Manager
There are some good alternatives 20i WordPress Manager, but as I'll explain, there is nothing quite as good.
Plugins are great: but every plugin you add is likely to reduce website performance. Fewer plugins = faster sites.
The 20i WordPress Manager doesn't rely on plugins, so there's no extra overhead.
ManageWP
An example of a plugin would be ManageWP. It has an attractive UI that shows you lots of information, and some features that aren't available directly from the 20i WordPress Manager.
However, features like backups and analytics are already available elsewhere in My20i. There wasn't a great need to add them to our dashboard, and we'd rather keep it clutter-free and user friendly.
It's also worth noting that you don't get extra features without paying for them. Backups, white-labelling, security checks etc., are behind a paywall. They're paid individually, or you get them all for $150/month.
MainWP
MainWP tells a similar story. It offers the same functions as 20i WordPress Manager in its free format, but if you want more – available via extensions – there are extra charges. This is in the form of their Pro package which is currently $29/month.
The same goes for other WordPress manager alternatives: InfiniteWP, WP Umbrella and WP Remote all have similar pricing models.
A different beast
The 20i WordPress Manager is a different beast entirely. As it's server-based, it doesn't apply any load to your site, so there's no chance of performance hits that you'd get by installing another plugin.
Plus, by being free (with hosting) you won't get those prompts to upgrade to the premium version all the time. 😊
Give it a try today – we've got a Getting Started Guide here – we'd love any feedback!