October 2023 update: cPanel, WHMCS and Plesk prices are all being raised again, starting Jan 2024. That's the 4th year in a row cPanel prices have gone up. Here is more information about the cPanel price increase
Ever since cPanel was acquired by venture capitalists, we've seen prices raised regularly. The latest round of increases follow similar hikes over the last three years, and are due to take place from December 16th, 2022.
Since 2018, cPanel prices have more than tripled for resellers of web hosting.
An admin on the cPanel forum, Coursevector, offered this example for a server with 120 accounts on it:
Originally: $20/month
Sept 2019: $49/month (+145% increase)
Jan 2021: $54.50/month (+11.22% increase, or 172.5% from 2018)
Jan 2022: $60.79/month (+11.54% increase, or +204% from 2018)
Jan 2023: $67.79/month (+11.52% increase, or +239% from 2018)
While we understand that prices have to follow increased costs, are these surges excessive?
Users' responses
As you'd expect, this didn't go down well with users when the increases were announced in late September.
Here's some anonymised responses from the forum and Reddit:
cPanel increases again!? In the middle of a worldwide recession? Sorry, I'm finally done with this.

cPanel partner (NOC) on the cPanel forum
People need to switch away from this sinking ship.

Reddit user
Sickening. Instead of moving away at the last price increase, I stupidly stayed. God I hate these people.

Reddit user
…now we pay more for an ugly interface!

cPanel forum user
…and those are some of the more polite responses. 🙂
What are the price increases?
Here are the new prices for standard users:
| | | |
| --- | --- | --- |
| Plan | 2022 | 2023 |
| cPanel Solo (1 account) | $15.99 | $15.99 |
| Admin (up to 5 cPanel accounts) | $24.99 | $27.99 |
| Pro (up to 30 cPanel accounts) | $35.99 | $39.99 |
| Premier (up to 100 cPanel accounts) | $53.99 | $59.99 |
| Bulk (every account over 100 cPanel accounts) | $0.34 | $0.39 |
There's been a 10-12% increase across all accounts, except Solo.
cPanel using a Network Operating Centre licence (PartnerNOC) – where they host clients on a dedicated server – will have to bear the burden of these price increases:
| | | |
| --- | --- | --- |
| Plan | 2022 | 2023 |
| cPanel Solo (Cloud) | $7.70 | $7.70 |
| cPanel Solo (Metal) | $11.00 | $11.00 |
| Admin (up to 5 accounts) | $15.00 | $16.50 |
| Pro (up to 30 accounts) | $21.00 | $23.00 |
| Plus (up to 50 accounts) | $30.00 | $33.00 |
| Premier (Cloud) (up to 100 accounts) | $38.00 | $43.00 |
| Premier (Metal) | $38.00 | $43.00 |
| Premier Bulk (Cloud) | $0.20 | $0.225 |
| Premier Bulk (Metal) | $0.20 | $0.225 |
Again, it represents increases of 10-13%, with the exception of single users. Price rises will be applied to existing users' bills from 1 January 2023.
What can you do about it?
The obvious choice is move to a hosting control panel like My20i. Our control panel is free, and will always remain so.
It's super-easy to move to My20i. Our unique Migration Centre will move all your accounts over to 20i without any hassle. It's free and unlimited, so if you want to 'test the water' with a few sites before taking the plunge, you can. There are no limits on the number of sites you can transfer over.
You don't have to contact our support team and make an appointment.
Just add your cPanel credentials to the Migration Centre, and in a few clicks, you can begin the migration. Files, databases and emails are transferred automatically. Of course, if you feel the need to contact our much-admired support team, you can! They're available 24-7.
There will be no downtime, and no chance of any data loss.
Moreover, My20i has been designed with users coming from legacy control panels like cPanel in mind. It will feel familiar, but more modern and user-friendly.
Your customers will use the StackCP control panel: a refreshing change from cPanel! You can customise it your needs and it's truly 'white-label': there's no need for anyone to know you're reselling 20i's hosting. It's the only fully-featured cPanel alternative worth considering.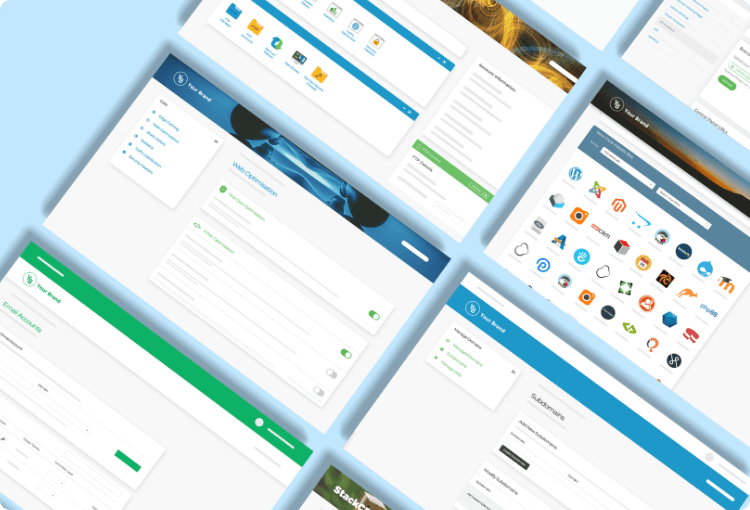 My20i: built for performance
Another great reason to use My20i is that on our Reseller Hosting, you don't have the same limits that are applied to cPanel hosting.
It's the 'magic' that has made 20i the leader in reseller hosting that we are today. cPanel hosting is based around a single server, so it has to include limits on resources. Not so with My20i hosting.
Through our autoscaling technology, we're able to respond to traffic spikes by offering a website the resources of entire multi-server platform. This isn't possible with conventional cPanel hosting.
So your clients will see the benefit of you moving them to a more powerful platform. Their websites will perform better, have close-to-zero downtime, be more secure and you can offer more features than was previously available from hosting using cPanel. Check out our comparison table here.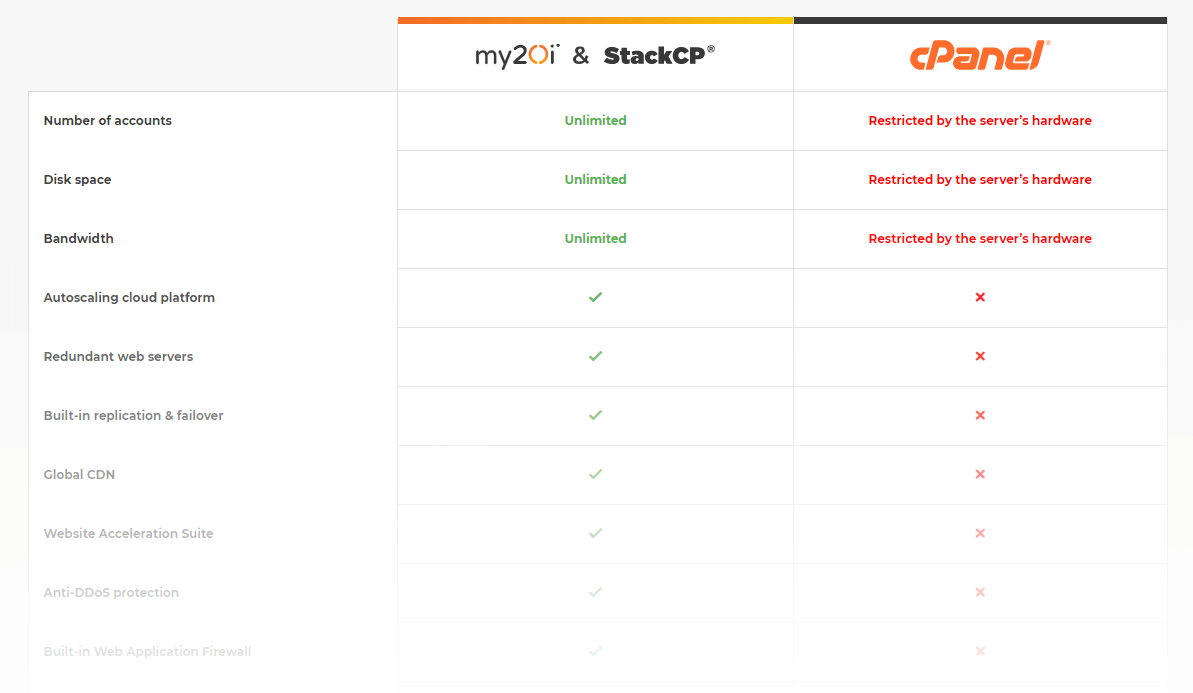 My20i: built for bulk
From its inception, My20i has been developed with bulk management of websites in mind, so it includes numerous time-saving tools. And unlike cPanel, it's still receiving constant, practical feature updates that will help your business achieve more.
For example, a recent development was our WordPress Manager, which allows you manage plugins, themes, users and much more across all the sites in your inventory from one page. No need to sign in to individual wp-admin pages anymore!
Plus My20i gives you access to HostShop, which is our free alternative to WHM/WHMCS. HostShop provides the opportunity to create a customisable web hosting store on your website. It will handle all the billing, provisioning, marketing, and even includes a white-label support database and support ticketing system. And like My20i, it's also free forever.
My20i is available on our Managed Hosting, Reseller Hosting, WordPress and Web Hosting plans.
What if I want to stick with cPanel?
If you're a user of one our Self-Managed VPS, you can still carry on using cPanel to manage your hosting. However, we've had to increase our cPanel licence prices to reflect the changes:
| | | |
| --- | --- | --- |
| Plan | 2022 | 2023 |
| cPanel Admin | £12.50 | £19.99 |
| cPanel Pro | £17.50 | £24.99 |
| cPanel Plus | £25 | £34.99 |
| cPanel Premier | £32.50 | £44.99 |
Even so, these fees are less than if you went direct to cPanel.
If you want the power of a virtual private server to manage multiple sites, we'd highly recommend moving to one of our Managed VPS, that will include My20i. Here's why:
Host Unlimited Websites & Apps – no 'per site' licence fees
Expert Support 24 x 7
FREE Automatic Backups
FREE SSL Certificates
Unlimited x 10 GB Mailboxes
Unlimited MySQL Databases
FREE 20iCDN & Web Acceleration Suite
80+ One Click Apps incl. WordPress, Magento, Laravel & more
SSH and SFTP Access
Unlimited PHP Workers
PHP-FPM, PHP OPCache & php-ffmpeg
NET Core, Django, NodeJS, Flask & Ruby on Rails
Redis 6 & Elasticsearch
Integrated Git Version Control
99.99% Uptime Guarantee
Beyond that, our servers are managed by our expert VPS team. So using them will remove much of the day-to-day routine tasks inherent to managing your own virtual private server.

Any questions?
We understand that it might be daunting to think about moving your website hosting business over to another provider. Even if it will save you money and give your clients a better service – we know it can seem like something you don't have time for.
That's what cPanel's owners are hoping you'll think. But it's not difficult.
It really is very easy to move to 20i. Whether that's from cPanel or any other control panel, like Plesk or DirectAdmin.
So we're more than willing to answer any questions by live chat, email or over the phone. You can contact us here or comment below.
If you'd prefer something a little more personal, you can even book a one-on-one demo of its features here.
We look forward to welcoming you to the 20i family.