Crystal Dionysopoulos currently serves as the President of the Board of Directors of Open Source Matters (the organisation that powers Joomla).
An experienced UX designer and front-end developer, Crystal also runs her own agency 'Lucid Fox', focusing on non-profits.
Crystal was kind enough to answer our questions about how she got started in the business, how her involvement with the Joomla community grew, what makes Joomla stand out and plans for future releases – plus advice for any one looking to get started themselves.
Can you provide a bit of background information yourself e.g. how you got into the industry, why you decided to develop websites, the agency you run…
It takes people by surprise, but I've been building websites since I was 11 years old. My dad was in the tech industry at the time, and was learning about PHP and MySQL.
He left a book out on the desk by the family computer at some point with sample files open that he was working on.
I was going to do some homework, but this seemed more interesting… so I fixed the error that he had in his form, and (being 11) revised the form entirely to make it all about Pokemon.
Thankfully, he wasn't mad at me for messing with his work, and instead bought me books of my own! I dove in and started making websites for friends (and even a couple of local businesses).
I've gone in and out of the web world since then, but in 2015 decided to work for myself full time and started my studio.
In 2020, I decided to focus only on websites for nonprofit organizations. It's been incredibly fulfilling and interesting—no two projects are quite alike.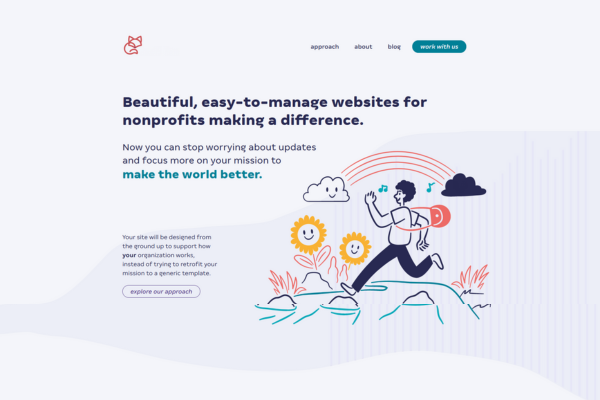 Why did Joomla! become your CMS of choice and how did you become so involved in the community?
Before I started my own studio, I was working for a marketing agency that built websites using Joomla 3 when it was first released.
I knew my way around design, front end development, and some PHP, but it was my first real experience with a CMS.
It wasn't long before I understood just how flexible and powerful Joomla could be, and it just made sense. I didn't (and still don't) prefer WYSIWYG experiences because I found them limiting and error-prone for content updates, but Joomla allows me to approach it from a structured perspective.
The content is managed separately from the design and template, so clients can update their data and it populates beautifully across the site without anyone being worried about breaking the layout or functionality.
At that time, though, Joomla was just a product to me; I didn't understand the importance of open source software nor the community aspect.
Later that year, I attended a couple of Joomla events—the Joomla Developers Conference in Chicago, and the World Conference in Cancun.
I was attending to learn more about Joomla the product, and I did, but I also learned a whole lot about the community. (Spoiler: the community was extremely warm and welcoming, even though I didn't know anyone.) It was a wonderful experience all around.
Joomla conferences usually include a time for attendees to contribute by testing bug fixes and similar things, and I was able to help fix some templating issues on one of the Joomla websites.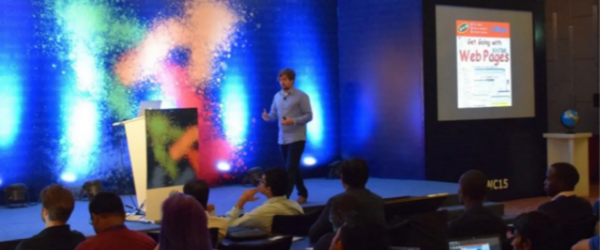 It wasn't long before I joined a team officially and made lifelong friends in the community. I was hooked, and I couldn't be happier about it!
There are a lot of open source CMS for developers to choose from, what makes Joomla! stand out?
I think it's wonderful there are a lot of open source CMS options! Not every CMS is going to be a good fit for every project, and we don't want it to be.
It's one of things; just because you can build any website with any CMS, doesn't mean you should. It depends on who the site is for, who will be maintaining it, whether it's going to grow over time…etc.
In my opinion, Joomla stands out as a great option because it was designed from the start to be a website content management system, so it comes with all the basics (and then some) for building a good website:
SEO tools
Flexible menu structures
Custom fields
Redirects
Permissions management
Multilingual sites
You can get started without thinking about it too much. Plus, it's secure and accessible out of the box.
For developers, there are powerful features like the web services API, scheduled tasks, and custom guided tours that you can define for your site or extensions, and many more things under the hood.
If you find your needs grow beyond the options available in core, there are reliable and well-built third party extensions available.
We have an amazing community of third party developers that provide very clever solutions for both common and niche use cases.
How do you measure success at Joomla? E.g. Is it number of installs, CMS market share…?
Before you can measure success, you have to define it—and that depends on who you ask!
For me personally, success at Joomla as a product means that our CMS is secure, accessible, and robust, and that releases go smoothly.
As a community, it means that we have active contributors and volunteers, that there are community events and user groups, that we are connected and engaged with the broader open source community.
There are some numbers we reference as we check in on how we are meeting our goals.
The number of downloads, installs, and market share can help us gauge interest levels in a broad sense. We also have our own opt-in usage statistics plugin, which helps us understand when people are updating, overall usage over time, as well as recent usage (in the last 180 days).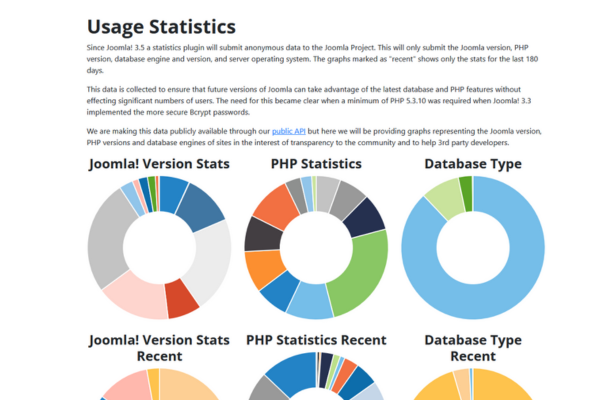 We also check the performance of the CMS and default template to make sure it's accessible and up-to-date with SEO and website best practices.
Data without context is meaningless, so overall we are focused on quality; the numbers are a sign post, not goals in and of themselves.
If our community is happy and the CMS itself works well, then we know we are doing a good job.
How does user feedback shape your roadmap?
Given that Joomla CMS is built by the community, for the community, our roadmap wouldn't exist without user feedback! These are a few of the channels which feed into our process:
Mattermost: This chat platform offers us a window into the day-to-day discussions of our community and users. It's informal, and while not every discussion translates directly into action, it gives us insights into common concerns and emerging trends.
Github Issues: Every issue or suggestion raised on Github is a potential enhancement for Joomla. We appreciate the community's active participation there, and while we can't act on every suggestion, they all contribute to the bigger picture of where Joomla is going.
Social Media: Platforms like Twitter, Facebook, and LinkedIn are where we get a pulse of the broader community. They offer a mix of both technical and non-technical feedback, which is invaluable. This gives us a broader sense of how Joomla is perceived and where people might want improvements or changes.
The information we gather from these sources, among others, hugely influences our discussions and the general direction we take.
The beauty of an open-source community is its organic nature, and we aim to keep that spirit alive by staying receptive and flexible.
We're always experimenting and iterating based on this feedback, ensuring Joomla remains relevant, user-friendly, accessible, and ahead of the curve.
How do you see Joomla! developing over the next 5 years?
Since we're on a timed release schedule now, in the next 5 years we will have released Joomla 6 and 7 and be working towards Joomla 8!
Major versions are more like upgrades at this point and not migrations, so we are able to move more quickly and innovate.
Version numbering aside, I see Joomla becoming more powerful and flexible. We've committed to using modern system requirements, which allows us to take advantage of modern tools without bogging down the server.
For user-facing features, we have quite a few in core already which we're excited about. In addition to any new features that come along, I believe we will see the existing features mature and become more interconnected with each other to make site management more seamless.
Joomla develops from the needs and ideas of the community—if you are curious about the specifics you will need to join the conversation and help us shape the future!
How can developers get involved and contribute to the project?
For a developer, the fastest way to get involved is to jump in to GitHub and troubleshoot issues or open pull requests.
That being said, we are happy for anyone to contribute! Joomla depends on designers, marketers, copywriters, translators, UXers, and beyond.
Join our chat server on Mattermost (joom.la/chat) and say hi. We are happy to point you where your help would be the most impactful and fulfilling for you!
What resources would you recommend to someone who wants to learn more about building Joomla! powered sites, themes and extensions?
Beyond the official documentation, the community magazine is a treasure trove of knowledge.
There are articles comparing different extensions, step-by-step walkthroughs, feature deep dives, and more, all written and contributed by members of the community.
For those who want to learn from others in person, we have a listing of upcoming events and user groups around the world.
People are also welcome to get help by posting in the forum, Stack Exchange, and many unofficial groups on social media platforms too.
What advice would you give to someone looking to get into the web industry as a designer or a developer?
Don't be afraid to jump in and just try different things!
Show the world that it's possible to design or develop creative and bold websites without compromising security and accessibility.
The web industry is still very new compared to other work industries, and standards and "best practices" change all the time—often because someone was able to experiment and try something new.
Have some fun with it and learn as you go. I hope to see what you create!
---
Build, deploy & manage all your Joomla! sites at scale. Use our high-spec cloud servers to ensure blazing-fast load times, every time. Get market-leading speed, security & customer support.
Easy setup & management across multiple cloud platforms
Free Email, DNS, CDN, SSL, SSH, Backups, Security & Git integration all baked-in
Unlimited PHP Workers, Git Version Control, Unlimited Databases, ElasticSearch & Redis Cache
Global reach with 60+ global data centres
Find out how our Managed Joomla! Hosting is perfect for agencies, online stores, developers, multi-site hosting and high traffic sites.