WordPress contributors are heads down in another round of testing this week following the release of 6.3 Beta 3.
Beta 3 was the final major release of Phase 2 ahead of Release Candidate 1 on July 18 and the planned release of WordPress 6.3 on August 8, 2023.
What's new?
This release contains approximately 34 Site Editor and 40+ Trac updates since the Beta 2 release. It also contains more than 500 new features and enhancements, and 400+ bug fixes.
The main aim of this release cycle has been to polish the Site Editor, enabling site creators to build websites, design compelling layouts, and manage content without toggling between multiple configuration areas or editing code.
The most noteworthy updates include:
Reusable blocks become Patterns
Reusable blocks have been renamed 'Patterns' and now come with synchronised ('Synced pattern') or unsynchronised ('Unsynced pattern') options.
So, what's the difference between Synced and Unsynced patterns? As the name suggests, changes made to a Sync pattern will update all instances of that pattern site-wide, wherever they appear. The idea is that by allowing patterns to be assigned to templates, users benefit from a more efficient and speedy creation process.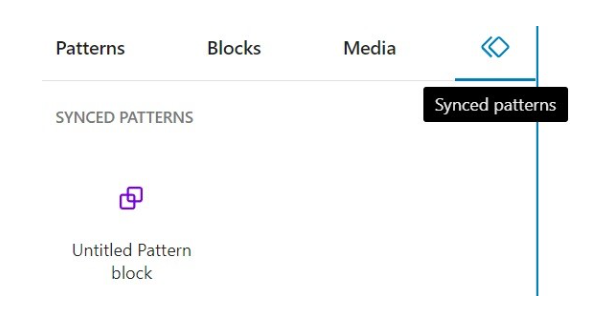 On the other hand, you can edit Unsynced patterns separately without affecting patterns used elsewhere.
To determine whether your pattern is Synchronised or Unsynchronised, use the 'Keep all pattern instances in sync' toggle option in the 'Create pattern' pop-up.
Enhanced Site Editor sidebar
If you use the Gutenberg WordPress block editor plugin, you might have noticed changes to Site Editor taking place ever since version 15.2 was released in February. WordPress 6.3 brings these developments together into what amounts to a sizeable do-over. The result is a more user-friendly and comprehensive Site Editor. And, ultimately, one that allows you to control far more without ever leaving the Editor.
For example, you'll find it's now possible to make style revisions from within Site Editor. 6.3 enables users to toggle seamlessly between – and preview – different saved styles as well as review or roll back to a previous state.
Beta 3 also sees UI improvements, making it easier to see what's being edited – template or content – and allows for a more efficient workflow when building out a site.
The same principle has been applied to Themes. Previews of block themes now launch in the Site Editor, providing efficient previews of locally installed themes.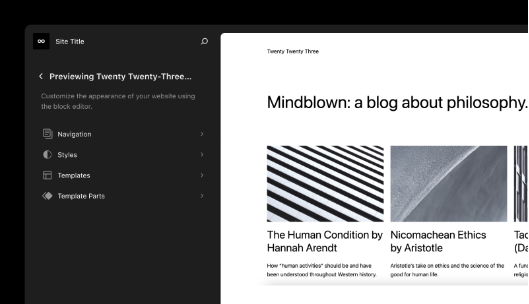 The expanded Site Editor now additionally includes Pages in the left side menu. Selecting Pages exposes the ten most recently updated pages, allowing users to pivot between pages without leaving Site Editor.
As the number of Site Editor and WP-Admin features has grown, so has the need for ways to efficiently navigate between them.
The new 'Command Palette' (formerly 'Command Center') speaks to this need. It provides a solution that allows users to quickly navigate back and forth between different pages, templates, or template parts.
Along with enhanced navigation, Site Editor also promises an improved loading experience.
Text blocks: now with footnotes
Gone are the days of creating and constantly re-sorting dozens of anchor links. After a great deal of exploration and testing, automated footnote functionality comes to the Block Editor.
Users can now attach footnotes to text blocks including paragraphs, headings and lists. The footnotes block removes and reorders footnotes as you edit text, meaning less time managing links and more time writing. This can be activated from the block context menu.

Image aspect ratios maintained
Many will also be celebrating the image aspect ratios update. Going forward, when you apply an aspect ratio with a set height and width to an Image block, it's now possible to drop in another image and maintain the same aspect ratio, height, and width values without having to reapply the settings all over again.
Spacer blocks now include presets
Spacing presets were added to Dimension controls in WordPress 6.1. This was designed to make it easier to control space in a theme and provide a simplified user experience. This functionality also allowed theme developers to employ fluid spacing.
After the introduction of spacing presets, community feedback made it clear that the feature should also be available for the height control in the Spacer block.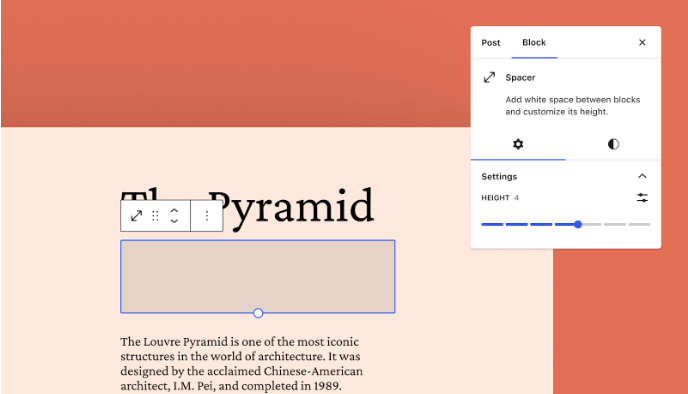 Design customisation options
6.3 introduces new design customisation options including a duotone filter and caption styling for the image block. You can now edit captions in the Styles interface, where you can change the font, size and appearance of the caption text.
Dropped Support for PHP 5
WordPress has supported PHP version 5.6.20 since 2019. However, with only 3.9% of monitored installations currently using PHP 5.6, the Core Team has decided to drop support for PHP 5.6.20 and elevate the minimum supported version to 7.0.0. Note that the recommended PHP version remains the same – 7.4 or greater.
Accessibility
6.3 incorporates more than 50 accessibility improvements across the platform. Improved labeling, optimized tab and arrow-key navigation, revised heading hierarchy, and new controls in the admin image editor allow those using screen readers, keyboard navigation, and other assistive technology to navigate more easily. The login form, installation steps, and list tables (for sorting and selection) have all been updated.
What's next?
You can test WordPress 6.3 Beta 3 in one of the following three ways. (A word of warning, however: this version of the WordPress software is under development so do not install, run, or test this version on production or mission-critical websites. Instead, it is recommended you evaluate Beta 3 on a test server and site.)
Option 1: Install and activate the WordPress Beta Tester plugin (select the "Bleeding edge" channel and "Beta/RC Only" stream).
Option 2: Direct download the Beta 3 version (zip).
Option 3: Use the following WP-CLI command:
wp core update –version=6.3-beta3
If you prefer to wait for others to do the testing, you can join the WordPress community for a look at 6.3 in action during a live product demo, on July 20 at 16:00 UTC (17:00 BST).
After that, it's the turn of the third major release of 2023, WordPress 6.4, with Alpha expected to begin next week.
If you're using WordPress hosting from 20i, your website will be updated to the newest version when it's released.