Free Web Hosting
Absolutely free hosting, with no ads
Email, SSL certificate, world-class security, CDN & more
The same reliable, lightning-fast UK platform as our paid hosting
100% green hosting powered by renewable energy Get free web hosting with every domain at 20i.
Anyone for free web hosting?
We don't put any limits on who can use our hosting. It's open to all - for zero pence!
Charity web hosting
The best web hosting for small charities. Host your site for free so more money goes straight to the cause.
Free blog hosting
More people are seeing the benefit of having the control and freedom you get through a personal blog.
Small business web hosting
We allow commercial use. So, for a startup or small business it makes sense to have free, PCI-compliant UK hosting for your website.
Personal web hosting
You might want to use our free hosting for a portfolio or CV site? Or a private password-protected online presence for your family and friends.
One limit: your imagination
You can create any kind of website with our free apps. Such as forums, bulletin boards, radio sites, school materials, test projects - it's up to you.
A hosting service for the 2020s from 20i
Your free hosting will be on the same high-performance platform as our paid plans.
FREE PREMIUM WEBSITE HOSTING
Ideal for new businesses, small charities and personal sites.
The UK's most trusted web host: rated #1 for customer service
I recently contacted 20i about a firewall issue where our server was unable to connect to a series of websites hosted with 20i. From start t...
We are all busy in life and nowadays I just don't have the time to do all the backend processes I used to. The 20i team are excellent at kee...
20i support is unparalleled by any other provider we have used in the past. We have had a tricky situation and have been supported day and n...
Your favourite website app is one click away
You can choose from 80+ popular free apps that will enhance your website, whether your site is a shop, a blog, a forum or anything else. Install them in seconds!
MOST POPULAR APPS
Abantecart
Agora Cart
B2 Evolution
Backdrop
Bamboo Invoice
BuddyPress
Cachet
CakePHP
CMS Made Simple
Concrete5
Coppermine
Craft CMS
CubeCart
Dolibarr
Dolphin
Dot Project
E107
Elgg
Expression Engine
Feng Office
Flarum
Flux BB
Form Tools
Forma LMS
FreshRSS
Geek Log
Gibbon
GNU Social
Help Centre Live
Invoice Ninja
Invoice Plane
Kanboard
Laravel
Lime Survey
Matomo
Media Wiki
ModX
Nucleus CMS
October CMS
Open Web Analytics
OS Commerce
osTicket
phpBB
PHP Coin
PHP Form Generator
PHP Free Chat
PHP Fusion
PHP List
PHP Mailer
PHP My FAQ
PHP Nuke
PHProject
PHProjekt
Piwigo
Processwire
Revive Adserver
Serendipity
SilverStripe
Simple Machines Forum
Slim
Snipe-IT
SquirrelMail
SuiteCRM
SugarCRM
TCExam
TextPattern
Gibbon
Trouble Ticket Express
Typo3
Vtiger
Webcalendar
Xerte
Zencart
ZenphotoCMS
Where's the catch?
We know it sounds too good to be true…but there's a reason why we offer our hosting for free.
In the end, we're a business. So we give away our hosting in the hope that it might lead to you spending with us, if your website is a success. It's as simple as that.
It's like an unlimited free trial of our high-spec, high speed hosting. If your site expands and becomes popular, you can upgrade to one of our Web Hosting, WordPress Hosting or Managed Hosting packages, which offer more freedom and resources.
You will need a domain name. You can transfer one over to us or search for a new domain now, priced from £5.99/year.
search for a domain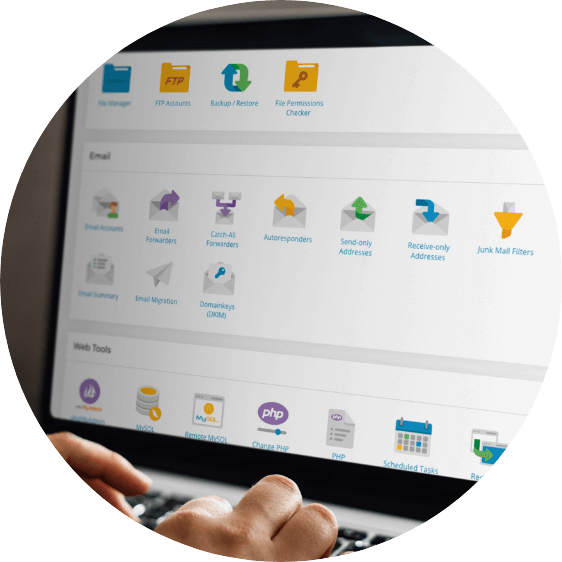 What you don't get
In the interests of full disclosure, here are the things that aren't included with our free web hosting services:
Subdomains
You can't create subdomains for your site, such as blog.your-domain.co.uk or shop.your-domain.co.uk
Website Builder
Our drag-and-drop website builder is off limits. You still get access to 80+ free website tools - including CMS like WordPress and Drupal - which can be installed in one click.
SSH Access
Secure Shell network access is needed for server admin tasks or to install complex scripts. Most websites won't need it.
Full Technical Support
20i's legendary customer support isn't available for everyday needs. You do still get access to our comprehensive support database, starter guides and 'how to' videos. If something critical goes wrong, you can still speak to our team.
WordPress Tools
Our suite of features for WordPress staging and management is only available on our managed WordPress hosting packages. You'll still get full access to all the same features that come with a standard WordPress install.
Otherwise, you get the same features as our paid packages, subject to the limits stated above.
Get started with the best Free Hosting
1. Sign Up
There's no charge to sign up to 20i's award-winning hosting. Once you've confirmed your email, you can take our My20i control panel for a spin.
2. Register or Transfer a Domain Name
You'll need an address for your website. So you'll need to register a new domain or transfer a domain you already have. Some domains are free to transfer, so you may not need to pay anything.
3. Activate your Free Hosting
Add the hosting package to your domain. You'll get fast shared hosting for one site, including free email, generous SSD storage and enough bandwidth to run a small business or blog.
Frequently asked questions about our Free Web Hosting
Find answers to some frequently asked questions about web hosting:
Why do I need a domain?
A domain name is essential for any website, so web browsers can find it. Domain names are available for less than 12p a week through 20i, so they aren't expensive. To get your free hosting, you can either buy a domain through us, or transfer-over one that you already own.
It's free hosting, why do you need a payment card?
There may be no need to make a payment, but we still need to take credit or debit card details. This is for security: 20i is committed to combating internet fraud. It also helps prove that you're over 18, which you need to be to own a domain.
How do I upgrade?
If you're using our free hosting but you need extra features like more storage or email addresses, it's a simple matter of choosing a package in My20i, and transferring to it. There will be no downtime.
You can upgrade to one of our Linux hosting packages if you want a drag-and-drop site builder, or if you're using WordPress, we'd recommend our WordPress-optimised managed hosting. If you want ultimate performance and freedom, we'd recommend our Managed Hosting.
Can I use your free hosting to run a business?
Yes, there are no limits on which web apps you install, such as shopping carts and contact forms. So the site can be used for any purpose. If your business is a success and you start receiving lots of traffic, we'd recommend that you upgrade to one of our paid plans.
Where are your data centres?
Our primary data centres are in the UK and USA. They're fully secure and Payment Card Industry compliant. Also, by using the 20i Free CDN, you can store copies of your public content at data centres around the world. People visiting from locations outside of the UK and US will still experience a fast-loading website.
When you activate your free hosting, you can choose whether you want your site hosted in the UK or USA.