We're happy to announce that all 20i web hosting now runs on 100% renewable power.
We're still providing the same speedy and dependable hosting services, but now we're doing it in a more environmentally friendly way.
For our customers there is no extra charge, and you have been moved to the new green hosting already!
Why did we make the change to sustainable web hosting?
The internet uses a lot of power. It's estimated that data centres are responsible for between 1% and 3% of global energy use. This causes greenhouse gas emissions, and so contribute to climate change.
Up to now, it was difficult to find a provider that would offer the right level of reliability and performance that we're known for.
Thankfully, that's changed, so we've now moved to sustainable web hosting using 100% renewable energy.
Most commonly, our power comes from wind and solar, but it could also include other sources like wave power, tidal power, geothermal power and more.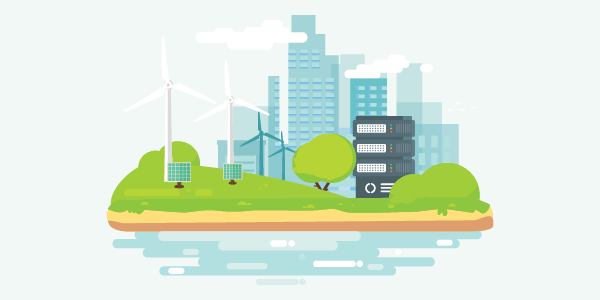 Energy efficient servers
If the renewable energy being generated isn't being used to power our servers, it puts more 'clean' energy in to the grid, instead of fossil-fuel power.
So it makes sense that our data centres are as efficient as possible. They have an extremely low PUE of 1.12, which is the ratio of Power Usage Effectiveness. This measure – where lower is better – is the industry standard for how efficiently a data centre uses its power.
Here's a broad idea of how PUE is often viewed:
| PUE | Efficiency Level |
| --- | --- |
| 2.5+ | Very Inefficient |
| 2.0 | Inefficient |
| 1.6 | Average |
| 1.2 | Efficient |
| 1.1 | Very Efficient |
A perfect score of 1.0 would be impossible – unless you broke the second law of thermodynamics, of course.
As of 2020, the average PUE for UK and US datacentres was about 1.6, so having a tier 3 data centre PUE of 1.12 is a great achievement. In addition, our cooling uses low GWI (global warming impact) refrigerants and our new modular uninterruptible power supply saves over 100,000 Kg of CO2 over a year.
As such, one of our UK data centres has won two environmental awards since it opened. It's also exempt from the Climate Change Levy.
Our platform technology
Our unique autoscaling hosting platform also has its part to play in energy efficiency.
Should a website get busy, it can be given the resources of many servers instead of just one, instantly. Equally, if a site isn't busy, it won't keep providing those resources unnecessarily.
Less resource means less energy used overall. The instant scalability present in our platform means that more renewable power can be used elsewhere when not needed. This isn't the case for other companies' version of 'autoscaling'.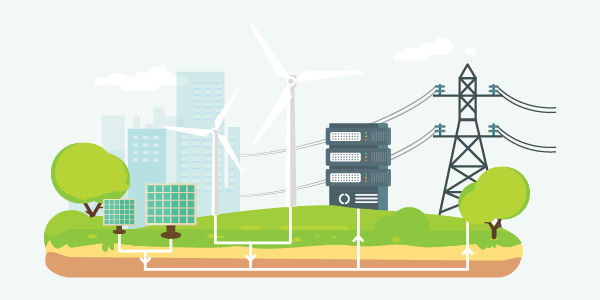 There's also our commitment to using the latest and best hardware available, providing that's it's been proven to be reliable. Thanks to the efforts of manufacturers, generally new technologies are more power efficient.
Showcase your green credentials
To help you promote your website's green credentials to new and existing customers, add one of our 'green hosting' badges to your site (available in My20i).
Resellers of our hosting will be able to gain customers who may have previously chosen a more openly-'green' company too, and we have free marketing material for Resellers to use as well.
We'd encourage you to promote your low-carbon credentials. For example, Earth Day is on 22nd April – you could post something about it then, if not before? Let us know if you make an announcement!
Keeping your bills low
Energy efficiency makes sense financially, too.
As I'm sure you know, energy prices have risen drastically around the world, so running our hosting on power-efficient infrastructure make sense for us.
That way, we can keep our prices low, while still offering more free features and better performance than any other provider.
What else are we doing?
As a company, our headquarters are based on a solar-powered business park, which feeds in the National Grid when we have power to spare. Our offices use LED lights with sensors and we recycle all our materials. We operate a paperless office, aim to reduce packaging and use eco-friendly products where possible.
Our staff are encouraged to lower their carbon footprint by avoiding unnecessary travel through hybrid home/office working patterns, a cycle-to-work scheme and car sharing. But we're continuing to formulate new green initiatives: we're not done yet!
Even so, we're proud to have got this far in our climate-friendly journey.
If you're not already with 20i, we look forward to welcoming you along with our new green hosting!