Business Web Hosting
Take your business website to the next level
Fuel your growth with high-performance business cloud hosting
Easy website management across 20iCloud, AWS & Google Cloud
Delight customers with lightning-fast load times, every time
Business-class email, SSL, domain names, CDN and more built-in
Web hosting that's serious business
With over 20 years' experience in web hosting, we know what to deliver to business owners: reliability, performance and a helping hand from an expert team.
Global connectivity
Lightning-fast speeds, wherever your customers are with 60+ global state-of-the-art data centres, and a global content delivery network.
Enterprise-level security
Our secure hosting includes free SSL certificates, security scans, firewalls, offsite backups, denial of service (DDoS) protection, two-factor authentication (2FA) and network protections.
Tools to grow
Whether it's great value domain names or free, unlimited business email, get everything your business needs with 20i.
Always online
Whether you choose our autoscaling shared hosting platform or Managed Hosting on 20iCloud, AWS or Google, you'll always get rock-solid performance. With multiple redundancies and no single point of failure, you never need to worry about downtime.
Ecommerce optimised
Boost your revenue, SEO and user experience with lightning-fast load times and ultra-secure ecommerce hosting. Plus, our hosting is PCI compliant. Find out more about our Magento Hosting.
Expert support
Our technical support specialists have your back 24x7. Our team responds quickly, whatever the problem. No paid extras for 'priority support' - everyone gets it.
Find the perfect domain name for your business
Just starting out? Check to see if your business name is available, and get suggestions for alternative website addresses. Our domain names are up to 50% cheaper.
Always cheap domains
No hidden fees or surprise increases
Same great price upon renewal
 -.--/yr
 -.--/yr
 -.--/yr
 -.--/yr
Already have a business website? With 20i domain names you pay the same low price every year so it makes sense to transfer your domain to us.
Expert UK support
All our experts know hosting inside and out
Support you can rely on 24x7
Here when you need us, with quick responses and resolutions.
Top-rated hosting support
We are rated #1 on Trustpilot by our customers.
Keep your business running smoothly as you move to 20i
With our unique Automatic Migration Centre, move from any other provider seamlessly, without any disruption to your business.
Always free, unlimited migrations
Migrate in minutes, not hours or days
Move your websites, databases and emails to our web space automatically
Preserve all folders, files, scripts, emails, databases and other data exactly as-is
Choose exactly what you want to migrate and when
Have more questions? Talk to our website experts
Contact us
Again 20i support has proven knowledgable and invaluable and super quick to respond. Thank you!
fantastic support - I really don't know how I would cope without them
Showing our 5 star reviews
You run your business, we'll handle your presence online
Don't let hosting problems get in the way of growing your business. Get all the tools you need in one easy-to-use package, giving you more time to concentrate on the work you love.
My20i is our custom made web hosting control panel, designed to put you in control. By not being restricted to cPanel, we can offer more features and better performance.
Deploy, manage and optimise all your websites in just a few clicks, on any device. Whether you choose Shared or Managed Cloud Web Hosting – or both – you can make changes across all your products from the simple My20i dashboard.
It's familiar enough if you've used other control panels, but refreshingly user-friendly and packed full of features you'll love using.
Read more about My20i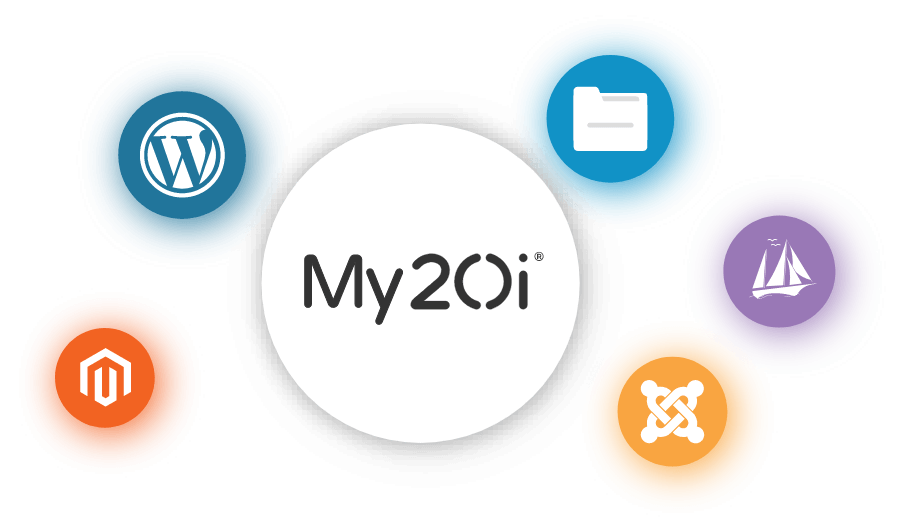 You can control – or as little! – as you like through our user-friendly control panel. My20i includes a complete file manager, DNS manager, SSH access, backups manager, phpMyAdmin, FTP control, 80+ one-click installs and much more.
My20i makes finding features hassle-free. Touch-focused icons, drop-down menus, a quick-add menu and a powerful search bar offer a range of options to get you where you need, fast.
Use My20i to manage our global content delivery network (CDN). Included free with all packages, your content will be stored at data centres around the world. This global edge caching means that your site will load quickly, everywhere.
The CDN also includes our Website Acceleration Suite, which reduces web page loading times by optimising images and code for speed. It's great for SEO. It's available as a one-click set-up or you can experiment with over 40 different settings.
Set-up and manage your email from within My20i. Alternatively, our email works with all mail clients, including those from Microsoft, Google, Apple and Mozilla.
Our email includes webmail, so you can view your messages anywhere, at any time. It uses IMAP, so you can synchronise your mailboxes across desktop, tablet and mobile.
We use the latest tech to ensure that the email you send is delivered safely, and the email you receive is spam-free. All email is encrypted in transit using TLS for security and privacy. Additionally, we use three layers of inbound spam and virus scanning: network-level, virus and content-based scans.
Read more about our email hosting
Our domain names are amazing value for money every day, not just short term price promotions. Save up to 50% on your .com and .co.uk domains compared to other hosts.
We've made managing 100 domain names as easy as managing one. All your DNS records can be controlled from My20i: from A and CNAME to TXT and SRV. Our nameservers use Google's reliable global network to deliver quick responses.
All 20i web hosting includes free wildcard SSL certificates to secure your site. You can also purchase paid SSLs direct from us.
Green web hosting powered by 100% renewable energy
We're committed to making sure our hosting is as green as can be
Green Energy
All our hosting is powered by 100% renewable energy, which means all your sites and apps are too. That's great news for you and the environment.
Green Data Centre
Our data centre has an extremely low PUE (Power Usage Effectiveness) of 1.12. Plus, our Autoscaling Cloud Hosting only uses the resources it needs, so no energy is wasted.
Low Carbon Footprint
Our office also runs on renewable energy with its own solar farm. We also have a paperless office, cycle to work scheme, and recycle all our waste.
Frequently asked questions about 20i Business Hosting
What is the best hosting for a small business?
That would be our Web Hosting or WordPress Hosting. We understand what's important for a small business website, and everything you need is included – no extra charges. You can test us out for [[ currencySymbol ]]1 and you can get that refunded within 30 days should you not be 100% satisfied.
What is business web hosting?
Business web hosting is the rental of servers in a datacentre, so that a business website can be published online. It should include security measures to help a company grow while protecting their staff and customers from fraud.
Software for business – like content management systems and shopping cart functions – should be included at no extra charge. At 20i, we offer over 80 free website creation tools.
Good website performance is important for your users, so that they can buy your products and services without waiting for pages to load. Your site needs to be fast on any device. Search engines reward pages with good user experience, so it helps search engine optimisation: getting you to rank higher in the results.
Uptime is also important to any business: if you've ever experienced the frustration of your customers not being able to access your website, you'll know what we mean! So it's important for businesses to host on rock-solid servers, with no single points of failure – like at 20i.
We offer a range of hosting packages, suitable for medium businesses and large enterprises.
I'm not sure what hosting I need, can you help?
Sure! We have a page here to help you choose. It will give you a recommendation after answering four questions. But if you want to speak to someone, we're available on the phone on the number above.
If you prefer text, then use our live chat or send an email to sales@20i.com. We'll give you an honest recommendation based on your needs – you'll never get 'hard sell' from the 20i team.
I run a design/marketing agency, what would be best for me?
What ecommerce apps do you support in your business web hosting?
I want to set up a business selling web hosting – how do I do that?
That would be our Reseller Hosting. With this, you can resell an unlimited number of website packages. It comes with all the tools and resources to help you sell web space under your brand, and includes discounts on other 20i products.
We're developers – what do you have to offer?
Our Managed Hosting is the easiest. Without the unnecessary hassle of server maintenance, you can spend more time on your apps.
You can set up permanent processes, and dev tools like Git, WP CLI and Drush are all available via SSH. You can run daemon-based apps like Node.JS, .NET Core and software that runs on Python WSGI, like Django and Flask. With Redis you can use persistent object caches in WordPress. Elasticsearch can be used with Magento.
With our standard VPS, you can also choose from 18 different operating systems and install any software.
How do I make a business website?
It's a simple process:
Sign up for a hosting package at 20i.
Purchase a domain name, which will be the address for your site (URL)
Build your site with our no-code Website Builder or with a CMS like WordPress or Drupal. Or hire a web designer to create one for you.
Open your business!
Can you help us migrate our business website hosting to you?
Yes, our Support Team can help you every step of the way for no extra cost. However, we also have a free, self-service Migration Centre which automates the process. Just enter your login from your last host, click 'Migrate' and the migration begins!