HostShop 2.0 is here, and with it loads of new features and upgrades.
We're going to look at some of the top features HostShop 2.0 has to offer.
HostShop is a feature-rich billing and automation platform for hosting Resellers. There are so many features, we're just scratching the surface with this list. There's plenty more to get stuck in to later!
? What is HostShop?
HostShop is the easiest way to manage your web hosting. It's packed full of powerful and easy-to-use features for automatic provisioning and customer management. It's like WHMCS, but better (and free!). Find out why it is the best WHMCS alternative.
Feature #1: HostShop Plans
HostShop Plans  are a great way to create package bundles for your customers. Plans allow you to give your customers an allowance of hosting packages (e.g. 2, 5, 10, unlimited, etc.). They can then migrate and create websites within their given allowance limit.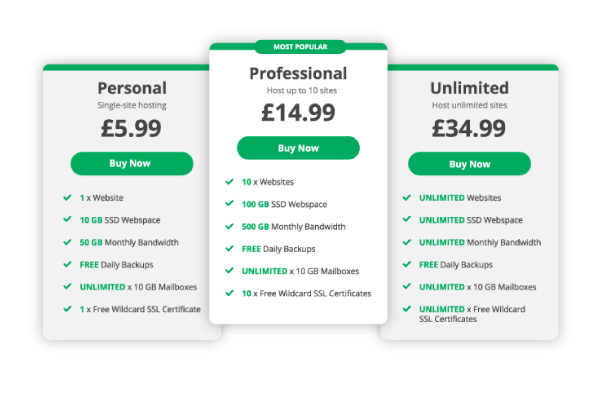 Read our support article on HostShop Plans.
Feature #2: Affiliate System
The HostShop affiliate system allows your StackCP Users (customers) to refer new clients to you.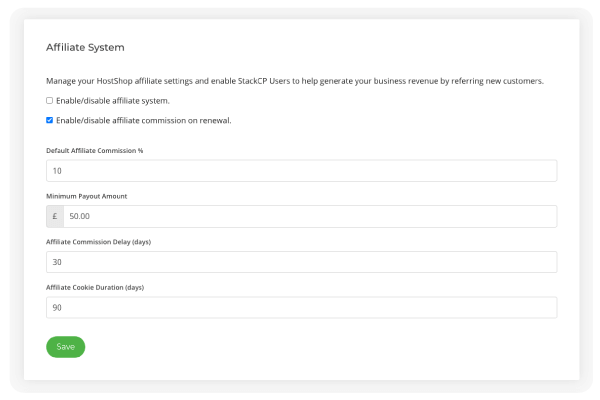 They use an affiliate link to do this. If a customer signs up after using that link, it will result in a commission payment to their balance in exchange for the referral. Find out more about the HostShop Affiliate System.
Feature #3: Custom Products
HostShop is extremely flexible. Not only does it allow you to resell 20i's hosting products and services easily, but you can also add and bill customers for your own services. This could be web design, SEO, themes, advertising…anything.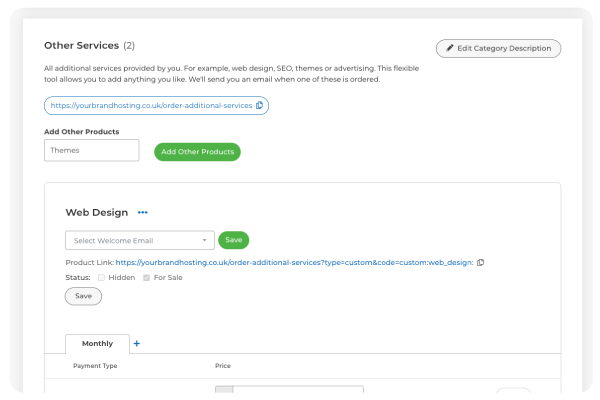 Learn more about adding custom products and get selling!
Feature #4: Automatic Upgrades
Websites tend to grow over time. Eventually this can result in a customer needing to upgrade their hosting.
If enabled, HostShop's inbuilt upgrade system gives your customers the ability to upgrade their services at any time, automatically.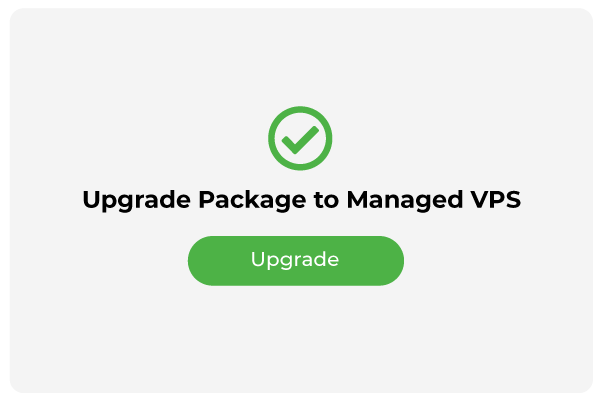 There's no manual transfer of data and no downtime. It's all handled seamlessly on the 20i platform.
Learn more about automatic upgrades.
Feature #5: Detailed Reporting
Get visual data about your business, helping you drill-down to the information you need to make better business decisions.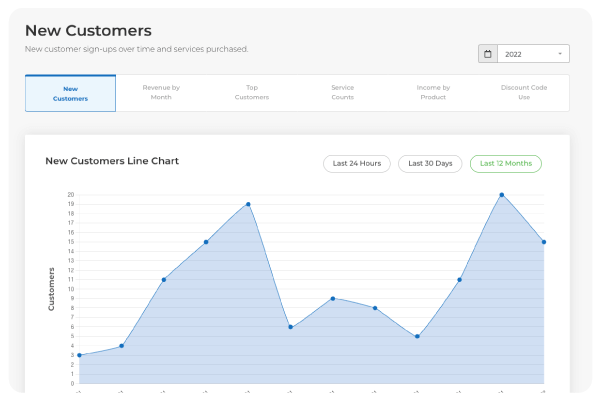 HostShop includes multiple detailed reports, such as:
New Customer Information
Revenue Over Time
Top Customers
Service Counts
Income by Product
Discount Code Usage
Feature #6: Automated Provisioning
Perhaps this one's obvious. but let me explain! When a website is provisioned at 20i, it's backed by our powerful platform.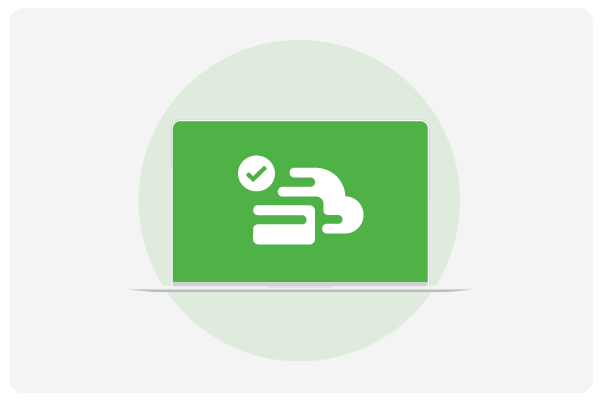 Load balancing, autoscaling, PHP optimisations, 100% green energy, WordPress optimisations, staging and so much more.
It's a key selling point that you, as a 20i Reseller, have over any other provider in the market. Nothing comes close to touching the 20i platform – we intend to keep it that way too!
Feature #7: Flexible Invoicing
Invoicing is key to the HostShop platform and to how our customers need to run their business. It's why we re-built the invoicing system to be more flexible, powerful, maximising accounting efficiency.
Invoices are always provided any time a renewal is due. If the customer has auto-renewal enabled, payment will be requested automatically. Otherwise, it's simple for your customer to log in and pay.
Using our Invoice Designer, you can design and modify the look of invoices to suit your brand.
About to do some work for a customer? Send a custom work quote that the customer can pay when they're ready, so you can get to work.
Feature #8: Multi-Currency Support
We've given HostShop multi-currency support so your customers can choose what currency they want to see and make payments in.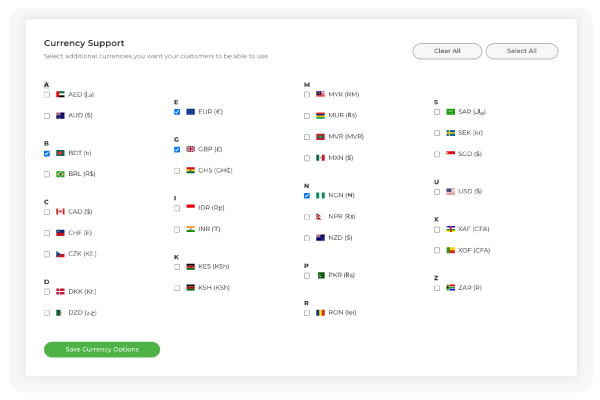 Using live exchange rate data, we've included all the popular currencies. They can be enabled at any time in the HostShop preferences.
Feature #9: Flexible Discount Codes
Running a promotion or just want to include a free trial? Look no further, HostShop discount codes have you covered.
Discount codes can be completely customized to create the behaviour you need.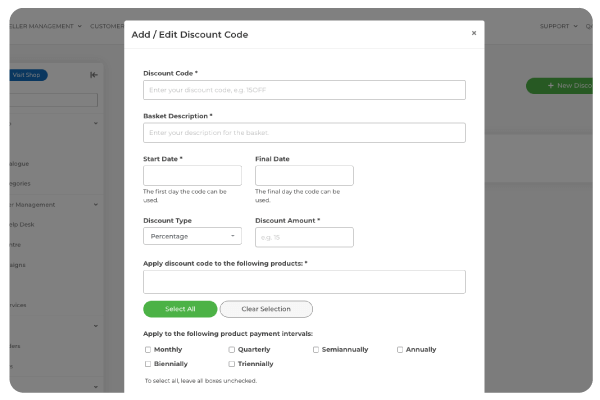 Examples of promotions you can run:
One time discounts
Recurring discounts
Limited recurring discounts i.e., 2-months free
Fixed monetary discounts i.e., $5 off
Percentage discounts i.e., 20% off
Price override i.e., regular price $15, discounted price $10
Apply to specific products/addons/domains
Apply to specific billing cycles or registration periods
Apply one per order or to all applicable items in the checkout
Lifetime promotions
New-signup-only promotions
Feature #10: Customer Help Desk
What would a business platform be without a completely white-label, powerful and fully-integrated help desk solution?
As a Reseller you'll want communication between yourself and your customers to be as seamless as possible. The  StackCP Help Desk is a fully-featured customer service & support system for you and your customers.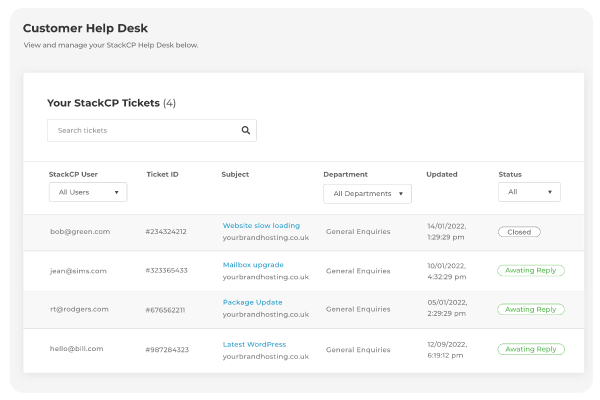 Once StackCP Help Desk is enabled from the  Configure StackCP User Help Desk  section, your customers can raise tickets from StackCP, which you'll receive via My20i.
Emails are sent to both yourself and your customers when tickets are opened and updated to keep both parties notified of the current status of the ticket.

As I said, these top ten features are just scratching the surface of the HostShop offering.
It's new-and-improved version 2 was built based on your feedback, so it's more user-friendly than ever. It's easier for you to use, and easier for your customer to make purchases.
So if you've not had chance to try HostShop, now is the time! We have a step-step-support article on setting-up HostShop for the first time.
If you're long-time user of HostShop, we'd love your feedback on all the UX improvements and new features. What's your favourite? Let us know.