Being a web hosting reseller can be rewarding and lucrative.
Whether you're a web designer looking for a new income stream or plan to start a new web hosting business from scratch, reselling web hosting from a wholesale provider is the easiest way to start.
But should you?
We can't give you a definitive answer to whether to go ahead or not. That's because everyone's starting point are different, as is everyone's aptitude.
But by asking yourself the following questions, we hope to help you decide.
10 Questions (and answers) to start a web hosting reseller business
1. Does it seem to you like an 'easy way to make money online'?
It isn't easy. The guides to 'making easy money' are usually scams, and in the very rare cases they are real, they don't remain easy for long!
As an online business, it can provide passive income. Once established, it may provide a steady income without a lot of effort – which is always nice! However, you're only likely to get to that stage once you've invested lots of time and energy, which brings on us on to…
2. Are you in the web hosting business for the long haul?
If you're starting from scratch without any clients, you won't make a profit straight away (unless you're very lucky!). Even if you have low overheads, you're likely to operate at a loss to begin-with.
Website hosting – like most businesses – operates on economies of scale. So you won't receive a return on investment (of money, time and effort) until you've reached a profit threshold: a certain number of customers, hosting with you for a certain amount of time.
Do you need help with pricing your services? Or need to know how many customers you need to make a profit? We can help, with our price and profit calculator.
3. Do you have a plan for your reseller business?

Even if you're starting really small, you need to have a business plan. This must take account of profits, costs, overheads, tax – and don't forget your own living expenses.
Even if it's just a small home business, it's wise to set targets for your company. Even if you end-up revising them, by setting benchmarks from the start you can measure your progress – or lack of! You can then make meaningful, data-driven decisions.
Don't worry though: it doesn't have to be a hugely detailed, formal document. If reselling hosting is a sideline, it could be as little as a few paragraphs to remind you of your plans. Setting dates and deadlines can be really helpful, regardless of the size of your business.
4. What are your motivations?
It requires dedication to be a successful web host. If you don't enjoy what you're doing, then you're less likely to put in the work and acquire loyal customers.
To state the obvious: you need to be interested in web hosting to become a website hosting reseller. All new businesses experience setbacks, and you'll need passion and enthusiasm to overcome them.
5. Will your reseller business be a hobby?
You could be a web host as a hobby. Whether you'd acquire and retain any customers is questionable..!
That's because it's a competitive industry. There are over 20000 web hosts of various types in the UK alone.
In part, that's due to it being relatively easy and low cost to do – compared with other businesses. That's owing to how easy companies like ourselves make it to resell hosting!
Although it's not our place to give legal advice, please remember that when you start taking money you'll have to register as a sole trader and start tax self-assessment (at least in the UK). Even if it's a hobby and you have another job.
6. Do you have capital to invest?
We make it low-cost to set up a web space reselling operation, but there are other costs you need to factor-in, beyond your time.
Such as:
the design of your business website
advertising and marketing costs
your premises, if you aren't working from home
business insurance
software licences
tax
Like all businesses, it's wise to have money set aside for contingencies as well. So while it's possible to start from next-to-nothing, you're more likely to succeed if you have some savings to fall back on.
7. Can you make your living with a reseller hosting business?
Reseller hosting can be profitable. Many people make their living out of it.
But it's unlikely that you'll be able to make a living straight away. We know of numerous cases where it has taken years. We don't want to put you off: like most things in life, you're rewarded for the amount of effort you invest.
At 20i we have some 'big name' customers who have thousands of clients, and employ a team of people. Equally, lots of 20i Resellers are one-person concerns, or only use our Reseller account for a small number clients. If you like that kind of flexibility, reseller hosting might be right for you.
But it's important to be realistic: don't expect a Ferrari in the drive next week.
8. Are you familiar with 'everything internet'?
You should be familiar with websites: HTML, CSS, PHP, JavaScript. Ideally you should be an expert in these things – but there's always time to learn if you're new to the field.
Yet there's a lot more to hosting than that. You need to have a solid understanding of things like DNS and know your way around email: you might find that email issues are more common than website-related ones.
This post on Reddit even advises you to avoid getting involved in the hassle of email hosting if you want an easy life! We don't wholly agree – we make email management easy – but it's something you should consider.
9. Do you have a target market, or have you seen a 'gap' in the market?
Website hosting is a highly competitive area. You'll be competing with large corporations as well as small businesses. With it being an online business, you'll be competing against those in other parts of the world whose costs of living might be lower.
That's why when you're reselling hosting, it's a good idea to have a target market. You define your market with something as simple as a shared location or language, or an industry vertical, like photography, for example.
You might refine that with a target age group, lifestyle, interests and where they hang out on the internet. Finding your niche will be a lot easier – and cheaper – than going up against the big established brands.
Getting more specific will narrow your potential market, but it helps focus your messages, and your marketing spend. In our experience, it seems that those who stick with what they know are the most successful hosts.
10. Do you enjoy helping others?
Yes, I know this sounds like an clichéd job interview question. But it is something to consider.
Many web businesses require little human contact. That isn't the case with web hosting.
If you're the kind of person that gets annoyed being asked the same questions, or gets frustrated by those unwilling to search for the answers themselves, then web hosting isn't for you!
We think that the quality of support can make the difference between a successful and unsuccessful hosting business
You will get lots of technical support requests. We think that the quality of support can make the difference between a successful and unsuccessful hosting business. That's why we only use talented people we trust on our support team – and so should you.
As well as knowledge, you need patience, good humour and communication skills to flourish as a technical support person. If you don't have those qualities yourself and want to get ahead in the hosting business, then perhaps you should think about hiring someone who does..?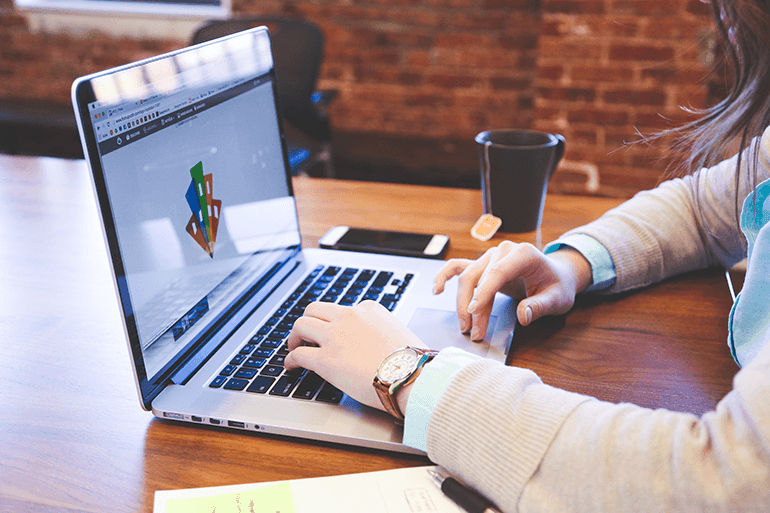 So…did that help you decide?
Like any new venture, there are always many things to consider. Hopefully, thinking about these questions has helped you work out whether reselling web hosting is right for you.
If the answer's 'hell yes!' then you may have further questions:
What type of people become resellers of web hosting?
While everyone's unique, we find that most of our customers can be placed under broad categories.
Web hosting entrepreneurs
These might be the first type of reseller you think of. They have a web hosting company, or want to start one. All they do is sell hosting and associated products.
Web designers and developers
If you design or code people's websites, it makes sense that you can also offer hosting. That way, it's a 'one-stop shop' for your clients. Plus you can spin-up any number of websites to test out your ideas in the wild.
Just like web designers and devs, it's a similar situation: you may need multiple sites for your business. You can also offer to host your customers' sites.
If you're a marketing, digital or PR agency, it makes sense to your host your clients' sites in an all-in-one package. You have the freedom to set up any number of sites, so there's no concern about any extra charges for that one-off competition page that you only need for a month!
People with lots of websites (!)
You might not actually want to sell hosting – that's no problem! For example, you might run lots of websites from which you get an affiliate income. There aren't any limits on the number of your sites you can host with a reseller account, so it can be better value than paying for each site individually.
We also have 100s of customers who don't fit in to those categories – so sorry if we haven't mentioned you!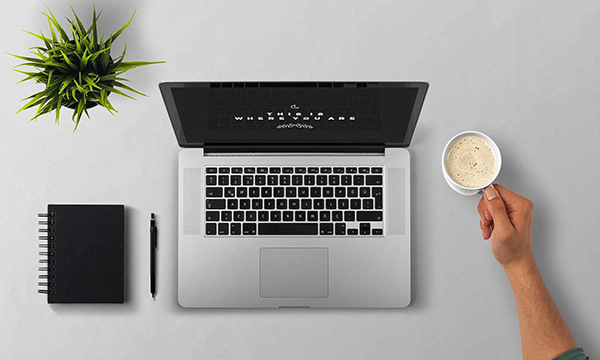 What is the minimum I need to start a hosting business?
If you have an existing business, or just want to get started quickly, you could use the resources we include in our Reseller package to get up and running within a couple of hours. But what do you need?
A computer: a laptop is fine. You could run your business using only a phone or tablet using our mobile-friendly My20i control panel. But for convenience (typing!) we'd recommend a PC or Mac.
A good internet connection. While this won't affect the sites you host, it's important to have a stable connection for any business.
A reseller hosting account. While obviously we'd recommend ours, some pale imitations do exist…
A bank account
A payment gateway provider, so you can take debit and credit cards
Registration with the relevant tax authorities (HMRC in the UK)
A website
Plus some peace and quiet – and a comfy chair to work in!
Wait: I can be set up in a 'couple of hours'?!
Yes, probably less than that – but that would be a 'basic' setup.
If you were starting from scratch you might want to create your own website to sell your services. You might also want to use our many customisation options to brand everything your way, from the URLs to the entire control panel. Depending on how much you'd like to do first, it would take time.
Then you'd have to think about branding, marketing, advertising and so on. Like all businesses, you get out what you put in. If you want to be a success, you need to put the time in when you're starting out.
How can 20i help?
We have a ton of free resources and guides. From marketing and sales advice, to full reseller hosting website templates, we've got you covered. We created the first reseller hosting packages back in 1997, so we know our stuff!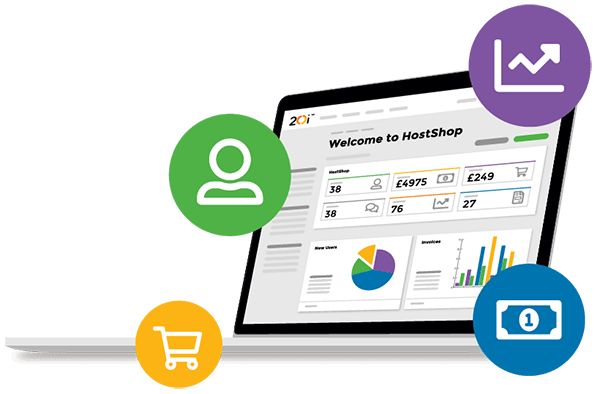 Included free is HostShop: the ecommerce tool. It gives you an online store and all billing is automated. You can add this store to your existing site or make it part of our ready-made reseller site templates. You can sell non-20i items such as web design services in the HostShop store.
It includes a Support Desk ticketing system, so you don't have to set one up yourself. For client communication, you can create targeted emails based on their current package, and send messages to their control panel. It has even has reporting tools so you can keep track of your sales.
Of course, our top-rated support team are always there to help out with any technical questions – just ask!
What can I sell?
That's up to you, but you can sell all 20i products, and create packages and promotions which combine what we offer.
The obvious one. You can sell shared Linux Web Hosting, Managed WordPress-Optimised Hosting, and Windows Hosting.
The domain name market can be competitive but 20i resellers get discounted prices. So you can still make some profit while competing with the big name domain registrars. By offering domains as well as hosting, you can offer a more complete package.
Virtual private servers (VPS)
Reselling VPS can also be profitable. 20i's VPS have impressive specs and are easy to get up and running in moments. Again, 20i Resellers get discounted prices. If you need any tips on selling VPS, we have a guide: How to sell VPS.
Extra profits can be made with value-adding extras. A good reseller account will always offer a bunch of free add-ons that you can monetize. For example, with 20i, you could charge for our CDN, SSL certificates, email, and malware scanning, to name a few.
Best of luck!
The demand for new websites continues to grow, so demand for hosting is also increasing.
So being a reseller of web hosting could make a high-income online business. Or simply a lucrative side hustle. It's to you what you make of it – and may we wish you best of luck!
Let us know how you get on.
---
Part two of our guide to making a success out of a hosting business is here: Building a brand.